How to get the most out of Google Home using Bluetooth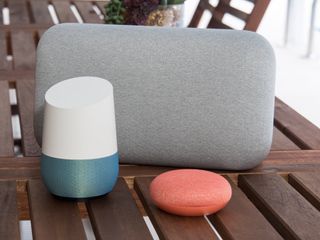 Smart speakers have quickly become commonplace in the consumer tech space, and one of the most popular entries is the Google Home lineup. On top of all its smart features, Home speakers can also do a lot with Bluetooth. You can use Bluetooth to stream audio from your Google Home to another speaker, send audio from your phone to your Google Home, and even connect your Google Assistant-equipped phone with a Bluetooth speaker to create your own makeshift Home device. If you need a helping hand on how to go about doing all this, you're in the right place.
Products used in this guide
How to connect Google Home to other Bluetooth speakers
Although the Google Home Mini sounds quite good considering its small price tag, it can still be easy to wish it had more kick when jamming out to your favorite tunes. Thankfully, there's an easy way to retain all of the smarts of the Home Mini (or any Home speaker) while amplifying the power of your music.
This is done by connecting your Google Home to another Bluetooth speaker, and the process for doing this is fairly simple.
Find the Google Home speaker you want to use and tap on it.
Tap the gear icon in the upper-right corner.
Scroll down and tap Default music speaker.
Turn on pairing mode on your speaker, tap Pair Bluetooth speaker, and tap the one you want from the list.
You'll still need to talk to your Google Home in order to issue commands, but music, podcasts, and audiobooks will now play through your Bluetooth speaker instead of the Google Home itself. Responses to questions about the weather, your calendar, traffic, etc. will still play from your Home, but any media will default to the Bluetooth speaker.
If you decide you don't want to use your Bluetooth speaker any longer, simply go back to the "Default music speaker" tab and choose your Home.
How to connect your phone to Google Home
Google's Chromecast technology is used by most apps for easily sending music from your phone to your Google Home, but even so, not every single app has adopted this technology yet. Thankfully, good old Bluetooth still works just fine.
Find the Google Home speaker you want to use and tap on it.
Tap the gear icon in the upper-right corner.
Scroll down and tap Paired Bluetooth devices.
Tap Enable pairing mode.
Go to your phone's Bluetooth settings and tap your Google Home speaker from the list of available Bluetooth devices.
With this done, you'll now be able to see on your phone that it's connected to your Google Home via Bluetooth.
Alternatively, you can simply say "Ok/Hey Google, Bluetooth pairing" and then jump into your phone's Bluetooth settings and do it that way.
How to connect Google Assistant on your phone to a Bluetooth speaker
If you don't have a Google Home but still want the same general experience of owning one, you can sort of replicate this as long as you have a Bluetooth speaker and a phone with the Google Assistant.
Assuming your phone and Bluetooth speaker are already paired with one another, you'll want to make sure "Ok, Google" detection is enabled on your phone.
Open the Google app on your phone.
Tap More on the bottom navigation bar.
Tap Settings.
Tap Voice.
Tap Voice Match and ensure that Access with Voice Match is toggled on.
With this setup, you'll be able to say "Ok, Google" or "Hey, Google" at any point to your phone and have the Google Assistant pop up – even if your phone is locked. Once you issue your command, the audio will play through the Bluetooth speaker.
It's not as seamless as having a legit Google Home, but it's a process that works and can save a bit of money if you want a Google Home-like experience without actually spending any cash for one.
Our top equipment picks
Assistant on the cheap
A tiny and affordable speaker that does it all.
If you want to get the Google Assistant into your home, the Google Home Mini is the cheapest way to do so. It has all of the same Assistant features found on more expensive speakers, and while its default sound quality isn't the best, you can always upgrade it by connecting it to a Bluetooth speaker.
Great Bluetooth speakers
If you don't have a Bluetooth speaker or your current one is starting to show its age, these are a few of our top recommendations.
AmazonBasics Wireless Speaker ($20 at Amazon)
If you want to spend as little as possible, this AmazonBasics speaker is a great low-cost option that'll get the job done and save you some cash.
Anker Soundcore 2 ($40 at Amazon)
For its price, the Soundcore 2 is tough to beat. It offers powerful audio, is resistant against rain and dust, and comes in three great colors.
JBL Flip 4 ($75 at Amazon)
The JBL Flip 4 is ready for anything. Along with booming speakers, you also get a 12-hour battery and IPX7 water resistance.
Get the Android Central Newsletter
Instant access to breaking news, the hottest reviews, great deals and helpful tips.
Joe Maring was a Senior Editor for Android Central between 2017 and 2021. You can reach him on Twitter at @JoeMaring1.