How to take a screenshot on the Galaxy Note 8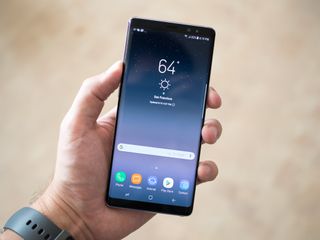 Being able to take a screenshot is one of the core competencies of using a smartphone. With the Galaxy Note 8 a screenshot becomes even more crucial, with its S Pen giving you all sorts of options for marking it up. Going a step further, the phone actually gives you a few different ways to capture a screenshot, whether you want to grab a small section of the screen, the whole screen, or even more than what you currently see. Here's how to do every kind of screenshot on the Note 8.
How to take a one-page screenshot
Taking a single screenshot of your entire screen is simple enough. Samsung gives you two ways to do it.
Screenshot using a key combination
Open the content you wish to screenshot.
At the same time, press and hold both the power button and volume down button for two seconds.
You'll see the screen flash, and the screenshot will briefly appear on the screen.
The screenshot will be instantly shareable, but also remain in your notifications and Gallery for sharing later.
Screenshot using a palm swipe
Open the content you wish to screenshot.
If this method doesn't work, check Settings > Advanced features to enable "Palm swipe to capture."
You'll see the screen flash, and the screenshot will briefly appear on the screen.
The screenshot will be instantly shareable, but also remain in your notifications and Gallery for sharing later.
Capture more
No matter how you initiate your screenshot, after capturing you'll briefly see a set of options at the bottom of the screen, including "scroll capture." This "scroll capture" button makes the phone scroll through the content shown on your screen and take multiple screenshots, which are automatically stitched together into one long screen showing everything together. This is particularly useful for capturing a full webpage, a set of directions or a long restaurant menu online.
Just tap "scroll capture" as many times as you want, and as soon as you're done you can share, edit or save the screenshot just like any other.
Take a screenshot with the S Pen and Screen Write
If you're inclined to take a screenshot and then get to work on it with your S Pen, you can do just that.
Open the content you wish to take a screenshot of.
Take out the S Pen to launch Air Command, tap on Screen Write.
The screen will flash and capture a single screenshot.
You're now instantly taken to an editing pane, where you can write on the screen with the S Pen.
In the top toolbar, you'll see options to change the color of your pen, enable an eraser and undo/redo your strokes.
When finished, tap Crop, Share or Save to complete your work.
Android Central Newsletter
Get instant access to breaking news, the hottest reviews, great deals and helpful tips
Andrew was an Executive Editor, U.S. at Android Central between 2012 and 2020.
[Like Button] Can't wait for mine to arrive... ☺

Yes. There will be one week left of Summer 2017 (always get sentimental in seeing summer dwindle down to those precious, few days) and having the Note8 will be a nice kick-off to autumn. I'll be staying at our shore home and getting a feel for this fall's striped bass run taking pictures and recording video with my new smartphone. Can't wait.

Long press the home button to let Google Assistant take and share the screenshot?

Hahaha! I had no idea this works but it does flawlessly. Just tried it. Thanks! 😁

Bixby does the same thing

Just missing the rest of it, only taking a screen of a portion of the screen, then write or add symbols then share. All in one app!

Using the SPen is hands down the best way

It's the best way if you want flexibility. Palm swipe is the easiest way.

One button press is the easiest. #troll4LG

Hmmmm black or gold in the UK but would love the blue. I generally use swipe to capture as it only needs one hand. Rather than pressing buttons.

How to remove all the bloatware the Note have lol 😁?

I have not used a Note 8 yet. What to you counts as "bloat ware" on the one you have had access to and what phone do you use?

the carrier phones will have a lil bloat no biggy . Just file it an forget it uses less then a gig of storage . I cant believe its still talked about hell even apple has some bloat actually a lot of apple bloat hehe

You forget everything you learnt as a poweruser, then get a pixel, and realise it has no software features at all. Then you cry.

I did play with a pixel for a little bit but I felt like I needed to download quite a lot of stuff in order to do the things that I would do by default with my old Galaxy phones without installing anything at all

Bixby will do it if you ask

Whoa! Palm swipe and scroll down FTW! also love the edge screenshot tool on my S8! Really useful to capture only a region of the screen.

all the same with the s7 (just no pen)

This was all designed around Spen since note 3. Although it works on galaxy s series, it's true strength is shown with a stylus.

I hope that they add to functionality instead of replacing, perhaps putting selectable alternative functionality in an settings/option menu. In the past they have removed some great functions. One mans "bloat" is another mans productive tool.

yeees but the pen makes it soooo much easier

Nothing is better than the one press on lg phones....I came here hoping that Samsung copied it.

How does it work? One long press?

LG let's you put it at the bottom as a button like the home button. At the bottom I have screen capture, back, home, multitask, and drop down notification buttons.

That's one thing I miss from my Note. I loved all the spen features.

Mine just arrived last night. I didn't know about the palm swipe method, just used it.

Yes, it's pretty cool after a bit of practice.

I think that feature has been there since forever. I know I've used palm swipe for years.

Can you take a screenshot without the home and back buttons in the screenshot?

yes you can just pull out the pen hit the screenshot icon an bam !!! you done that's why I had to have my note back . now my s8 plus powers my gear VR now . ITs been retired as my daily

Just say 'Ok Google ... take a screen shot'. That is all you need to do it.

Won't be much help if you need to take it quickly. Also Power and Down is just so much quicker.

But no one button screenshot yet? LG fixed this years ago. I screenshot a lot. Doing it one handed is underrated

Unless you have midget hands, pressing the power button and volume down button is pretty easy single-handed.

Since we are being specific, I meant one finger. Your turn

I'm surprised beno51079 hasn't shown up to tell us he only takes screen shots on his favorite phone, the Pixel 2 XL.

Just from his orgasmic love for the pixel, he's probably too busy fondling his pixel to comment.
Android Central Newsletter
Get instant access to breaking news, the hottest reviews, great deals and helpful tips
Thank you for signing up to Android Central. You will receive a verification email shortly.
There was a problem. Please refresh the page and try again.