How to switch the navigation button placement on the Galaxy Note 8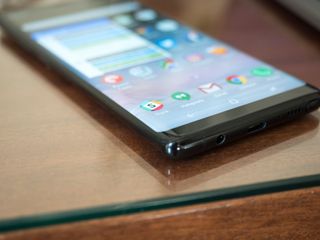 The Galaxy Note 8, like the Galaxy S8 before it, uses virtual navigation buttons — a big change, after years of capacitive buttons on Samsung devices. But the default orientation places the back button to the right of the home button. If you're not a fan of the default settings, there is a way to change it, and a few things you can do to customize what your navigation bar looks like. We've got the details on how to adjust your navigation bar so that it looks the way you want it to.
How to switch placement of navigational buttons
While the navigation buttons on your Note 8 are set to a default order of Recent - Home - Back, you can adjust this order. You don't have full autonomy over which buttons go in which order, but you can choose between the default or Back - Home - Recent.
Open Settings.
Tap Display.
Scroll down and tap Navigation bar.
Tap Button layout.
Tap the new Button layout that you want to use.
How to change the background color of your Navigation bar
If you like to have a bit of flair on your screen, then changing the color of the navigation bar is a fun, and easy way to do it. You get access to a few different shades, all of which can be swapped out whenever you feel like it.
Open Settings.
Tap Display.
Scroll down and tap Navigation bar.
Tap to choose a new color for your Navigation bar.
Questions?
Do you still have questions about customizing your navigation bar? Have you experimented with switching up buton placement, or background color? Let us know in the comments below!
Android Central Newsletter
Get instant access to breaking news, the hottest reviews, great deals and helpful tips
Jen is a staff writer who spends her time researching the products you didn't know you needed. She's also a fantasy novelist and has a serious Civ VI addiction. You can follow her on Twitter.
Great tip. Let's hope we get the option to switch the buttons on the Pixel.

Is there any way to add additional buttons to the navigation bar? I'd love to add a notification shade pulldown like I had on my G4 back in the day.

'This thing reads like stereo instructions!' -Beetlejuice, 1988

When are they going to start letting you add buttons like on LG? You can't beat one touch screenshot and one touch notification drop down

One touch screen shot pull out s pen bam!! Pull down navigation bar pull down from finger print scanner bam !! Works for me

Is there any way to change the stock Samsung navigation bar to look like stock Android navigation bar? I saw a Droid life video and he had a stock Android navigation bar on his Note8, he said it was possible to do but he didn't say how.

Some themes from the theme store change the look of the buttons

Some Materlal themes will do that.

Is there a way to remove the keyboard selection soft key on the nav bar. It only appears when using the keyboard. It's driving me crazy. I can't send a text without hitting it multiple times.
Android Central Newsletter
Get instant access to breaking news, the hottest reviews, great deals and helpful tips
Thank you for signing up to Android Central. You will receive a verification email shortly.
There was a problem. Please refresh the page and try again.