How to share directions in Google Maps for Android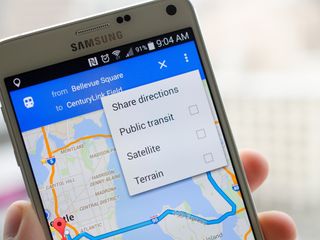 The process is extremely simple, and gives you step-by-step text directions that can be read by anyone on any device, whether they use Google Maps or not. And though most folks with smartphones sharing location information to another smartphone user will be better off sharing a proper Maps location, this is how you can share basic directions — read along.
In order to share step-by-step directions from one place to another, simply put the start and end points into the Google Maps app, choose a mode of transportation and a route, and then instead of hitting the navigation button press the menu button (top right corner). Now behind the button along with the toggles for traffic, you'll see an option for Share directions.
Tap the Share directions button and you'll be able to share out the list of directions to any app that can handle text. For example you may want to send the direction list to Gmail, Evernote or maybe just your SMS app of choice. Choose the app you want to send to, and the app will take in a numbered list of directions showing the start and end points you selected, the travel time and distance, followed by the steps and a goo.gl short link to the directions on the web.
For most folks it'll still be easier to share a location to someone and have them navigate from a specific point they want, but if you need basic step-by-step directions from pre-determined points the latest version of Maps has you covered.
Andrew was an Executive Editor, U.S. at Android Central between 2012 and 2020.
Wish it would share the full route when you share. Currently it gets cut off.
http://imgur.com/lnGzfdE

What does "behind the button mean?" When I click the 3 button icon all I see is terrain, public transportation and satellite. Posted via my Note 4

Are you on version 9.3? Mine hasn't updated yet.

As we note, you'll need the latest version of Maps. It started rolling out yesterday.

The "share" line in the drop down is also a clickable. This seems to be how Google is making things with the new Lollipop look. One has to make a lot of assumptions on what to click on. Yes a very flat look, if you like that. But funny how the drop down links don't all look the same.

What I'd like is a reverse route option, that is, after driving somewhere I'm unfamiliar with, I could click an option to reverse the route, and the app guides me back to my starting point. Posted via the Android Central App

If you don't exit maps, just tap the start/end area at the top and hit the two reversing arrows on the right. It switches the start and end points, and you can now select a route and navigate back.

Awesome! Thanks. Posted via the Android Central App

Thanks Andrew, I didn't know that one..

I miss the old "add to contacts" option that used to be there when viewing a business. Also odd, there is not a big "share" option for a business just Call Save and Website. Got to push the menu button then share. Not a big deal but in our social world it seems to be too far tucked away. Posted via the Android Central App

You are right RamboDroid! I used the 'Add To Contacts' often and miss that it isn't there now. I wish they'd bring that one back.

Not a bad option. Now if they would only put a way you can force google maps to use a predetermined route, instead of it choosing the best route, which usually involves driving on single lane dirt tracks!

Half-assed. It doesn't give any DISTANCES, and it only lists the 1st 10 turns/instructions or so. I love Maps and this sharing is a great idea. But Google didn't do a great job adding this feature. Please fix this Google ...

I am on version 9.4 and still have the problem with it only including the first 10 directions. Good idea though if they sort this out. Posted via the Android Central App

What about sharing exact location in a SMS, messenger or email Posted via the Android Central App

Nice. I have friends with no Map app skills and no sense of direction who ask for this type of help on a too regular basis. This will save me some time. I miss the save to contacts option too. Used it a lot a few years ago when I ran routes. Used to keep an old YP app around just because it would do that. Posted via the Android Central App

I'm on version 9.4, this is odd.

This piece is an old recycled story. Note the other comments are from a month ago.

Ok got it, slow news day.

Tommy Posted via the Android Central App

I miss latitude! Maybe we can get it back someday :-D Posted via the Android Central App

Does anyone know how to fix "stuck pixels"? I turned my MOTO -G KITKAT , ANDROID 4.4 phone & the Lowe half of the screen had a line across it & gave the appearance of a dirty screen cover. Then, over the next 2-3 days, the colors seem to give like a*bleeding appearance. I tried installing & running 2 different apps from the web store that claimed to be " PIXEL REPAIRS ", but neither worked. I tried to FLICK THE SCREEN, to try to loosen the stuck pixels, didn't work either. I can't afford a new phone so ANY SUGGESTIONS would truly be appreciated. Thanks folks. WONGA

You should check this: pozzr.com
Android Central Newsletter
Thank you for signing up to Android Central. You will receive a verification email shortly.
There was a problem. Please refresh the page and try again.