How to set up your PS5 on your entertainment center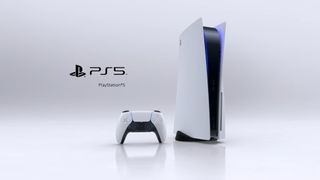 (Image credit: Sony)
While the exact size is still unknown, Sony's PlayStation 5 looks to be a pretty big console, no matter how you slice it. This might present itself as a problem for some, especially when it comes to adding the new console into your entertainment center. Thankfully, when it comes to solutions, you have plenty of options to make your PS5 the perfect centerpiece to your media center.
Our top picks
The Guide
Since you likely already have a media center, make sure that there's some open space available either on top or on an open shelf, since the PS5 is going to take up quite a bit of space once it's finally in your home. If you don't have any room on your media center, the option to wall mount your PS5 will also likely be available once the console releases.
Clean your media center and remove any dust on its surfaces.
Make sure your media center has at least a couple of areas of open space or a shelf that's deep enough to accommodate the PS5.
Place the console in an area where it leaves at least a few inches of space on its sides and back for the air to circulate.
Make sure any cords and cables are well-hidden behind the media center so that it does not look cluttered.
Decorate as you see fit with accent lighting and more.
What else can I do?
The biggest issue in storing a PlayStation 5 in a media center will likely be space. If you're someone who doesn't have a media center or is looking to pick up a new one, it would be important to make sure you find one that has a ton of open space, or one that allows for bigger items to be slotted in. Something like the Furinno Jaya Entertainment Center could work well, as it has smaller spaces on the bottom but opens up into extensive slots along the top, including a totally open space above for either a television or anything else you'd like.
Of course, another big thing you'll need to take full advantage of the PlayStation 5 is a solid, 4K television. Because the PS5 is expected to be a massive leap in not only speed but also graphics quality, it's essential to make sure you're getting the best out of the system. The TCL Class 6-Series 4K television is not only an incredible television, but it's incredibly affordable when it comes to televisions, and would go a long way in making your PlayStation 5 games look as great as it can be.
If you absolutely can't replace your media center or have no room, it is possible to place the PS5 elsewhere and connect it via a wireless HDMI hub, but we would strongly suggest not doing that. Wireless HDMI hubs can be great, but ones that will support 4K and have great audio will cost a ton of money, and the more affordable ones will end up losing you a ton of fidelity when you finally do play your new games. Instead of investing in a wireless HDMI, you may be better off simply looking into longer HDMI cables, which will allow you to place the PlayStation 5 further away from an entertainment center if you choose, while also retaining the full fidelity that the PS5 can offer.
And if you just don't have the room on your media center for the console, pick up a wall mount for it. Wall mounts are a great way to save space and make a great statement when folks see the console hung up. While no wall mounts for the PlayStation 5 are available just yet, that will almost definitely change once more information on the console is released.
Keep your eyes open
The next generation is almost here.
While preorders aren't up for the PlayStation 5 just yet, they will be sooner or later, and to ensure that you don't miss out on your chance to score one early, you'll want to make sure you're signed up for notifications for when they eventually go live.
Plug in from anywhere
Connect from anywhere.
Finding the right HDMI cable can be a hassle, but making sure you have a lengthy one is critical, especially if you're going to be connecting from far away. Thankfully, iVanky offers a long enough cord at an affordable price to make sure anyone can stay connected.
Things to get you started
Furinno Jaya Large Entertainment Center
An affordable, open space option
Finding extra space on an entertainment center can always be a pain. Still, the Furinno large entertainment center offers plenty of space while also being an incredibly affordable option for those looking to swap media centers.
Upgrade now
TCL 65" Class 6-Series 4K UHD TV
A perfect upgrade
As the gaming and entertainment world slowly begins to adopt 4K, picking up a television that supports it becomes more and more of a must. TCL's 6-Series will not only have you ready for anything but is also the best buy in terms of the price thanks to its somewhat affordable price tag.
Sign up for Black Friday email alerts!
Get the hottest deals available in your inbox plus news, reviews, opinion, analysis and more from the Android Central team.
Anthony Nash has been writing about games and the gaming industry for nearly a decade. When he's not writing about games, he's usually playing them. You can find him on Twitter talking about games or sports at @_anthonynash.