How to save money on roaming fees outside the UK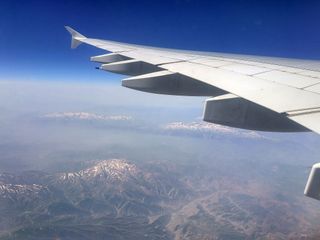 If you're unprepared, using your phone overseas can add hundreds of pounds to the cost of a trip abroad, in the form of an enormous roaming bill when you return home. Fortunately, international roaming is more affordable than ever. Depending on your network and circumstances, it's easy to keep costs to a minimum. And even if your phone is locked to a network with unfriendly roaming rates, you've still got plenty of options.
Let's dive in.
Check roaming bundles before you travel
Roaming fees can vary wildly depending on which network you're on and where you're going. It can make the difference between being able to use your phone freely as if you were at home, or any data use being prohibitively expensive.
A few things worth noting:
Vodafone contract customers will want to check if they're enrolled in EuroTraveller

(opens in new tab)

or WorldTraveller

(opens in new tab)

. The former lets you use your UK allowance — including tethering and 4G where available — for £3 per day in certain European countries. The latter lets you do the same in certain countries outside of Europe, for £5 per day. Both could save you a lot of money if you're a heavy data user.
Three customers should check if their destination is part of the network's "Feel at Home"

(opens in new tab)

area, which allows customers to use their UK allowances in certain territories at no additional cost — with a few strings attached.
If you're an EE grandfathered into the carrier's "special rate" for roaming, you may get a better deal than the rates displayed on EE's roaming site. Double-check with the network to make sure.
Disable roaming data entirely and use Wi-Fi
This is the sledgehammer option — completely kill data roaming and only connect to Wi-Fi hotspots while you travel. Settings can vary from phone to phone, but you can normally find the Data Roaming toggle under Settings > Mobile Networks.
There are a few obvious places where you might find free Wi-Fi — hotels, coffee shops, airports, train stations and the like. But if you want to take the uncertainty out of finding Wi-Fi hotspots, you might want to download OpenSignal's WifiMapper (opens in new tab) app, which tracks more than 3 million free Wi-Fi hotspots around the world.
Disable background data
Switching off background data will stop apps using cellular data when they're not open. Go to Settings > Data Usage and hit the menu button (three dots), then select "Restrict background data." (On Samsung phones, simply find the "Background data" option on the Data Usage page.)
You can then use the Data Usage page to keep track of exactly how much you've used while you're away.
Unlocked phone? Use a local SIM card
If your phone isn't locked to your network, you can simply pick up a local SIM card from a carrier in your destination country after you arrive. These are often available from airports or convenience stores — and, naturally, from local carrier stores. While this can be a great option if you want to save money on mobile data, bear in mind that you might not be able to make international calls back to the UK from a pre-paid local SIM.
Services like HolidayPhone let you order a prepaid SIM for your destination country before you travel, taking some of the uncertainty out of tracking down a local SIM while abroad. You'll usually pay a little more for a service like this, however.
SIM-locked phone? See about unlocking
Even if your phone is locked, you could still save money by getting an unlock code before you travel. In many cases, even with the upfront cost of unlocking your phone, you could save money in the long run by using a local SIM abroad.
How do you manage roaming costs while abroad? Share your tips and tricks down in the comments!
Alex was with Android Central for over a decade, producing written and video content for the site, and served as global Executive Editor from 2016 to 2022.
Both very helpful guides thank you Alex. If mine is the only comment it means everyone has left the country. (and a good time to do it too)

Just got back from Tenerife where I took my Moto E on Tesco mobile with no additional charges. This is my back up phone but used it to make calls, text and use mobile data just as I would back home in the UK. Posted via the Android Central App

You save the most by voting remain... Posted via the Android Central App

Went to USA last month. Tried to get Net10 SIM but the stores they said stocked it didn't. Had to get AT&T SIM and data plan, one month no renewals 5GB $60 plus taxes. Hotspot on my phone so my wife could also get data. But, and a big but, my 4G UK nexus 5 could only get 3G due to incompatible cellphone frequency. Waste of money. She got her regular Facebook updates ;) Signal not good enough for mapping use, and wifi in all the places we stayed.
Portable wifi hotspots are extortionately expensive.
What to do if I go again? Maybe buy a cheap US 4G phone and SIM, and use tethering ?
Android Central Newsletter
Get the best of Android Central in in your inbox, every day!
Thank you for signing up to Android Central. You will receive a verification email shortly.
There was a problem. Please refresh the page and try again.