How to opt out of WhatsApp sharing your information with Facebook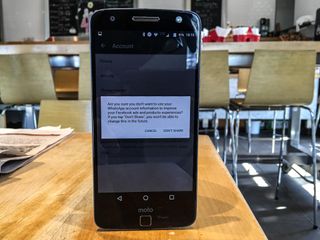 In 2014, Facebook bought WhatsApp for a whopping $21.8 billion. WhatsApp users everywhere went, "Oh, no. This can't be good." That feeling has finally come to fruition in that WhatsApp will now start sharing your information with Facebook – including your phone number.
If you don't want Facebook getting ahold of your WhatsApp info, you can opt out in one of two ways.
Here's how!
Note: We're approaching the 30-day limit to opt out of WhatsApp's new privacy policy, so if you haven't done so already, now is a good time to do it.
How to opt out of sharing your WhatsApp information with Facebook in the WhatsApp terms of service
When WhatsApp updates, you'll have to agree to its terms of service all over again, but before you tap agree, you can read more and opt out of sharing your information.
Launch WhatsApp from your home screen or the app drawer.
Tap the upward arrow in the bottom right corner to read more.
Tap the checkbox to opt out of sharing your information with Facebook.
If you go looking for the Share my account data option in your settings afterward, it won't be there, since you've already opted out.
How to opt out of sharing your WhatsApp information with Facebook if you've already agreed to the new terms of service
If you've already tapped "Agree", you can still opt out:
Launch WhatsApp from your home screen or the app drawer.
Tap the more button in the top right corner. It looks like three vertical dots.
Tap Settings.
Tap Account.
Tap the checkbox next to Share my account info.
Now you're opted out and Facebook isn't getting your phone number, and won't share any information with its parent company to influence the ads you see.
Questions?
Let us know in the comments below!
Mick is a writer and duty editor for Android Central. When he's not on the job, he can usually be found vacuuming up pet hair or trying to convince his wife that he needs more guitars.
Or, you know, never use whatsapp. That's my opt out.

Or, you know, to each their own.

Absolutely! I'm just presenting an option that has worked extremely well for me and could work for others as well.

That'd be an option if I didn't have to convince the over 30 people I talk to on WhatsApp AND everyone I meet from now on to ditch the service. Or my entire country, which has WhatsApp as its main messaging system. Honestly, I've convinced a **** ton of friends to use Telegram and they're not regretting it. I just wish everyone else could move.

Yeah that's true but it's just really good at what it does. It being the standard doesn't help matters. I know there's a plethora of data messaging apps but in the world of Android I'd prefer to cut as much of the fragmentation out as I possibly can.

Exactly! There are plenty of alternatives (Threema, Signal, etc.), and many of them are actually better than WhatsApp (not only in therms of privacy -- feature-wise, too). BTW, it's only possible to partially opt out from Facebook's data consolidation. (And it's my understanding that after 30 days it will not be possible at all.)

If I don't use Facebook at all I'm assuming none of this matters much to me? ( I opted out regardless )

+1 to you and anything Facebook for that matter. It's always the 1st app I remove from any new phone.

I would agree due to my big dislike of Facebook but WhatsApp has a big presence especially outside the US. And for me it's an inexpensive way to keep in touch with people outside the US.

I'm with you tdizzel. When Facebook bought the app, I removed it. Plus, I don't like having multiple messaging apps

I don't even have the share my account option? I don't remember if I accepted the new terms or not since I haven't used whatsapp in a while. Posted via the Android Central App

I had the same issue. No opt out option in the settings and unsure if I agreed to any new ToS. Last night; however, when I opened the app I was prompted with the new ToS.

You went into settings then account? I have it there.

Yeah. When I go into settings > account it's not there.

I don't have that option too. Please advise how to do

Yeah, I don't have that option either. It's updated but I never received anything and it's not in settings-accounts either.

"Can I choose not to share my account information with Facebook to improve my Facebook ads and products experiences? If you are an existing user, you can choose not to share your account information with Facebook to improve your Facebook ads and products experiences. Facebook and the Facebook family of companies will still receive and use this information for other purposes, such as improving infrastructure and delivery systems, understanding how our services or theirs are used, securing systems, and fighting spam, abuse, or infringement activities. " --------------------------------------------------------------------------------------------------
You can't opt out of sharing your account information with Facebook: "Facebook and the Facebook family of companies will still receive and use this information for other purposes". You're opting out of Facebook using that information to target ads and recommend friends on Facebook.

That's true so this article is just so misleading.

"face it" we are living in a Facebook world. You can think you are opting out of Facebook but believe me Facebook has not opted out of you.

It's easy to opt out of Facebook. I don't use it. It's really easy. Sad part is when the significant other lacks the common sense necessary to opt out and so I still get indirectly opted in.

That's exactly where I was going with this. For the longest time I THOUGHT I was Facebook free until I found out that my friends and family were posting me all over Facebook.

As long as you use WhatsApp it's almost the same as using Facebook

Don't use facebook to start with. So I don't have to Opt out of nothing.

Good information, thank you!

So glad I ditched Facebook 4 years ago.
It has become a gathering of narcissists, soccer moms, last-movers and attention-seeking people without a life. LoserBook would be a better description. At least Instagram is more honest: 100% narcissists

LoL Instagram is a thousand times worse.

Don't forget the spam.
Instaspam.

I thought i was the only one with those same feelings....haven't used FB for the past 3 yrs. And I won't go back for nothing.

Just did! Thanks for the info. Updated this morning and I apparently accepted without knowing. And also guys, I know it's off topic but does anyone knows a way to deactivate the in-app browser in Instagram? I've been trying for a while to get rid of it but can't seem to find the option to deactivate.

Now how does WhatsApp tie your Facebook account to their account? One's mobile number based and the other is email address based. Or did I miss something?

A lot of people use their phone number on Facebook, to login or as a notification method. Also, Facebook and whatsapp both implant Accounts into your phone, and give themselves permission to view the other accounts on your phone. I assume this is how they would link together.

Well I think its a good thing that me, my friends and family still rely on the traditional sms for messaging. Posted via the Android Central App

If it doesn't share chats or phone number, what does it share? I mean, Whatsapp account identity is based on phone number. How can they even cross-data between the apps, if they say they don't use the phone number?
Also, what if I don't even use Facebook (and I actually don't) ?

I think I hit "back" on the pop up as it was at an incovnieneient time. Anyone here also have the issue of no "Share your account" option under settings?

I don't do Facebook or Twitter, so I'm not bothered. I want to keep my life personal.

Thanks for the " how to ".

Can I opt out after 30 days of accepting the terms? I am actually curious to see how the targeted ads change on my FB feed. The article hinted that I may not be able to opt out after 30 days..

If you think opting out is going to protect you somehow you're wrong. If Facebook can increase revenue by taking your info they'll do it. Facebook can't be trusted in any way

Thanks for the information. Telegram and hike are much better alternatives to whatsapp.

Do people who don't use Facebook think they are on some moral high ground?
Once you use the Internet you have no privacy, once you use the government services you have no privacy.

It's not about being on a high moral ground. FB is just evil. They are constantly changing their TOS and without knowing it can expose all your personal information for the world to see. There are a lot of companies who troll FB when you're looking for a job and can use it as a reason to fire or not hire you. One day all your post are private the next everyone knows you got lit last night and went to the strip club. If you can't have fun posting things for your friends then what's the point. Screw FB.

A friend back home from Europe tried highly to get me to use WhatsApp. Told him most people around here don't use it—but also told him been if others did I wouldn't, because I don't need a million apps to connect with some people but not others, and I refuse to share my info with Facebook. I already do it with Google, but I don't need other ad companies utilizing it.

Thank you AC for the article. It reminded me I hadn't done this already.

So, if the option isn't there, we can't opt out?

No WhatsApp for me. I would never be able to get everyone on board so .. SMS it is!

So, can't see the option to opt out, nor do I see Share.... Does this me I opted out already, cause I can't remember if I did... :( If any one can shed some light on this, it would be appreciated. Cheers!

I tried the Beta version for a few days. I just installed the regular one and noticed that this option is gone. I did opt out during the given period, probably the same day that this article came out, but since the option is not there am I now sharing this info or are they keeping me out like a wanted?
Android Central Newsletter
Thank you for signing up to Android Central. You will receive a verification email shortly.
There was a problem. Please refresh the page and try again.