How to move your content from BlackBerry 10 to your new BlackBerry Priv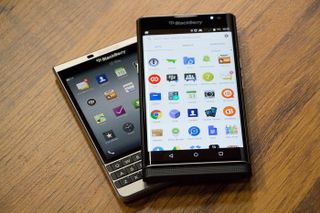 If you want to transfer your data from your old BlackBerry 10 smartphone to your new, Android powered Priv, you can use the BlackBerry Content Transfer app.
The BlackBerry Content Transfer app allows you to move data from your Contacts, Calendar, Pictures, Videos, Music, Text messages (SMS), Notes, Tasks, Documents, Email accounts. If you want to know how to get your data over, here's a quick walkthrough of how to do it.
On your BlackBerry 10 smartphone
Download the app from BlackBerry World. Once download, open it up and you'll see a Welcome screen. Tap Next. You then have a choice of using your Google account and Google Drive to backup your data or use an alternative method. The latter option will backup to your microSD card.
If you want to use your Google Drive account, just hit Next and on the next page enter your Google account credentials, then Allow the permissions. Once you've done that you'll see a screen where you can choose what data you want to backup. By default, all options are ticked. If you're happy with, tap Start, you'll then be prompted to set a password to protect the data. When you've set a password, tap Next.
If you'd prefer to just use your microSD card, tap Use another method. It will then go straight to the data transfer option screen. Again, all options will be selected by default, if you're happy just tap Next.
The app will then backup your data and you can see the progress on screen. Once complete, you'll be shown the Transfer Complete screen, as seen below. Just tap Finished. That is it. You backed up.
Whichever option you decide to use – Google Drive or Other - you'll find a BlackBerry Content Transfer folder.
On your BlackBerry Priv
Open the Content Transfer app for Android that came preloaded on your Priv. On the welcome screen, tap This is my new device.
Tap Next if you will be using Google Drive to restore your data. Enter your Google credentials, if prompted and Allow permissions the terms. If you're using your microSD card, tap Use another method.
Once logged in, the app will search for the data available for transfer and then let you know it has found it. From there, you can just tap on Transfer and it will move to the next screen.
Enter the password used to encrypt the backup from your BlackBerry 10 smartphone, tap Next and your data will be transferred to your BlackBerry Priv.
Once complete, you have the option to remove the transfer files from your card or Google Drive, just tap Remove transfer files. If you moved over your Email accounts, you may have to enter your password for each account to get going.
That's all there is to it. It's a quick and easy process to get yourself up and running with your new Priv and keep your files intact through the move. You will, of course, want to make sure all the data moved accordingly before you wipe your old device.
Get the Android Central Newsletter
Instant access to breaking news, the hottest reviews, great deals and helpful tips.