How to move your content from BlackBerry 10 to your new BlackBerry Priv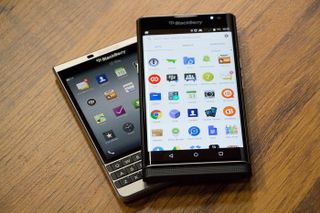 If you want to transfer your data from your old BlackBerry 10 smartphone to your new, Android powered Priv, you can use the BlackBerry Content Transfer app.
The BlackBerry Content Transfer app allows you to move data from your Contacts, Calendar, Pictures, Videos, Music, Text messages (SMS), Notes, Tasks, Documents, Email accounts. If you want to know how to get your data over, here's a quick walkthrough of how to do it.
On your BlackBerry 10 smartphone
Download the app from BlackBerry World. Once download, open it up and you'll see a Welcome screen. Tap Next. You then have a choice of using your Google account and Google Drive to backup your data or use an alternative method. The latter option will backup to your microSD card.
If you want to use your Google Drive account, just hit Next and on the next page enter your Google account credentials, then Allow the permissions. Once you've done that you'll see a screen where you can choose what data you want to backup. By default, all options are ticked. If you're happy with, tap Start, you'll then be prompted to set a password to protect the data. When you've set a password, tap Next.
If you'd prefer to just use your microSD card, tap Use another method. It will then go straight to the data transfer option screen. Again, all options will be selected by default, if you're happy just tap Next.
The app will then backup your data and you can see the progress on screen. Once complete, you'll be shown the Transfer Complete screen, as seen below. Just tap Finished. That is it. You backed up.
Whichever option you decide to use – Google Drive or Other - you'll find a BlackBerry Content Transfer folder.
On your BlackBerry Priv
Open the Content Transfer app for Android that came preloaded on your Priv. On the welcome screen, tap This is my new device.
Tap Next if you will be using Google Drive to restore your data. Enter your Google credentials, if prompted and Allow permissions the terms. If you're using your microSD card, tap Use another method.
Once logged in, the app will search for the data available for transfer and then let you know it has found it. From there, you can just tap on Transfer and it will move to the next screen.
Enter the password used to encrypt the backup from your BlackBerry 10 smartphone, tap Next and your data will be transferred to your BlackBerry Priv.
Once complete, you have the option to remove the transfer files from your card or Google Drive, just tap Remove transfer files. If you moved over your Email accounts, you may have to enter your password for each account to get going.
That's all there is to it. It's a quick and easy process to get yourself up and running with your new Priv and keep your files intact through the move. You will, of course, want to make sure all the data moved accordingly before you wipe your old device.
Lol for the .01 percent of users who are on blackberry 10

A vast majority of which frequent Mobile Nations websites.

You do realize that even .01 percent is still about 100,000,000.....just saying Posted via the Android Central App

They didn't even landfill that many Bb10 devices - there were certainly never 100,000,000 BB users.

Sorry, I was referring to total Bbry users worldwide. Not just BB10. BB10 would account for about 25,000,000. Posted via the Android Central App

ALWAYS REMEMBER TO WIPE OLD PHONE FIRST BEFORE DOING ANY TRANSFERS. HAA HAA HAAA WORKS ON EVERY TELEPHONE!!! STUPID BLACKBERRY JUST SOUNDS TOO GAY

Calm down, no need to yell. You sounded too straight, until I saw your screen name.

+1 Posted via the Android Central App

How do we move data from BlackBerry 10 to my Nexus 6P? Posted via the Android Central App

Damn good choice Posted via the Android Central App

I went to a android match and a blackberry broke out. Posted via the Android Central App

The BB10 was a smartphone?
I always considered them a secure feature phone. Posted via the Android Central App

"..your old Blackberry 10..". My bb10 is not old, it is special (: Posted via the Android Central App

It's old Posted via the Android Central App

I wish passport se had the priv specs because that phone is beautiful.. The need a passport se 3row keyboard running marshmello... It will be one heck of a work phone

Thanks for the walk through, Ms. Reyes ;)
Android Central Newsletter
Thank you for signing up to Android Central. You will receive a verification email shortly.
There was a problem. Please refresh the page and try again.