How to manually update your Nexus S 4G to Ice Cream Sandwich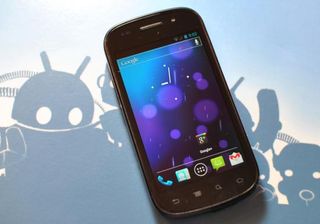 So you've got the Sprint Nexus S 4G, and you're well aware that the official Ice Cream Sandwich update is coming. But what if you don't want to wait? The crazy cats in our Nexus S 4G forums have the manual download and install method, and it goes a little something like this:
Download this file from here http://android.clients.google.com/pa...g/TAMkDR3z.zip (Thanks to LateNiteWithJme at Android Central!)
Rename it to update.zip (Windows users careful not to get a double ".zip" extension) and place it on your sdcard.
Shut down phone
Boot into bootloader (Volume Up+Power) then from bootloader screen choose RECOVERY (Navigate Vol Up/Down and select with Power).
From stock recovery choose to install update.zip
Sit back and relax for a few and you should boot into official Ice Cream Sandwich 4.0.4 !
And that's it. Enjoy, tell your friends, and hit the link below if you need some help.
More: Nexus S 4G forums
Is this a way to force the update without rooting?

Where in the post did it mention the word "root?" This doesn't need root..

And then there was one...

Does this require root and is this using the stock recovery?

Read.
5. From stock recovery choose to install update.zip This doesn't need root.

This requires NO ROOT. This is the official update, just done manually using the stock recovery. It will act the same as if you received the OTA update. Also preserves your data too :)

Let me ammend the installation instructions... When you select the RECOVERY from the bootloader screen. You will then get a screen with a yellow warning triangle.. Press and hold (Volume Up+Power) and you will then be booted into stock recovery. Then from there select Install update from /sdcard Enjoy!

I'm getting an error when I try to update it. assert failed..... Installation aborted

Trying this from stock recovery? If you attempting using CWM recovery it won't work. Otherwise try redownloading the file, we have confirmed it works so you may have gotten a bad download.

I think I figured it out. I was trying to update from 2.3.5 not 2.3.7. It seems to be going through now.

Greetings to all,
How do I go from CWM recovery to stock recovery?

There is another trick. I had to do it with 2.3.7 but don't remember what it is. I just get an exclamation when following directions above.

Do you remember what you did?

Hit the link on the OP of this blog to the NS4G forums. Couple users have thrown out suggestions to make getting into stock recovery from the yellow warning triangle a bit easier...

Need to hold power and volume up for a second and the menu will stay up instead of flash and reboot.

On my 2.3.7, from the triangle screen, you need to hold power down while pressing volume up then volume down. It then took me to the install from sd card screen. Just power and volume up did not work on mine.

I got the triangle screen, volume up + power didn't seem to do anything. Pulled the battery to try again. Got to the triangle screen again, tried power THEN volume up, and got right to the options screen. Everything else was easy enough and now i'm rocking ICS.

Just updated my co-workers NS4G with this... Thanks!!! (She wouldn't let me root her phone)... :)

So then with this, if there are new updates, will the phone automatically prompt to install them since it is stock?

Yes you will receive future updates, this is official OS.

I <3 AC. My wife has an NS4G. Shell doesn't care about updates so she probably won't let me do this. :-(

Seems like I read something about Sprint pushing a new radio with the official OTA update. I'm guessing these files don't include that new radio. So....how would one get that new radio later if the update is forced manually before the official OTA?

This is the OFFICAL OTA so it does include the Radio.

This is the ACTUAL OTA OFFICIAL UPDATE. The link we provide to the update.zip package is the same your phone receives, downloads the update and then automatically triggers your device to prompt you about updating. You would just be applying it manually instead of waiting on the OTA notification.

When you install it, right before it reboots, you will see "Writing Radios." Then after you reboot it, you will see the new boot animation. I kinda miss the X being formed by light. Now, it's color tiles "exploding"

I miss the old Nexus boot screen too. The color tiles just seem so random. At least I knew what the X could mean or represent.

Thanks Phil...works like a charm...tried other methods but to no avail. This is absolutely awesome...thanks again man...great job!!!
FYI...I have a Nexus S 4G flashed to PagePlus, was told I probably would not be able to update...but lo and behold it worked GREAT!!!!

OTA update is already rolling out. Girlfriend got the OTA update this afternoon, she's not happy with change lol

Yeah I just got the update about an hour ago was wondering why I didn't see news buzzing everywhere about it.

What about the face unlock feature? I just updated mine to 4.0.4 using the method above. Works well but no face unlock.

We won't see "official" face unlock with the NS4G. Front facing camera is not good enough to support it. I've used it on custom ROMs supporting it, its okay but after about 5 minutes I went right back to the AOSP lockscreen.

When I updated it, certain apps (like instagram and google earth) are saying that they are incompatible. Thoughts?

They need to be updated. You might have to clear data on them from Settings/Apps/Manage Apps to get them to clear out and work properly. I've used Google Earth on 4.0.4

I couldn't even get them installed on the phone though is the thing. They won't download from the market.

i would try a power cycle.

In the words of Apu thank you very much it was so easy works
And works well.. thanks Phil.

Ice cream sammich time! Nom! ;-)

I did the update, now I have lost recovery and root. How do I get it back?

Root again..... Hit the NS4G forums, Rooting and Hacking sub forums and see the Rooting Guide/sticky.

OK. Maybe I shouldn't say anything, but I actually got the OTA update this afternoon like half an hour after I posted my comment above. But I haven't seen a story in the feed about the OTA finally rolling out to US folks. Surely I'm not the only one who got the OTA.

I posted above I also got it so no you aren't the only one.

My pc is down so. I'll have to wait for the ota update. Darn! :-(

just download the link directly to your phone. thats what i did.

I downloaded the file, connected my phone and pasted the file on the main folder. It's named update.zip but when I get into the boot menu and follow the directions I get the stupid triangle. Am I doing something wrong? It is the "I can't load the file" White triangle with a yellow ! and the andriod dude standing there. When I go into "about this phone" and tell it to update it says it's up to date with 2..3.7

AHH I figured it out.. when you get the Andriod when the ! in the triangle hold power then UP quickly. I was doing it a second time but doing up then power (like the first time) Hope this helps someone!

Thanks a ton! Works great and no problems with radio. Phone also seems much snappier contrary to previous remarks around the net that the phone would be sluggish. Any word on if the facial recognition unlock is possible?

Stupid question are you able to use this update for the Samsung Epic Touch?

Nope ... this is for the NS4G only

after waiting....and waiting.....for the OTA...and being too chicken/dumb to do anything else (don't even really understand what it means to root or flash a phone!) I tried this yesterday afternoon on my phone....and it worked perfectly.....so I go home...my wife has the same phone...I show her....she says she will just wait for the OTA. After watching tv and playing with my ICS lovlieness....I pick up her phone....to find the OTA being pushed to it! Funny....great upgrade....faster....and it seems like the battery is better, but time will tell.

Before I got a chance to manually update, my ICS dropped this morning! In San Antonio, TX. Hopefully everyone else in South Texas is enjoying their update as of today!

Am I the only one missing something here???? "2.Rename it to update.zip (Windows users careful not to get a double ".zip" extension) and place it on your sdcard." What sdcard?!?!??! The NS4G doesn't have external storage. So where am I supposed to put it?

I just did this, and im in love!! thank you AC for this, ive been waiting for this update forever, now i finally have it. It was such an easy process too!! My love for my Nexus S 4g had been renewed, thank you!

Jean15paul....hook it to you computer with the usb.....'open' it.....should show up as like your 'e' drive...save it there...

I did this last night and got the double .zip extension but didn't know what to do so continued with the update as normal and so far everything works fine. Should I be expecting a problem?

i updated and my radio is way worse - i used to get a few bars in my house, now zero. when i'm in my office i always had full bars (as i'm right by my wireless router) and now i have 3 - it also was very buggy and slow to run, tho after a day or so it does seem to be running more smoothly. everything seemed to go fine with the install and yes i'm using a sprint
google nexus s - any ideas??
thanks!
Android Central Newsletter
Thank you for signing up to Android Central. You will receive a verification email shortly.
There was a problem. Please refresh the page and try again.