How to manually install Adobe Flash Player on your Android device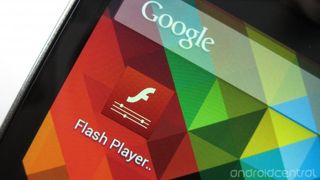 From today, for some new devices, Adobe Flash Player will no longer be available from Google Play, marking the end of Flash's brief flirtation with Android. That means if you want to get hold of Flash on an Android device that doesn't ship with it, you'll need to resort to a little bit of trickery. Fortunately, though, it's pretty easy to get Flash up and running manually, assuming you understand the risks.
Join us after the break to find out how to manually install a legacy version of Adobe Flash Player on your Android phone or tablet.
Big scary warning
Before we begin, make sure you understand the risks associated with running the now-unsupported Adobe Flash on your device --
There's no official support for Flash on Android now. That means no more security or stability updates, no official support channels if something goes wrong. In particular, if you're using this on an Android 4.1 (Jelly Bean) device, you can probably expect a few stability issues
The fact that security updates are no longer being developed for Flash for Android means that running this could potentially open you up to security risks and malicious Flash content. There's no record of Flash exploits specifically targeting Android users, but that doesn't mean it couldn't happen.
You're installing an app from a third-party source, so you'll need to disable one of Android's built-in security options. Remember to re-enable it afterwards for your device's security.
On newer hardware, particularly devices running Android 4.1, you may experience stability issues with Flash content. That's just the way Flash rolls on mobile devices.
Prerequisites
You'll need a phone or tablet running Android 2.2 (Froyo) to 4.1 (Jelly Bean). Check Settings > About phone / About tablet to see what you're running. If you're on Jelly Bean, check that you have a stock browser installed besides Google Chrome, as Chrome for Android doesn't support Flash. Check your app drawer for "Browser" or "Internet."
The method
Now, down to business. The process of getting Flash for Android on a device that doesn't already have it is pretty simple.
First, you'll need to tell your device it's OK to install apps from sources other than Google Play. You'll need to check the box marked "Unknown sources." On Android 2.2, 2.3 or 3.x, this is found under Settings > Applications. On Android 4.x, you'll find it under Settings > Security.
On your phone or tablet, download the Flash for Android application downloader.

(opens in new tab)

(It'll then download the file directly from Adobe.)
Once that's done, pull down the notification area and tap on the file to install it. Tap "Install" on the next screen to confirm.
When Flash is installed, head into your phone's stock browser (again, Google Chrome won't support your newly-installed Flash apk).
On Android 3.0 or later, go to Menu (three dots next to the address bar on some phones) > Settings > Advanced > Enable plug-ins. To enable Flash content all the time, select "Always on," or to enable it selectively on each page, choose "On demand." Or on Android 2.2 or 2.3, go to Menu > Settings (sometimes Menu > More > Settings), where you'll find the "Enable plug-ins" option.
You should now be ready to go. Check this link

(opens in new tab)

on your phone to confirm that Flash is up and running.
Finally, once it's working, you may want to uncheck the "Unknown sources" option once again to keep your phone or tablet secure.
So there you have it -- Flash support on your Android device. Flash on mobile devices has never been perfect, but on the right hardware Flash 11.1 for Android will give you a decent experience. Remember, though, that Flash has been withdrawn from the Google Play Store for a reason -- it's no longer officially supported, so bear that in mind as you're browsing through Flash content on your phone.
Android Central Newsletter
Get instant access to breaking news, the hottest reviews, great deals and helpful tips
Alex was with Android Central for over a decade, producing written and video content for the site, and served as global Executive Editor from 2016 to 2022.
I took an apk off 4shared and it works fine. To each his own.

After installed Adobe Flash Player, you can use this app "Open Flash" to play SWF flash files on android phone:
https://www.androidcentral.com/e?link=https2F2F...

Step by step tutorial i found to install adobe flash on android devices with .apk file http://www.smartphonesupdates.com/how-to-install-adobe-flash-player-on-a...

I have followed all of the guidance on this page and others too. Nothing is working, with different browsers, different versions of flash, etc. I have enabled plug ins, made sure Flash is actually running, etc. Even turned the phone off and on a few times after each install. I am desperate and will return my phone and go another way if I can't watch stuff online, as I do it fairly frequently now. Can someone please tell me what I am missing??? THANKS!

Gonna miss this being in the PlayStore. It was one of the defining features of 2.3 Froyo.

As somebody said Does anyone know if Adobe is going to abandon Adobe AIR too, or is it just Adobe Flash? I backed up both just to be safe. http://www.embiznes.pl And if was be great if opera mini begin support flash

Using xScope. It also posted a tutorial:
https://plus.google.com/104969017934280196484/posts

Crazy question: Given that a) more and more people use their phones to visit websites and b) iphones and now Android phones no longer (officially) support Flash - Then why do so many sites still base their video playback on Flash?? My work computer has Flash disabled and I am suprised by the number of sites that still use Flash.

Keep in mind lot of sites that have HTML5 use it only on specific user-agents, they can't detect that you have Flash disbaled, so if you got with desktop browser they assume you got flash.

I've honestly always thought it was to limit content on mobile devices. But I suppose Silverlight does that just fine. Damn you Silverlight.

The problem that you should be concerned about isn't video, but the Flash apps that are on web sites. Flash is a cross-platform language in the same way Java is, so content for Flash does not need to be re-written or packaged for each platform. Video content can move to HTML 5 for the most part, but not all content is video. Now, the reason for Flash being used for video playback is that things like dynamic quality based on your connection speed is possible with Flash, while HTML 5 does not support this. So, if your connection slows down, Flash being used allows a video to be turned down from 1080p to 720p, and then down from there if needed. This allows for a better experience than just throwing content at users and assuming their speeds will remain consistently high enough for you.

It's actually easier. I was able to take the apk and send it in an email to my brother in law who has the galaxy nexus with jelly bean none the less. He was able to use it in the stock browser and firefox. I don't think it was successful with Dolphin. There are other browsers that do flash, one I know of is Puffin, but you need fairly decent coverage for it to work.
Iswifter is another that is out for iPad and said to be coming to android soon. These are both sort of how the original Skyfire was to winmo 6.5 and under. They do the flash on their servers. But the reason why I think it's good to have an old phone or buddy with Flash is because they said they are continuing updates on phones that have the app, so when a new update comes, just rip the apk and email and presto. Hope that's helpful.
WCM

Thanks for reminding me. I just used Astro File Manager to backup copies of my Adobe Flash & uploaded the .apk to my Dropbox account to install from for any new devices. Does anyone know if Adobe is going to abandon Adobe AIR too, or is it just Adobe Flash? I backed up both just to be safe. Also, as I understand, Adobe will continue security patches on devices that already had it installed, right? Or did I read that wrong? Assuming they do & someone who was rooted made a backup of the app with Titanium Backup, would installing the app & data from the backup on a new device mean they can keep getting security updates? I'm thinking they would since the backup would keep the Market link intact.

I thought they were going to keep up with security updates at least. And great minds think alike. I used Astro to make a back up of the Flash apk and uploaded it to Google Drive. Not that I've used it much; since Chrome came out, I haven't touched the stock browser on my GNex.

Please help ive spent hours trying to get flash nothing works i have xscope firefox dolphin and chrome i downloaded astro manager and i dont know how to get the apk flash file can you help me please

I know this is off topic, but where can I find that wallpaper above, Alex? Looks awesome.

I would love that wallpaper too :)

that wallpaper is awesome! link please!!!

Same here, wallpaper link needed badly.

You can get the wallpaper by downloading the app pattrn

Any clue as to the pattern name?

Yeah astro is what I used too. If it doesn't get updates on new phone, you could always use an older phone and transfer the apks as they update. WCM

I put it my Nexus 7 with skyfire had to side load both of them kinda of stupid i think to stop flash support i hate Google chrome and will never use it why cant they just give us a desk top type browser

Because we'll never move forward with replacing flash if web devs have no motivation to get rid of it. HTML5 needs to move forward.

Needs to? Yes. Have they? No. That's like the government saying, we are pushing electric cars, so no more gas stations! ...Except that 95% of the cars currently on the road are gasoline powered. :(

How can they pull the app and not support the versions they've previously released? Their software is on many phones and for them to just abandon it while people still have it installed is ludicrous. The fact it could harm innocent users over time is beyond reprehensible. There are people,(many people) who don't know the first thing about any of this technical nonsense and could fall victim to malicious code because the software that is on their devices is outdated and unsupported. That's just marvelous.

I really think it all boils down to money. You say Flash abandoned their post , but maybe Google I have a hunch might have somehow merged with adobe. The fact is cookies are now breeding on their own. Welcome Super Cookies . There flashed and hidden by Adobe . Thanks , Adobe is an icon.

What if your rooted, and you have titanium backup and just restore flash player from there?

Could I have a link to your wallpaper?

I followed all of the instructions on how to install Flash Player onto my Razr Maxx (unrooted), however all that I am getting on my stock browser is a blue leggo style cube with a question mark inside of it. Can anyone tell me what I might be doing wrong? Thanks

Hey, I did everything you did also, and I finally figured it out for my S3. Download the latest flash apk from the adobe website (which you have probably done already).
Go to http://www.apkinstall.com/ and follow the instructions- I downloaded QR Droid. For some reason, this got it working. When I went to the flash site, I saw the settings, I just left them as they were, opened my stock browser and flash was working.

It doesn't work on my Galaxy S II. I have Android 4.0.3. I have only this "lego" cube with question mark... I'm sure I installed flash player ( "apk" file from Adobe site ) properly. Please, help...

In the case of Jelly Bean, make sure you have a stock browser other than Chrome which doesn't support flash.Check this step by step guide http://www.careace.net/2012/10/03/how-to-manually-install-flash-on-your-... to install flash on your S2.

Tried going to the download links in the instructions and getting messages saying the downloader app was removed. I tried accessing via the play store app and the stock browser.

You might try to download the Android ICS apk via the following link:
http://fpdownload.macromedia.com/get/flashplayer/installers/archive/andr... Although some websites have a download link to the apk via not trusted channels, this download link is directly from Adobe.

Works for me. But my browser does not support it, I use another App "Open Flash" to play SWF flash files on my android phone:
https://www.androidcentral.com/e?link=https2F2F...

It works tfuu thanks (apk) that is

Thank you for making this guide. I have a photography business (on the side) and sometimes use flash to showcase shoots. Now I can show off my shoots to possible clients anywhere - that is one of the main reasons I crosed over to Andriod.

It didn't work for me , at the last screen where you click install it just send me to another page where it says NOT INSTALLED , can you assist please

Thank you very much Alex Dobie and Zalazar for these instructions. I just successfully installed Flash on my Galaxy S3 i747!

Why to install manually??? Follow the steps mentioned here to download flash on your cell phone from adobe http://dcosh.blogspot.in/2012/09/install-flash-on-android-devices.html

You can actually still download Adobe Flash directly from the Adobe website: Deliver breakthrough web experiences across screens with a cross-platform, browser-based application runtime that provides uncompromised viewing of expressive applications, content, and videos. Platform: Android, BlackBerry Tablet OS, Google TV https://www.androidcentral.com/e?link=https2F%2Fclkde.tradedoubler.c...

I could not download it because it said device not supported and I had it on my phone but At&t had me do a master reset which I truly believe now was not needed but At&t's answer for everything now I can't get it

http://www.all-video-player.com?hop=diegocohen Enjoy !!

This is all you need to get flash on your android device. No matter what it is. http://www.all-video-player.com?hop=atapaway

download adobe flash player for your android mobile here http://everydaydownloads.net/download/118/Adobe_Flash_Player_11.html

Adobe FAQ: How do I manually install Flash Player on my Android device?
http://forums.adobe.com/message/4675670#4675670

That worked for me! Thank you very much!
(After trying several different flash supported browsers, had too many problems with ads, slow speeds.. I was beginning to hate android till I found this)

Just use this link http://helpx.adobe.com/flash-player/kb/archived-flash-player-versions.html

My device is Samsung Galaxy Tab 8.9 P7300 and android version is 4.0.3. I can't install Adobe flash player . I have already checked unknown sources .Everything i installed it , it always said out of space, delete some items . But there are many available spaces in my device . Please give me some advices.

http://www.all-video-player.com?hop=diegocohen Enjoy !!!

Flash Player Pro is a handy flash tool kit designed as Adobe flash player and manager.
You can DOWNLOAD here: http://www.all-video-player.com?hop=diegocohen

Nice "how to" is also here - http://bestforwebs.com/adobe-flash-player-for-android-devices/

What the most recent version of flash player for android? I have got: 11.1.115.27

i have the nexus 7 tablet running 4.2.2 i have successfully installed flash and running Firefox when i go to the http://www.wsop.com/2013/live-video/ page and click on the stream Firefox sends a popup "this link needs to be opened with an application" i have enabled plugins any ideas

Flash is thr worst platform ever made! I spent years developing heavy projects but suddenly the whole actionscript logic changed to AS3 which meant almost no possible updates to old projects. Now as android is quickly being used more and more around the world, adobe decides to stop flash player development for android! Developers should invest in platforms offered by reputable companies not to face such problems in the future. Adobe had better develop only photoshop!

One of the most fastest way is to download .apk file from : http://androidappsapkdownload.com and enjoy all apps

Hi, can anyone help? I was kindly given a Google Nexus 7-ii for Christmas which updated to Android v.4.2.2. I can't view news videos or YouTube videos using a number of Android browsers. 1) I have installed Flash Player for Android 4.0 v. 11.1.115.81.apk from Adobe archive.
2) I have installed Firefox Beta, Dolphin, Boat Browser and Opera mini a number of times each.
3) I have set all of these browsers to always have flash on etc.
4) I have tried the browser option to 'request desktop version' both On and Off respectively.
5) I have tried setting the 'User Agent' option to use both Android and Desktop respectively. "Puffin" browser does not appear in Play Store (location sensitive?) In-page videos are still not available...
i) Media playback is unsupported on your device, etc.
ii) You need to install Flash player to play this video, etc.
iii) A plug-in is needed to display this content, etc.
iv) Flash Player incompatible
...although Google's supplied YouTube app can play YouTube videos. Any suggestions appreciated, thanks.

[I meant Android v.4.4.2] There is an excellent fix using customized flash by survivelend which only works in the Dolphin browser. Search for... "[Guide][Flash]How to play flash video on Android 4.4 Kitkat" Surely there should be a trade descriptions act enforcing companies (i.e. Google) to clearly state that the assumed and expected use of their technology (i.e viewing flash videos in web pages in their tablet) does not function out-of-the-box? Confused.

As usual the tech nerds, geeks and losers are making something simple difficult. Easy and best way to get and install adobe flash player for 4.1 and up. GO TO ADOBE.COM AND DOWNLOAD IT!!!!!

If it were 'simple' then I wouldn't get a BLANK screen on my phone when I go to the Adobe website. . . . . . . TROLL!!!

Step by step and complete tutorial here you can install adobe flash on android devices with .apk file easily
http://gotopten.blogspot.com/2014/02/how-to-download-and-install-latest....
Android Central Newsletter
Get instant access to breaking news, the hottest reviews, great deals and helpful tips
Thank you for signing up to Android Central. You will receive a verification email shortly.
There was a problem. Please refresh the page and try again.