How to keep your Oculus Quest safe from sunlight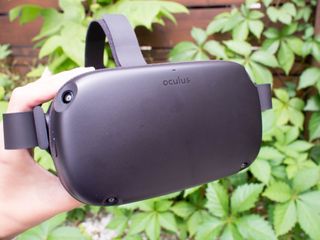 With all VR headsets, but especially headsets designed to be mobile like the Quest, it is vitally important to keep them safe from the sun's rays. It only takes a few seconds to focus the sun's rays onto your screen and permanently burning marks into it. While you may get lucky and your headset might avoid any permanent damage, it's probably best to follow our tips, and the advice of Oculus themselves, and avoid the sun.
Products used in this guide:
How to keep your Quest safe from sunlight indoors
First, secure your regular indoor playspace from sunlight by closing blinds that may face your lenses. Even sunlight through a window can damage your screen.
When your play session is over, make sure you do not store your headset with the lenses pointing towards the sun. Ideally, store your headset in a case.
How to keep your Quest safe from sunlight outdoors
If you have to transport your Quest outside, the first thing you should do is cover the lenses. Ideally, this will be done by putting the Quest in a case, but in a pinch, covering your lenses with a cloth will suffice.
When transporting the Quest outside, do not remove the cover, or remove it from its case. As tempting as it may be, Oculus does not recommend using the Quest outside, and any damage caused from doing so will not be covered by the warranty.
Wait until you are back inside before taking your headset back out.
By following this guide, your Quest's lenses and screen will be safe from sunlight. While it may not seem like much, sunlight is probably the quickest way to damage your headset. VR headsets are just inherently not sun-friendly, since the lenses quickly become a deadly magnifying glass. With regular maintenance and care, you can keep your VR headset in pristine condition.
Protection from the Sun
Oculus Quest Travel Case
Perfect on-the-go VR protection
Durable and spacious
The official Oculus Quest Travel Case stores the Quest in a small and secure space, and makes it easy to transport while protecting it from the sun.
The best way to protect your Quest from the sun is to never let it get in the sun to begin with. The easiest way to accomplish this is a high-quality case. The official Oculus Travel Case is our top pick for all your Quest transport and protection needs. It fits the Quest perfectly and still have room for additional accessories.
Additional Equipment
Check out these other products to further enhance your Oculus Quest experience.
MPOW Foldable Headphones ($27 on Amazon)
These over-the-ear headphones will enhance your VR experience by delivering hi-fi sound quality. Connects by auxiliary cable or Bluetooth.
Care Touch Lens Cleaning Wipes ($15 on Amazon)
To keep your headset and lenses clean from dust and debris, use these pre-moistened wipes. These will insure your headset stays clean, even with multiple users.
Anker PowerCore 10000 ($32 at Amazon)
The Anker PowerCore 10000 holds plenty of power to extend your VR session quite a bit. With this, you don't have to break your immersion by stopping to charge the Quest.
Get the Android Central Newsletter
Instant access to breaking news, the hottest reviews, great deals and helpful tips.