How to help your phone survive a long-haul flight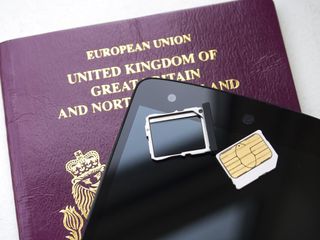 For many of us, smartphones are a hugely important part of traveling by air — whether it's through airline apps and mobile boarding passes, using indoor maps to find your way around the terminal, or just distracting yourself from the stress and boredom of the whole experience.
But flying can be tough on your phone. Browsing or using apps for hours while waiting for a flight can eat a significant chunk of your battery, as can listening to music or watching movies while airborne. And that's to say nothing of the risk of physical damage as you're taking devices through security and onto the plane.
So we've compiled a few tips to help you and your device make it safely to your destination. Head past the break to get started.
Keeping things charged
This is a no-brainer — many flights now provide seat-back USB charging ports, but these are by no means guaranteed. Same deal with charging spots at airport terminals. And with many destinations now requiring phones power on as part of enhanced security measures, it's never been more important to keep your phone juiced up as you travel. (Especially if that's where your boarding pass lives.)
So it's worth making absolutely sure you have your own way of keeping your device charged. The easiest way to do this is with an external battery — or if your phone supports it, an additional removable battery.
Devices like the LG G4 and Samsung Galaxy Note 4 let you swap out a dead battery for a fresh one, which is a really convenient way to go from zero to 100 percent instantly.
See Android batteries on ShopAndroid (opens in new tab)
Otherwise, a portable USB battery can help your phone survive a long stretch without access to a wall outlet. If you've got a modern Android phone that supports Qualcomm QuickCharge, two of the best options come from Samsung and Aukey.
Samsung's 5,200mAh Fast Charge battery works with any USB-powered phone, but can rapidly charge devices supporting the Quick Charge 2.0 standard. It's also small enough to fit in a jeans pocket, and comes with a small microUSB cable. It'll provide enough power to get most phones from dead to fully charged, and then some.
If you're after even more juice for multiple recharges (or charging multiple devices at once), Aukey's 10,000mAh Quick Charge battery is a good option. It's got one port that supports QuickCharge 2.0, and another for regular (slower) 5V/1A charging.
If all else fails, you can save battery power by turning down your backlight, using Wi-Fi instead of mobile data where possible, and using your phone's built-in power-saving modes.
Loading up on storage
If you're planning on spending your flight listening to music or watching movies on your phone, you'll want to pre-load this content in advance. (Even if you've got in-flight Wi-Fi, there's often not enough bandwidth for streaming, and services may be blocked anyway.)
Apps like Google Play Music and Spotify let you offload your music cache to a microSD card, if your phone has that slot. That's a good place to start if you're using good old-fashioned MP3s, too.
Alternatively, you may want to give your phone's internal storage a little spring-cleaning, removing unused apps and offloading stuff like photos and videos to the cloud. Remember that things like web browsers and social apps can cache a lot of data on your phone, so clearing out these can free up a lot of space.
See microSD cards on ShopAndroid (opens in new tab)
Keeping things protected
I've lost track of how many times my phones have acquired mystery scratches after going through an airport or a long flight. As you're moving devices in and out of security bins, and juggling stuff between pockets and tray tables, it's easy for accidents to happen.
For that reason, even if you normally use your phone without a case, you might want to think about investing in one while you're on the road. There are a bunch of cases available for popular Android phones (opens in new tab), but if you're not planning on using one every day then a pocket pouch (opens in new tab) is a useful way to keep phones protected in bags or security bins.
Always pack spares
Your phone will have come with at least one charging cable. And if you're a longtime Android user then chances are you'll have some spares from older phones knocking about. Do yourself a favor and pack more than one charging cable — or if you only have one, pick up a spare before you leave.
This applies doubly if you're using a phone with the newer USB-C standard, like the Nexus 6P, Nexus 5X or OnePlus 2. These cables are much harder to come by in the wild, so you're going to want to pack at least one spare.
How do you use your phone when you travel? Any tips to share? Shout out in the comments!
Android Central Newsletter
Get instant access to breaking news, the hottest reviews, great deals and helpful tips
Alex was with Android Central for over a decade, producing written and video content for the site, and served as global Executive Editor from 2016 to 2022.
Fyi, I almost bought the Aukey one, but multiple reviews on Amazon has reported that the Aukey one mentioned in the article has melted(literally)! Caveat emptor. Posted via the Android Central App

Warranty?
I don't mind a week without it. Even while traveling it's just a convenience; most airplanes and cars have USB ports nowadays. Posted via my smexy Nexus 6

F that. Do you know what melting plastic smells like? It smells a lot like quickly diverting this Airbus A330 back over dry land to make an emergency landing at Logan Airport. That's what it smells like.

Don't remind me of the time our jet had to be delayed for 2 damn hours just because some ground crew couldn't fix a temperature sensor. First, they said they could. Then, they said they couldn't. Irritating. The plane was a Boeing 777, BTW.

But flying can be tough on your phone. Browsing or using apps for hours while waiting for a flight can eat a significant chunk of your battery,-need to fix!! Posted via the Android Central App

Fix what? Yes, your phone uses battery while using it...

-_-"... What are you even saying? Posted via the Android Central App

This article missed the most important tip of all. Put your device in airplane mode. Cellular devices will drain their battery while continually hunting for service. Putting them in airplane mode prevents this. I don't really buy the interference reasons, but the battery savings are legit.

To add to this great tip many people don't know you can turn WiFi and Bluetooth back on after putting the device in airplane mode. With WiFi calling I wouldn't know the difference when in airplane mode and connected to WiFi. Call or text my regular cell number and it's routed through WiFi. Always surprises people when I get calls or texts in a concrete bunker where nobody has cell/data service regardless of carrier.

As for me, I don't usually use my phone on a long-haul flight. It's usually my tablet (in this case, an iPad). Mainly because I store way more stuff on it, from tons of games to videos and other content. Probably a good idea to bring a battery bank, though, as using it constantly can drain its battery significantly (it has a 10,307mAh battery. It's big but that 2732x2048 display does eat up a small but somewhat significant chunk of it). I usually leave my phone off or in Airplane Mode unless I need to use it as an MP3 player or a little video player (Doze helps standby time quite nicely and my case has a pretty nifty kickstand). Other than that, it's usually my tablet and sometimes (if there's something good on it), the IFE. Here's a fun little fact. At Singapore's airport, I had to put my G4's extra battery through the x-ray machine at the gate for my flight home.

Can't believe this list left out a good pair of noise attenuating IEMs and a small, foldable kickstand.

Those don't so much help your phone survive as make your experience of being comfortable and entertained better.

Then why bother talking about adding storage? Why have this in there... --"If you're planning on spending your flight listening to music or watching movies on your phone, you'll want to pre-load this content in advance."-- ...More storage doesn't help your phone survive, it just makes your experience more comfortable.

It doesn't help your phone survive, but it saves you from utter boredom as you can load up your favorite stuff mid-flight, whether it's a movie, a long music playlist or a game. It won't save your phone, but rather saves you from utter boredom. Yeah, I know the in-flight entertainment system is a thing, but honestly, I only find 1-2 movies that I like watching. On a really long flight, that's not much, especially when you consider that my last long-flight, aside from the one back in 2014 to Taipei, was a 16 hour flight from Chicago O' Hare to Hong Kong. Seriously, it gets boring on a flight that's 6 hours or more.....unless I get to sit in the cockpit. Now THAT's entertainment. Too bad they don't allow it anymore, so my best bet is a flight-sim unless I decide to become a pilot with Delta or whichever airline.

16 hours! Well that rules out depending on the phone alone... It's battery pack if the plane does not have USB at the seats.

It requires less battery to play local content than to stream it. Plus you can even keep your phone in Airplane mode while playing local content if you really wanted. Posted via the Android Central App

Anybody know which cases are in the picture with the galaxy s6? Posted via the Android Central App

Looks like the two colorful cases are Speck

Thanks Posted via the Android Central App

Interesting, makes absolute sense!

In my case I don't have any problems since I'm not glued to my phone 24/7 like 99.9%. I can easily go a week without my phone than with my tablet. Some people forget their babies in their cars, but if they don't see their precious smartphone they go berserk.

Yep still a few of us around that don't need to suckle on the smartphone digital teat. Most here on this site are man-babies.

Oh shut up. Then this post isn't for you Posted via the Android Central App

I have no comment for your lack of a comment. Posted via the Android Central App

And I refuse to comment on your comment regarding the lack of comment! Oh wait... Posted via the Android Central App

I carry a Nomad Carabiner micro-usb cable. Nomad also makes iphone lightning cables, as well as short cables that work as keychains--less likely to get lost, IMO. They don't make USB-C cables yet.

You do know that anyone looking at you using your phone or laptop constantly on a flight thinks you are the saddest guy on the flight? Just kick back and plan your day a little better!

I don't spend the whole flight on the phone. I keep it in my pocket until I get bored, but don't hesitate to listen to music or watch a movie (or play a good game) if I'm not talking to someone. I've never had to charge up before reaching my hotel room, and even gave away my power bank to another passenger. Of course on my last flight from Texas, I was entertained by the guy in front of me screaming and crying ;) Posted via the Android Central App

Projection aside, the actual saddest person is the one who thinks someone should care about a rude, nosy stranger's opinion of them.

Easiest way to preserve the battery life (in my opinion) is to turn the phone off and use a throw-around phone/tablet for media purposes. I have an original Moto G that fulfills my music and browsing needs. It cost me about $20.

If you travel internationally... make sure to buy an unlocked phone with support for a buttload of LTE bands. Something like the recent Nexuses or the Moto X Pure.

Great tips...any suggestion for USB-C portable charger for a Nexus 6P?

It's a no brainer. Ravpower Turbo Series 20100 mAh battery with USB-C fast charging... I'm using it as I type right now. It's model RP-PB043. That'll get you through a 24 hour flight easily. Has a USB 2.0 quick charger port and a regular USB port as well. Can charge the charger through USB-C as well. LOVE IT.

Just turn airplane mode on. You can still use wifi (if the aircraft has it) on airplane mode.

How about games? Any no Internet required, ad free games? Will to pay for them upfront. Posted via the Android Central App

Thanks for mentioning the swappable battery offered by LG and in the past by Samsung. Spent yesterday on the flight circuit. Upgraded to the Note 5 last year and love most everything about it. EXCEPT the sealed battery. Carrying a fully charged spare or two was as easy as pie for all the phone use I could want with my Note 3. Now, I'm like most of the rest of the slaves looking for wall outlets or dealing with a bulky power bank. The Note 5 has quick charging, which I appreciate, as well as great initial battery life. But neither of those features come close to a some replacement batteries and an xtra carger when flying.
Android Central Newsletter
Get instant access to breaking news, the hottest reviews, great deals and helpful tips
Thank you for signing up to Android Central. You will receive a verification email shortly.
There was a problem. Please refresh the page and try again.