How good is the OnePlus 6T's battery life?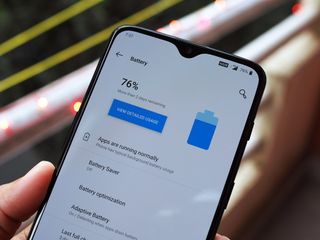 Whether you have $500 or $1000 to spend on a new smartphone, the OnePlus 6T is a device that should be at the very top of your shortlist. With a large display and a small waterdrop notch, in-display fingerprint sensor, reliable cameras, and a phenomenal software experience, the 6T is a good phone at pretty much any price.
Along with all that, another reason to consider buying the 6T is because of its battery. With a 3,700 mAh unit, 1080p display, and the Snapdragon 845, the 6T has all the makings of pretty solid endurance.
Here's what some owners in the AC forums have experienced so far.
What about you? If you have the OnePlus 6T, how's its battery life been?
Joe Maring was a Senior Editor for Android Central between 2017 and 2021. You can reach him on Twitter at @JoeMaring1.
It is absolutely amazing! Regularly get 2 and a half days of battery life with about 8 hours of sot. And I'm a heavy user! (Both body and phone) 🤣

That is pretty impressive...

For the money 549.00 is a very good price for what's offered. Reports of 7plus hrs SOT is excellent. Plus I like oxygen OS better than pure android. And dash charging is another plus. Who cares it doesn't have wireless!

The phone is a really good value , and good device period. I had a Moto Z Play with a battery mod before this, and my daily battery life worries are exactly the same: which is to say, zero.

Best phone I've had hands down. I've had the OG Droid, Galaxy Nexus, Nexus 5, and the Nexus 6P (Notice a trend?). This has been the smoothest operating experience I've ever had on Android. The system is very responsive with no lag at all. The fingerprint scanner takes some getting used to and 9 times out of 10 when I have issues with it, it's because my screen is dirty. But the battery life. I've gone 3 days and 15ish hours from 100% battery to about 10% and about 3-4 hours of SOT (I'm not a very heavy user). Most phones for me with about 3 hours of SOT would be dead within 18 hours. I couldn't be happier. I've been wanting a phone I didn't have to worry about charging, and I finally have it.

I don't see how others say it's a "camera hit." The 6T camera is really good. You can even run the Pixel camera on it and ramp up the quality even closer to the Pixel.

I was wondering about that if it was close or better than the pixel.

When compared to Huawei P20/Mate 20 Pro there is just no comparison. But granted, that's what you get for $200-$400 more dollars....

This phone has killed my battery anxiety. I can start the day with a bit less than 50% charge and not feel the dread of running out of juice. I'm a heavy user with WiFi and Bluetooth on all the time, and still have enough power to charge the phone the next day while I get ready. On the camera side, it has gotten way better after a few updates to the point that I only use the Gcam for the photoshpere and playground. Not the best camera, but very damn good.

The other day I had 11 hours of screen on time with around 25 percent left. Was watching amazon prime, Hulu and YouTube all day. Craziest battery life I have ever seen

I realize that the OP6 and OP6T have different battery capacities, but even my lowly OP6 has excellent battery life that removes any anxiety. The OP3T was great, and coupled with DASH charging it was rarely a worry. Now with my OP6 I never even think about it - it's that good.

Wish I could say the same for my OP6 - down to 25% left after 16h on, incl 2h screen on.

I was getting a solid 7 hours of screen on time with almost 2 days before needing to charge. I say "was" as I ran into some overly aggressive app management by the OS. Had to turn off some of the battery optimizations, pin some apps (Android Auto wouldn't launch Pandora until I pinned it and turned off batt opt.) So I'm now down to 6-6.25 hours of screen on time, and about a day and a half before I have to charge. Oh woe is me. How will I ever survive? ;) Seriously, I love this phone. Since rooting it some of the haxies I've found for it have made it even better.

You point it right: battery optimization. Samsung and Huawei have it. This is the power of android. You can make it personal. Focus on your primary use and the rest optimize it.

Although so far (a couple of months in) only 2 apps have been restricted by Adaptive Battery, which surprised me. Not sure it's doing much!

Lost my car charging cable, and I don't really care. Everything I do with this phone is great!

I want that battery life. Different story for the Pixel 3 but it gets you through the day.

Ugh, I'm only averaging about 4-5 hour SOT on my T-Mobile variant. I've tried factory resetting it and optimizing apps, etc. Not sure what I'm doing wrong. Anybody else on a T-Mobile variant experiencing the same?

I wouldn't say you're doing anything wrong; it does depend on what you have installed, but I get about 4-5 hours SOT too. Depends on usage and a bunch of factors, but your usage sounds pretty damn good honestly! I get like 3 hours SOT on any other smartphone tbh. How long does a charge last you? Mine lasts a full day, easy. Considering every other phone needs a mid-day charge, I'd say you're good if it lasts you a full day and then some.
Android Central Newsletter
Get the best of Android Central in in your inbox, every day!
Thank you for signing up to Android Central. You will receive a verification email shortly.
There was a problem. Please refresh the page and try again.