How to fix Snapchat login errors on Android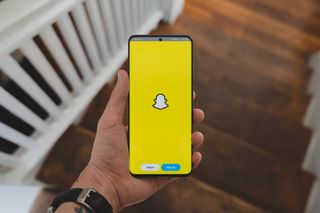 (Image credit: Hayato Huseman / Android Central)
Snapchat is a fun way to keep up with your friends — everybody loves sending ephemeral photos and videos these days, and Snapchat is the platform that largely started the trend. However, every so often, users run into trouble signing in, which can be especially frustrating on an app like Snapchat that gamifies ongoing conversations with Streaks. Luckily, there's usually a simple solution in place, and we have a few things you should look out for, should you run into any issues.
Check for server outages
If you're having trouble signing into your Snapchat account, the first thing you should do is check if Snap's servers are down. There are plenty of sites that report on site and service outages; for this example, we're using Downdetector.
You can look up the status of any service using Downdetector's search bar, but one of its conveniences is that the site highlights the latest outages directly on the homepage. You can see a basic timeline of outage reports from the homepage, and clicking on the service takes you to a more detailed page with specifics on the particular problems users are having and how many people have reported them.
Try restarting your Wi-Fi and cellular data
If Snap's servers are up and running but you still can't sign in, it could simply be an issue with your data connection. Toggling airplane mode on and off generally fixes this, as it temporarily disables both Wi-Fi and mobile data, but if you'd rather toggle each connection manually, the process is still fairly simple.
Swipe down from the top of your phone's screen to access the notification shade.
On most phones, you'll see a quick toggle button for your Wi-Fi at the top of your notification shade. Tap it to turn Wi-Fi off, wait a few moments, then tap it again to reconnect.
To restart your cellular data connection, open your phone's Settings app.
Tap the search button at the top of the list and type "mobile data."
Tap the search result of the same name, then tap the toggle next to the menu item to disable mobile data.
Tap the toggle once more to re-enable your data connection.
Restart your phone
It's a tried and true joke amongst sarcastic troubleshooters, but restarting your phone really can be the necessary fix. It gives your phone a chance to shut down any unneeded background tasks and even takes care of restarting your network connections for you. Give it a try — you've got nothing to lose, and you could wind up with a fully functioning Snapchat app.
Make sure you aren't using unauthorized services
A deeply personal service like Snapchat requires a commitment to security, and for that reason Snap Inc. isn't a fan of modified experiences. Rooted phones and VPNs are a nonstarter with Snapchat, and third-party apps and plugins are equally discouraged.
Snap's site lists a few examples of unauthorized third-party apps; in general, it's a safe assumption that if you're using anything but the official Snapchat app from the Google Play Store, you'll run into trouble signing in and using Snapchat.
The most important tip of all, however, is to just be patient. Generally speaking, the issue is likely on Snapchat's side, which can be frustrating, but there's nothing you can do besides wait. Maybe try Instagram — it stole Snapchat's best features, anyway.
Phone used in this guide
Versatile cameras
Three great cameras and a big, beautiful screen
The S20+ has a lot going for it, but one of its biggest perks is its triple camera system, which lets you take standard, ultra-wide, and telephoto shots in seconds. You also get a huge screen for viewing friends' Snaps and crafting your own — this is a fantastic media machine.
Sign up for Black Friday email alerts!
Get the hottest deals available in your inbox plus news, reviews, opinion, analysis and more from the Android Central team.
Hayato was a product reviewer and video editor for Android Central.