How to enable Wi-Fi calling on a OnePlus phone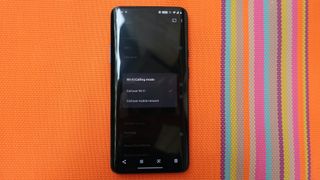 (Image credit: Jeramy Johnson / Android Central)
Whether you're trying to save some money on your calling plan, or if you just want to take advantage of your strong home Wi-Fi signal while you're stuck working from home, you should learn how to enable Wi-Fi calling on your smartphone. While there might be a slight discrepancy between carriers or geographic locations, following the steps below should do the trick in toggling on Wi-Fi calling for your OnePlus phone.
How to enable Wi-Fi calling on a OnePlus phone
Note that options may vary by carrier and location. The example below was done on a Mint Mobile SIM running on T-Mobile's network.
Open the Settings app.
Tap on Wi-Fi & internet.
Tap on SIM & network.
Tap on your active SIM.
Toggle the Wi-Fi calling switch to the on position.
Tap Calling preference.
Tap Call over Wi-Fi as your preference.
Now you can make your phone calls over Wi-Fi when on one of your selected Wi-Fi networks (like at home), and potentially save some money on your plan.
Just remember that different carriers may have different ways to switch on Wi-Fi calling. For example, you may be asked to verify your emergency services address before Wi-Fi calling can be fully enabled. This is because your carrier and local authorities want to be able to reach you in the event of a 911 or emergency call from your mobile phone.
Our top equipment picks
If you're going to be using Wi-Fi calling, why not make sure your home network is optimized? I've set up an Eero mesh system and swear by it. Why not try it for yourself?
Whole-home coverage
(opens in new tab)
Scalable Wi-Fi
If you're looking for an excellent, secure mesh networking hardware solution, the Eero Mesh Router is a great choice, offering good specs and coverage for its price point. You can start with one access point and add more as needed, or pick up a two or three-pack.
Additional Equipment
If you're already happy with your home's router, or you can't or don't want to change it, try one of these to improve your home Wi-Fi situation.
TP-Link N300 WI-Fi extender (opens in new tab) ($20 at Amazon)
No more dead zones! This uses your 2.4GHz Wi-Fi to extend a weak wireless signal in a spot of your home that might not get any at all, and it works with any router.
Yawenner Wall Mount Holder for Eero Mesh device (opens in new tab) ($13 at Amazon)
If you don't want to place your Eero units on a table, or if you can't spare the counter space, grab a few of these and mount your eeros on the wall by the outlet. This mount even gets the cords out of the way.
AmazonBasics Reusable Cable Zip Ties (opens in new tab) ($8 at Amazon)
Get those unsightly router cables organized and out of the way with these cable zip ties. They're cheap, and they can be reused again and again.
Jeramy is proud to help *Keep Austin Weird* and loves hiking in the hill country of central Texas with a breakfast taco in each hand. When he's not writing about smart home gadgets and wearables, he's defending his relationship with his smart voice assistants to his family. You can follow him on Twitter at @jeramyutgw.
Android Central Newsletter
Thank you for signing up to Android Central. You will receive a verification email shortly.
There was a problem. Please refresh the page and try again.