How to enable dark mode in the Twitter app for Android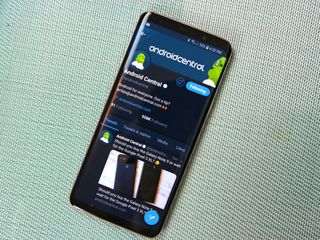 (Image credit: Joe Maring / Android Central)
We've all been there. It's late at night or early in the morning, you open up the Twitter app to kill some time, and you're blinded by its harsh white background. Yuck. Thankfully, there's an easy fix for this.
The Twitter app on Android has had a built-in dark mode for a while, and it's pretty great. Even better, getting it set up takes just a matter of seconds. If you're ready to start living that #DarkModeLife, here's what you need to do.
How to turn on dark mode in the Twitter app
Open the Twitter app on your phone.
Tap your profile icon at the top-left corner.
Tap the light bulb at the very bottom-left corner of the page that pops out.
If you want to disable dark mode, simply follow the same directions above and you'll be taken back to the regular stark white layout.
How to change your dark mode settings
Manually turning dark mode on/off is one way to go about things, but there are actually some settings you can mess with to fine-tune the feature to your exact liking.
Tap your profile icon at the top-left corner.
Tap Settings and privacy.
Tap Display and sound.
From here, you'll have a couple of different things to play around with.
If you tap on Dark mode appearance, you'll be able to switch back and forth between Dim and Lights out. Dim is the default option, giving Twitter a dark navy background. If you switch to Lights out, however, you'll get a completely black background that looks especially good on phones with AMOLED displays.
Source: Joe Maring / Android Central
Lastly, tapping on Dark mode gives you the option to have dark mode turn on automatically at sunset (and off at sunrise). We won't judge you one bit if you want to rock dark mode 24/7 just for how sleek it looks, but if you'd rather only use it at night, going the automatic route is super helpful.
Go Tweet the day away
With dark mode now enabled, you're ready to go tweet, like, and do whatever else with an app that's sleeker than it was before.
Have any questions? Leave a comment down below and let us know!
Twitter: Everything you need to know
Joe Maring was a Senior Editor for Android Central between 2017 and 2021. You can reach him on Twitter at @JoeMaring1.
What boggles my mind: it's been nearly a year since Android 10 was released with Dark Theme, and yet the Twitter app STILL does not support it on Android—you either have to manually toggle it all the time within the app or give it location access to do it at sunset. What I actually want is for it to work how it has worked since day one on iOS 13 and recently on the web where if my OS has Dark Theme on, the Twitter app just follows along…
Android Central Newsletter
Get the best of Android Central in in your inbox, every day!
Thank you for signing up to Android Central. You will receive a verification email shortly.
There was a problem. Please refresh the page and try again.