Getting to know Periscope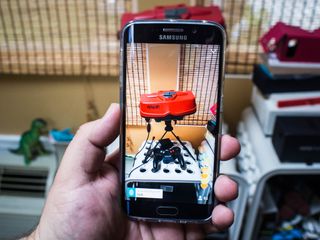 In our constantly connected world, we've gotten used to seeing everything fabricated to look ideal. The perfect angle, lighting, and wording for each photo, video or text post-no matter how long it takes. Authentic, in the moment video, without any alteration or tweaking to make sure everything looks absolutely perfect has been lacking. One of the apps to step up to the plate and try to give us what we've been missing is Periscope. We've seen users showing us everything from their breakfasts, and daily errands, to a pool party at Playboy mansion, and questionable broadcasts of major sporting events. By instantly connecting to your audience, in the moment, there really isn't any end to what or how you stream.
So if you're interested in how Periscope works, we've got you covered. Here's the basics of both using the service, and broadcasting with it!
The Basics
Inside the app, things tend to work fairly intuitively. The home screen is a Material Design-ish bar with buttons at the top of the screen, and recent Periscope casts from people that you follow. The three buttons at the top of the screen appear as an old rabbit eared television, the world, and several people's heads.They bring you to the home screen, a most popular tab, and follow suggestions. The home screen for the app, is a stream of people you follow, who have recently been livecasting. The world is a stream of the most popular livecasts from all over the world, and the icon of peoples heads is a list of featured users to follow. To the far right, at the top of the screen is another icon which will take you to your profile page.
At the bottom right of the home screen, is an icon of a camera in a red bubble. As you might have guessed, pressing it will take you to the menu where you can livecast from. At the top of the casting screen, you have the options of a public or private livestream. With a private stream, only users whom you are following on Periscope and you designate, will be able to view the video. After giving your broadcast a title, you have three more options. You can share your location, designate who can chat during your cast, and decide whether or not to post on Twitter about your cast on Periscope
Broadcasting made easy
Unfortunately, it seems you can only cast in Portrait mode with your phone. Landscape mode with the video camera on your phone will just turn the Cast at a 90 degree angle, turning everything sideways. Problematically, the camera will turn from the perspective of the Caster, but your viewers will be seeing everything sideways. You do have the option of using either of the cameras on your phone, although the quality of video does suffer with a front facing camera. During casting, your viewers only have a 1-2 second lag against what you're showing them, which is definitely an interesting choice. When you're ready to conclude a cast it just takes a swipe down the screen.
Once you've finished casting you get automatic access to your analytics. Retention rate, total viewers, time watched, and duration will all pop up immediately after you conclude your livecast. If you hit the three dots in the lower right corner, you can also choose to delete the cast if you so choose. Periscope archives all livecasts for 24 hours, and then they disappear. So why use this app over so many others? The point is that what we see is fleeting. It's ephemeral, live, and as the company puts it "allows you to see the world from someone else's eyes."
In a world where shared experience is the norm, this allows you to live in the moment whether you are at home on your couch or out seeing the world. Intuitive, and easy to use from the first tap, Periscope doesn't have to be a mystery. You can find it in the Google Play Store, and start experiencing the world through someone else's eyes right now.
Android Central Newsletter
Get instant access to breaking news, the hottest reviews, great deals and helpful tips
Jen is a staff writer who spends her time researching the products you didn't know you needed. She's also a fantasy novelist and has a serious Civ VI addiction. You can follow her on Twitter.
Thanks Jen. Just started using it. Ofcourse, having VZW means my 2gig cap comes up quick. Funny thing, i started watching John Legere's Periscopes because i like what he's doing for the wireless industry and, i want to switch to Tmobile. Yesterday as soon as i was done watching his broadcast, VZW sent me an email telling me i need to purchase more data... lol-NOT

What's the difference between Periscope and Meerkat? Posted via the Android Central App

Just wondering why every one uses portrait mode rather than landscape? Only seen one person using landscape.. Posted via my Motorola Startac

Because the chat is in portrait, that's how it's designed to be used Posted via the Android Central App

Read the article... It explains what happens if you switch to landscape Posted via the Android Central App

I think we're beyond this now. Periscope isn't being displayed on your TV. It's mainly a phone based system.

I've been watching it a bit lately. Just clicking on random casts. For some reason the bulk of the offered casts are from Turkey and the Gulf states. Lots of young Arabic men driving around in their cars, being cool. A bit odd, but an eye into their lives. The most popular casts are simply Girls. Putting on makeup, sitting in class, just smiling at the camera. While guys type slightly pervy comments at them.

Meh, I watch Kevin Hart feed from time to time. "nothing I shoot ever gets back up again"

I had 163 people watch me in the shower with a waterproof case on my phone, pretty funny (camera never went below shoulder height of course) Posted via the Android Central App

I wasn't surprises by the number of Turkish casts because I live in Turkey; I thought the app suggested casts based on your location. Posted via the Android Central App

I am in Australia. I'll have a look in whatever Settings this app has, but it is like this on both my tablet and phone. Don't get me wrong, I like seeing what's going on in other countries. Seeing just suburban Aussies would be a bit boring. A worldwide random collection wou!d be best. It does seem like a great app for people to perve on exhibitionists.

I love the app and hope it gets better and better on Android. Posted via the Android Central App

Loving the Virtual Boy, I have one of those packed away somewhere!

Landscape video works on my Moto X 2013. I just tested and watched the replay. I'm sure I've seen at least one scope in landscape. Posted via Android Central App

Yes it seems a waste of landscape for places that look best in that mode like one I saw yesterday driving thru the streets of Rome and got to the Coliseum and you got a small bit of it and lots of sky. Posted via my Motorola Startac

First thing I noticed was the virtual boy lol. I still have mines packed away in the closet lol Posted via the Android Central App

"You do have the option of using either of the cameras on your phone, although the quality of video does suffer with a front facing camera" Unless you're using a G4 :-P

The best thing I ever saw on Periscope or Meerkat was this girl she calls herself the roxxy or something like that. She was saying how she doesn't go on instagram that much because people share the stupidest things and share too much about themselves.. While she is going on this rant, she's showing herself putting on makeup and getting dressed... I've since deleted both apps.

How do you switch caneras? From the front to rear camera? Thanjs

I installed this on my LG-G3. It works well, except I can't see or get to the buttons (the globe, etc) at the bottom of the screen. - the 3 LG buttons are exactly where the app buttons are. The globe opens up the map of the world where you can see the red dots of people streaming "live" all over the world. Any suggestions?
Android Central Newsletter
Get instant access to breaking news, the hottest reviews, great deals and helpful tips
Thank you for signing up to Android Central. You will receive a verification email shortly.
There was a problem. Please refresh the page and try again.