How to delete your Facebook account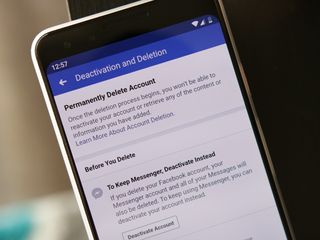 (Image credit: Joe Maring / Android Central)
Facebook is one of the world's largest social networking platforms around, and while it can be a great place for connecting with loved ones, it's also been faced with a heap of security and privacy issues as of late. If you no longer feel safe having so much data on Facebook and want out for good, here's a quick step-by-step guide on how to delete your account using an Android device.
Step 1 — Download a copy of your information
Before you up and delete your account, you'll want to first make sure you download a copy of your data. This will allow you to keep an offline record of as much (or as little) of your Facebook information as you want. This info is gone once your account is deleted, so even if you don't think you need to keep it right now, it's still a good idea to save a copy anyway just in case.
Open the Facebook app.
Tap the three lines towards the right of the top navigation bar.
Scroll down and tap Settings & Privacy.
Tap Settings from the expanded menu.
Scroll down and tap Download Your Information.
Deselect any info you don't want saved (everything is checked by default).
Tap the Create File button at the bottom of the page.
Once your copy is ready, Facebook will send you an email letting you know. From there, head back to this section of the app and you'll be able to download it and then use it however you see fit.
Step 2 — Delete your account
With your account info downloaded, it's now time to permanently delete your Facebook account. Let's do this.
Open the Facebook app.
Tap the three lines towards the right of the top navigation bar.
Scroll down and tap Settings & Privacy.
Tap Settings from the expanded menu.
Scroll down and tap Account Ownership and Control.
Tap Deactivation and Deletion.
Select Delete Account and tap Continue to Account Deletion.
Tap Delete Account.
There you have it. Your Facebook account is now deleted 🙌.
Step 3 — Delete or disable the app from your phone
And, finally, the moment we've all been waiting for — getting the Facebook app off of your phone!
If you installed Facebook on your phone, you can just delete it and be on your way. However, if it came pre-installed, you'll need to go into your phone's settings and disable the app.
How to delete the Facebook app
If you're able to delete the Facebook app, here's what the process looks like.
Find the Facebook app in your app drawer.
Hold down on it and drag it up to the Uninstall icon.
Let go of the app.
Tap OK.
How to disable the Facebook app
A lot of Android phones come with the Facebook app pre-installed right out of the box, and when this is the case, it means you usually can't completely delete it from your phone. However, you can disable the app to erase any personal data that's been stored on it and remove the icon from your app drawer.
Disabling Facebook requires a few more steps, but it's still fairly simple.
Open the Settings on your phone.
Tap on Apps.
Scroll down and tap Facebook.
Tap Disable.
Tap Disable on the pop-up.
Tap OK.
With all of that done, you've officially severed ties with Facebook. Here's to resting a little easier at night knowing your privacy is now that much safer.
Get the Android Central Newsletter
Instant access to breaking news, the hottest reviews, great deals and helpful tips.
Joe Maring was a Senior Editor for Android Central between 2017 and 2021. You can reach him on Twitter at @JoeMaring1.
If only it were this easy. Unfortunately that just deletes your info from public access. It states in their ToU that deleting your account doesn't remove the data from their servers and anything and everything you've ever posted on Facebook is their property and they reserve the right to store this data and use it as they like. You can never truly delete your info.

Yeah deleting this is pointless. Still I'd do it if it didn't mean losing Messenger.

You can use messenger without a Facebook account. That's what I do and have been for a while.

And why would do you want Messenger when there are so many good alternatives not owned by Facebook? Ugh...

I suppose because almost everybody I know has messenger and almost none have the alternatives. I have the lite version just to stay in the loop. Personally I'd rather just txt.

Never had it, never will.

Proud to say I too have never had a Facebook page. Not that it makes much difference.

I haven't completely abandoned Facebook, but it is no longer welcome on my phone. Lol, Google is just a bad, but I need Google services, thus I don't mind having sold my soul to Google. Google collects you location information through cell towers even if you turn off GPS or location services.

Your carriers do the same in regard to towers. So what is your point there?

Turn on a cell phone, and you're being tracked and stored for the rest of your life. So gloating about not having this or that is surface and pointless. They got you either way.

Or, you are just controlling as much if your data as possible. Some companies actually provide welcome and useful services. That is for the individual to decide. It would be nice if people took more active control in their own information.

Most evasive app there is. Deleted it years ago and now only use device browser.

Deleting an account must be new, previously I've only been able to deactivate my account.

This is a good start, but you really want to delete Instagram and WhatsApp too since both of those are owned by Facebook.

Good luck getting people to delete WhatsApp. Its the most popular messaging app out there. Everyone uses it

Nice way to explain it on how to do it.But let me tell you this this app is best of its kind .Want talk much till you download it -https://offerit.co/affid?referrer=ally_74862

The sucky party about this is friends and family will still post pictures of you in Facebook and you won't even know. As much as I hate to say it it's almost better for you to have a Facebook account (with none of your private info) that way you can keep track of what people are doing with your likeness.

I agree. I keep it because I use it to market my small side business. As well as to find good deals on Marketplace that people are selling in my local area. Much better than Craigslist.