How to configure audio toggles in Android Pie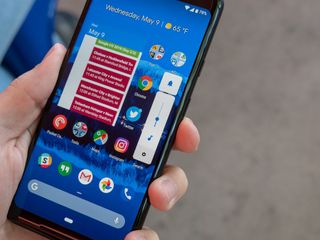 Whether you're at a nice dinner or in a quiet waiting room, few things are as embarrassing as having your phone sound off at full volume because you got a phone call or Twitter notification.
For the times when you want to make sure you only get a small vibration for anything that comes up or you just want to silence notifications entirely, it's important to know what you're doing.
Android Pie introduces a few changes to the way this is handled, so without further ado, here's what you need to know about managing your audio and notification volume in Google's latest update.
Quick note — the steps shown below are based on a Pixel 2 running Android Pie. The core elements should remain intact for your device, but depending on the manufacturer, things could look slightly different from phone to phone.
How to toggle mute/vibrate
First off, let's talk about how to toggle mute/vibrate.
In Android Pie, the volume rocker on your phone now defaults to control your media volume. This is a change we're happy to see, but it does mean you can no longer silence your ringtone by holding down the volume button.
Thankfully, there are a couple ways to go about this.
On one hand, pressing volume up/down once will show a pop-up on the right of your screen. From here, you can tap the icon above the volume level to cycle between vibrate, silent, and your ringtone being enabled.
Alternatively, Android Pie introduces a new gesture called "Prevent ringing." With this, pressing volume up + the power/lock buttons at the same time will automatically turn on vibrate-only.
To turn this off or customize its action:
Open Settings.
Scroll down and tap System.
Tap Gestures.
Tap Prevent ringing.
At this page, you can choose whether this button combination toggles vibrate, mute, or does nothing at all.
How to use Do Not Disturb
Do Not Disturb has been a powerful feature in Android since it was first introduced with Lolipop, but it's always been something of a complicated beast to tackle. With Android Pie, Google's trying to simplify its UX once again.
Unlike Oreo that has three separate DND modes (Total silence, Alarms only, and Priority only), Pie reduces these to just one Do Not Disturb mode.
You can enable it by swiping down the Quick Settings panel and tapping the Do Not Disturb toggle, and if you hold down on it, you'll be taken to a settings page where you can change its behavior, exceptions, and schedule.
The controls here are mostly the same as they were in Oreo, allowing you to have DND automatically turn on at a certain time, whether or not you want calls to be excluded, and much more.
Have any questions?
Have any extra questions? Let us know down in the comments below!
Android Central Newsletter
Get instant access to breaking news, the hottest reviews, great deals and helpful tips
Joe Maring was a Senior Editor for Android Central between 2017 and 2021. You can reach him on Twitter at @JoeMaring1.
What's annoying about this is the same toggle won't turn ringer back on. You have to tap volume up/down once and then the icon above the slider a couple times. Dumb!

Thanks for this. Good info. I do agree with Hyper that it is silly to not be able to use that same gesture to turn vibrate off, after using it to turn vibrate on. Also in Android P (and O too?) when you go into an app's "app info" and "Notifications" you can select there whether you want that app to override Do Not Disturb. How to do this varies by phone perhaps too. But good info to have. Still, these articles are great for all folks, especially newbies, but also for folks like me who have used Android for years, but always manage to learn something new from these. Keep it up!

Why don't they let us decide which sounds status we want in the toggle? Why has to be sound, vibrate and silent? Why I can't select vibrate and sound only for example?
C'mon google, let us personalise this!

I agree with everyone here. I HATE how they changed the rocker (volume) buttons to change the volume of the media and not the ringer volume anymore. I am in and out of meetings all day, so this makes it very annoying. I have to do extra steps now about ten times a day. They should really let us customize the buttons without having to use a third party app.

You should give your feedback via settings>system>about phone>send feedback about this device and let your opinion be known
Android Central Newsletter
Get instant access to breaking news, the hottest reviews, great deals and helpful tips
Thank you for signing up to Android Central. You will receive a verification email shortly.
There was a problem. Please refresh the page and try again.