Honor 8 Pro review: Killer flagship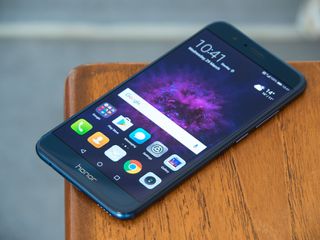 The quick take
Honor's biggest, highest-end handset is a supersized, supercharged version of one of our favorite affordable flagships of the past year, offering a gorgeous design, speedy performance and legendary battery life for less money than you'd expect to pay.
The Good
Speedy performance
Slim, stylish metal chassis
Epic battery life
Good value at £475 price point
The Bad
EMUI will still be too customized for some
No on-contract buying options
Honor 8 Pro Full Review
The €400/$400 price point is where we've seen some of the most exciting phones of recent times, bringing about the rise of brands like OnePlus and Honor. These two in particular have promised — and often delivered — powerful hardware and eye-catching designs for half of the cost of top-tier devices. Last year the Honor 8 emerged as a decent bet for anyone wanting a lot of phone for not a lot of money — but in many ways it was still a mid-range phone.
So what would happen if you took the DNA of the Honor 8 and applied it to a larger, flagship tier product. Well, you'd get this: the Honor 8 Pro.
It's a bigger, higher-specced, metal-clad version of the Honor 8, with an enormous battery and new software based on EMUI 5.1 and Android 7.0 Nougat. It's going on sale at a SIM-free launch price of £475 — higher than previous Honor phones, but still comfortably within that "affordable flagship" ballpark.
And you know what? It's actually really good.
About this review
We're publishing this review after six days with a dual-SIM European-spec Honor 8 Pro (model DUK-L09) in "navy blue" on the Vodafone UK network, in London and Manchester. Our review unit was running firmware version B120, based on EMUI 5.1 and Android 7.0, with the 1 March 2017 Android security patch.
Honor 8 Pro Video Review
Big and blue
Honor 8 Pro Hardware
After the Honor 8 flirted with a glass-backed design, the 8 Pro brings us back to a more traditional aluminum unibody — mostly a welcome change considering how slippery and scratch-prone that model was. True, an anodized paint job isn't quite as eye-catching as a reflective glass panel. But on the other hand you don't need to worry about it slowly sliding its way across flat surfaces — a notorious "feature" of the Honor 8.
While the front of the Honor 8 Pro has the appearance of a blown-up Honor 8 — right down to the branding, the shade of blue used the tapered glass edges and minimal side bezels — the back has seen a major redesign.
Image 1 of 3
The new look is a little iPhoney, thanks to the placement of the camera module and antenna bands. However the in-hand feel is much less slippery than Apple's phone, thanks to subtly angled side walls that help with one-handed use. Admittedly, I'm used to wrangling big phones like the Mate 9 and HTC U Ultra, but I never had any difficulty using or pocketing the Honor 8 Pro. It's big, but not unmanageable.
The chassis isn't aggressively decorated, with just a few subtle chamfers around the fingerprint scanner and camera lenses, which sit flush with the back of the phone. The design is stylish and uncomplicated, and so most of the personality of this phone comes from its color — a deep blue that's tough to bring out in photos and video, but which looks fantastic in the flesh.
Back around the front, the Honor 8 Pro boasts a 5.7-inch Quad HD (2560x1440) IPS LCD display, the biggest we've seen in an Honor phone to date — a panel which I guess technically makes it a phablet, if you insist on using that word. The display is bright and vivid, beating the OnePlus 3T in daylight visibility as well as pixel density. And colors are vibrant, without appearing over-saturated, with no noticeable ghosting or overtly unbalanced hues. (Should you want to tweak things further, there's a white balance option available.)
Overall, it's comparable to the slightly smaller Quad HD panel Huawei uses in the P10 Plus, a handset which sells for around £200 more. (Only — and I have to mention this — unlike that phone, Honor actually gives you an oleophobic coating on the display.)
When it comes to audio, there's a headphone jack down below (lookin' at you, HTC), supported by a single bottom-firing speaker, which gets the job done in terms of volume, but is prone to distortion at higher volume levels.
Image 1 of 3
Other internals? You're looking at Huawei's latest and greatest SoC, the Kirin 960, with a whopping 6GB of RAM, 64GB of storage plus microSD — handled via the hybrid slot, which can take either a second SIM or an SD card. Almost everything about the Honor 8 has been stepped up a notch or two, and nowhere is that more evident than in the battery, which is an enormous 4,000mAh cell. That's an impressive capacity for a phone measuring a hair under 7mm, with relatively slim bezels.
Sure, there's no water resistance, and we'll talk about cameras later... but basically everything else on the spec sheet is as high-end as you'll find in any Android flagship right now.
Honor 8 Pro specs
Swipe to scroll horizontally
Category
Specification
Operating System
Android 7.0
EMUI 5.1
CPU
Huawei Kirin 960
4X Cortex-A73 + 4X Cortex-A53, Mali-G71 GPU
RAM
6GB
Display
5.7-inch 2560x1440 (Quad HD) IPS LCD
Speaker
Single bottom-firing
Storage
64GB + microSD (uses SIM slot 2)
Dual-SIM
Yes
Rear camera
12MP + 12MP, 1.25-micron pixels, f/2.2
4K video
Front camera
8MP f/2.0
Battery
4,000mAh non-removable
Charging
USB Type-C, 9V/2A quick charging
Dimensions
157 x 77.5 x 6.97 mm
Weight
184 grams
Considering the spec sheet, it shouldn't be surprising to hear that this thing absolutely flies — partly thanks to some of the optimizations in Huawei's new EMUI 5.1.
EMUI 5.1
Honor 8 Pro Software
In the last round of Honor phone launches we were still bemoaning the old EMUI 4.1, based on Marshmallow, which was the last vestige of the truly bad Huawei software. Since then we've been treated to the significantly improved EMUI 5, with the Honor 8 having received an update to that version in recent weeks.
EMUI 5.1 builds on that foundation, mainly adding low-level optimizations to what was already a stable and fast software setup. The new point release is still based on Android 7.0, not the newer 7.1.x, which is a little disappointing, but in reality you're not missing out on much in the way of user-facing features.
Image 1 of 2
In any case, when you combine that with a proven CPU and 6 gigs of RAM, you've got a phone that's lightning fast. I don't think I saw a single app being unexpectedly bumped out of memory throughout my entire time with the phone, and everything from browsing desktop sites to multitasking and fast app-switching was handled without any noticeable slowdown whatsoever. While OnePlus's OxygenOS may be a better fit for fans of stock Android, you can't argue that the Honor 8 Pro isn't every bit as fast in day-to-day use.
The new version of EMUI also benefits from the complete facelift that came in EMUI 5 — more details in our Mate 9 review —making it much easier on the eyes than older phones running version 4 of the software. The notification area now works the way Google intended, and EMUI isn't as aggressive at customizing your app icons anymore. There are still plenty of iOS influences here, mostly in the launcher, but elsewhere Huawei has settled into a cool blue-and-white color palette, and it works pretty well.
And finally, finally, it's possible to add an app drawer to the stock EMUI launcher, instead of viewing all your apps on your home screens — another change first introduced in EMUI 5.
The features that were useful back in the days of the Honor 7 and Honor 8 have stuck around, including the wealth of theming options — dig around in the Themes app to find wallpapers and icons from other Huawei phones — and power controls to help you eke even more out of the 8 Pro's massive cell. And if you use different profiles across WhatsApp, WeChat and Facebook, you'll appreciate the twin app feature, which lets you use multiple instances of those apps.
One of the few user-facing features in EMUI 5.1 is video highlights in the Gallery app, developed in conjunction with GoPro. First seen on the Huawei P10, this lets you assemble your own short highlight reels and match them, beat-for-beat, with your own music, or a selection of built-in tracks. It's a feature we've been seeing in various forms since the days of the HTC One M7, and while it's hardly unique (Google Photos offers a similar video-maker), the fact that it's built into the stock Gallery app is an added convenience.
The 8 Pro is the first Honor phone of the EMUI 5 era, and that's hugely important, making the out-of-box experience the most polished of any of the brand's phones to date. It's an important milestone for Honor, and one that does away with many of the pain points we've criticised in earlier models.
Epic longevity
Honor 8 Pro Battery Life
Honor has somehow crammed a 4,000mAh cell into a relatively compact handset, and as the numbers would suggest, that makes the 8 Pro an extremely dependable performer, even with heavy use.
With my normal usage patterns, hopping between Wi-Fi and LTE throughout the day, with continuous web and social app use, the Honor 8 Pro routinely had me finishing the day with more than 50 percent in the tank. That's on par with what I've gotten out of the Huawei Mate 9 in the past, so it seems the increased screen resolution balances out the slight reduction in screen size.
Either way, you're going to need to push this thing hard in order to kill it off in less than a full day.
Unfortunately, the Honor 8 Pro doesn't support Huawei's latest Super Charging tech, for ludicrously fast top-ups — connecting a SuperCharger to the phone just charges at normal speeds. But you do at least get 9V/2A fast charging from the bundled charging brick, which is still reasonably quick.
The same, but different
Honor 8 Pro Cameras
The camera hardware hasn't changed a whole lot since the Honor 8, with dual 12MP cameras around the back, behind f/2.2 lenses with a laser autofocus module — now hidden off to the left. As before, the phone combines one full color (RGB) sensor with another monochrome sensor for improved contrast and detail in challenging lighting conditions.
But don't let those hardware similarities fool you — the Honor 8 Pro absolutely takes better photos than the 8, particularly in low light.
It does that thanks to the beefier CPU and ISP (image signal processor), and new image processing software to take advantage of it. If there was ever an example of how processing is just as important as optics in a phone camera, this is it. The Honor 8 Pro has the same excellent dynamic range as many other Huawei-built cameras, along with fun extras like low-depth-of-field effects that we've seen before. There's also a highly capable manual shooting mode which, with a little stabilization, can produce excellent long exposures in darker conditions.
Image 1 of 16
Daylight shots come close to the quality we've seen from higher-end Huawei cameras like the Mate 9 and P10, though with slightly reduced shadow details and more susceptibility to blurring from hand motion. The latter's not surprising given the lack of OIS — optical image stabilization — in the Honor 8 Pro's cameras. Similarly, there's a pronounced graininess to many night-time shots that you won't notice on optically stabilized competitors.
Meanwhile, around the front, the 8-megapixel front camera of the Honor 8 gets a low-light boost with a brighter f/2.0 lens — though don't expect to see a huge improvement in image quality from night-time selfies.
It's easy to point to the cameras as an area where the inevitable compromises of the Honor 8 Pro's £475 start to creep in. And sure, low-light performance doesn't reach the dizzy heights of the Pixel or the G6. But for a phone at this price point, the Honor 8 Pro does a fantastic job.
The Bottom Line
Should you buy the Honor 8 Pro? Yes
Past Honor phones have been pretty good for the money. When we reviewed the Honor 8 last year, there were major caveats around the software, which inherited some of the bugs and general weirdness of EMUI at the time.
The difference with the Honor 8 Pro is that it's just a great phone, without the need for any qualifiers. Between the fantastic performance and battery life, the surprisingly good camera and the maturity of EMUI 5.1, this is a phone that I can absolutely recommend.
The £100 premium you'll pay over the Honor 8 delivers upgrades across the spec sheet, bringing you up to speed with other high-end Android phones of 2017.
The comparison with the OnePlus 3T is less cut-and-dry. For many, OnePlus's clean, stock Android-ish software may seal the deal. Or they may simply prefer the smaller size of the 3T. In this case, it's more a question of priorities, with Honor taking the lead on display quality and battery life.
The affordable flagship segment is more diverse and exciting than ever, and the Honor 8 Pro is a fantastic option for anyone looking for a premium phone without dropping a ridiculous amount of cash.
The Honor 8 Pro goes up for pre-order April 5, ahead of general availability on April 20. The UK price is £475, however there's no word on any U.S. release plans at present.
Android Central Newsletter
Get instant access to breaking news, the hottest reviews, great deals and helpful tips
Alex was with Android Central for over a decade, producing written and video content for the site, and served as global Executive Editor from 2016 to 2022.
Does it have an oleophobic screen?

The answer lies somewhere in the text above you. Go forth!

It's always best to double check these things. Also: does it have an oleophobic screen?

CTRL + F oleophobic
It appears it does according to this article, states that it is an advantage over the P10.

They must have heard a lot of griping after the last one.

Wow! If this comes in the $400 range I will be turning a lot of friends and family on to this. That's a beauty. Looks like an iPhone, but the iPhone is a beauty too. That battery too.

Would probably be around $500 if it comes to the US — which is by no means confirmed.

Even $500. I paid a boat load out of pocket for my pixel and this phone at possibly $500 has me thinking about it. :)

If this thing comes to the US for $500, I'll gladly be handing over 5 Benjamins plus tax to Honor/Huawei. I hope they make this available to the US.

What a shame that they made it so huge :( I would've seriously considered it as my next phone (currently using a Nexus 5X).

That's why the Honor 8 exists.

Wait for the Honor 9. Should be the same spec phone in a smaller build.

To be fair, the original Honor 8 has recieved the nougat update and emui 5 and it has made it so much better! Well worth the £300. That said, I'd love the pro! Looks awesome! Especially the metal back, my honor 8 used to travel around a room on its own steam before I put a case on it.

Does it also use H.265 video codec, the same one as in Mate 9 and P10? That codec is not supported by Google (Youtube, Photos) and I don't like it.

Will this phone work in the USA? GSM

Yeah I want to know this as well. Can i buy this while in London and use it back home?

The phone isn't listed yet but this site is what I use to confirm compatibility with my US carrier. http://willmyphonework.net/

The blue is very very nice!

Oh man, decisions decisions, do I go for this, the LG G6 or the Galaxy S8

I would go s8 because of DeX. Or wait for the note 8. It's just one more feature to add to the phone. Very cool. I am sure Samsung will push that technology to real cool in under a year.

Take my advice, for less expensive pricing, take the LG G6.

Hope this comes to the US. I've been eyeing a OnePlus 3T but this looks like it could be another great contender. I hope you do a comparison article with the 3T.

As an owner of a 3T, it's a solid phone. The build is great and the camera is surprisingly good as well. The battery will drain (as any android phone) if you are in an area with poor reception, but the Dash Charge will get you what need in a hurry...

3T over this. I'll even take the original op3 over Huawei

Kirin 960 beats SD821. This phone probably has a better camera and a longer lasting battery over the 3T

I couldn't be happier with my 3T. I've been really pleased with the camera, and I consistently get two days between charges with moderate use. I obviously haven't used the Pro, but I'd be surprised if it was significantly better than the 3T. Of course, YMMV.

I wasn't saying the 3T is a bas phone. It's not. But the 8 Pro has some advantages over it. But it is more pricier tho.

Still think the unlocked 32gb/4gb SD625, 5.5" Amoled NFC'd, metal bodied, 5100 battery 'd, adequate camera'd Lenovo P2 from Three stores is a better flagship type experience for only £200. (Review to come, I know) This is a great flagship device but at a lower end flagship price, honestly I don't know. £375 at launch maybe.

But the P2 does not give a flagship experience. The camera is severely lacking and the overall fluidity and multitasking experience is a step down from a flagship. Not saying it isn't the best phone under£250 though.

SD625 is not a flagship chip. So the phone is not a flagship by any means.

Wow, compared to the original Honor 8, this thing ugly. What have Huwaei done to this years products? Put it in a case I guess. Other than that it looks like a pretty great phone that ticks a lot of my boxes.

I asked myself the same question. The blue Honor 8 is gorgeous...why on earth they got rid of the glass and put in cheap aluminium instead, making it look even more like an iPhone, is beyond my understanding. Not that it would matter to me. The size and lack of wireless charging kill any interest I might have had for it.

ROM has factory-supplied applications which rapidly become outdated. So it's best to not use these IMHO. Lithium batteries also become "outdated", because of the laws of chemistry. So four AH battery now, in two years time will become three AH. So surprised that we need to change our lithium-battery gadgets so quickly, due o the battery's known & planned decay rates. The newest Samsung products claim to slow down this decay rate. Time will tell ... as usual. In terms of purchase, I'll wait till the Honor 9 arrives, with smaller screen size and possibly OIS & EIS.

How the S8 even exists with phones like this out is a Testament of carrier deals and mass marketing. It's like twice the price for very small improvements, and often not as nice (battery, ram). Hopefully in the coming years the playing field will level out more as people start seeing these phones out in the wild more.

That's the sad part. The general population only knows a) apple and b) samsung. For those of us who frequent AC know there is a wealth of great options at various price points, so make it a point to recommend these devices to friends and family!

I surely do recommend many other phones, whether they listen or not is another story. I'm just glad most of them now have iPhones, because then I can say that I don't know anything about them and they stop asking me to help. I also try to make it a point to have a "different" phone in my pocket then the rest of the majority of the population. Right now I have the V20. The only other V20 I've seen in the wild was the one friend that bought it with me the same day.

Samsung marketing is better than anyone i ever saw, it's super aggressive and in times it actually attractive, i remember i saw S7 edge EVERYWHERE. Heck even in Russia, a big 80 Meter poster was hanging on some buildings, iPhone and Galaxy phones do not offer the best value per money, i changed mine s7e for Mate 9, never looking back. I would recommend Redimi Note 3 pro or Note 4 to anyone who needs a phone without much fancy stuff, it is the best low mid end phone.

Good to see honor forging ahead with other options. Hope they get a better foothold in the US. I do like their phones.

FULL REVIEW and doesnt mention screen size... 5.5" i assume...

Also the specs blog doesn't mention it, but the one in between does. ..
probably corrected now :p

Bummer, was hoping for 6"+

It's phones like this that make me think that Huawei's biggest rival is actually themselves, with identical flagship offerings in terms of hardware specs at a lower price point and sometimes even better features.

That's the thing, I don't get their strategy either. All the phone they've released this year, besides Honor 8 Lite and P10 Lite, have Kirin 960 in them in different price ranges. Why pay $600+ when you can get a phone for $400 and get the same performance ?

I was hoping they add OIS in the Pro, but seems like they didn't. That could certainly help the camera at many occasions. That is the one thing I miss in my Honor 8.

If this is anything like the P9 Lite (and Huawei and Honor are basically the same company, aren't they?), the security patches are only released in major software updates and not as standalone patches.
My P9 Lite is still on the June 2016 patch.

A family member has a P9 Lite. I think it's on the November or December patch. It has early access to the Nougat update too however since it's not my device and I hear it's buggy, I'm not gonna force-update it but I think that it would be on February or March patch.

Two questions: Is Honor a Huawei company? If so, what's the point? Are these Honor phones as good or better than the other affordable high end phones like OnePlus and ZTE?

Honor brings more phones to the US and usually at cheaper prices for pretty good specs (Honor 8)

Better. Faster processor chip and better camera. Probably longer lasting battery too. 8 Pro over the 3T any day.

Huawei is a weird word that Americans don't know how to pronounce (soure: am American) Honor is a branding decision

Honor to Huawei is like Toyota to Lexus. Nissan to Infiniti. Honda to Acura.

Perhaps a spelling and grammar correction: "...there's no water resistance...", corrected to "...there's not water resistance...". When ones says there's or there is, that implies it is included, it is there. Making one to ask "you say there's no water, so where is no water, how do I find no water?". Conversely, when we use the word not, our intention is clear. The word, no, is being used without any forethought towards grammar, spelling, and understanding. Doing so is making sentences convoluted at worse, misunderstood at best. Regardless of how much one may rationalize the use of no, other than using it for its expressed meaning, it does make a difference. Within the English language we are accepting and teaching mediocrity.

Actually "There's" means there is, so by the author saying there's no water resistance it is meant as there is no water resistance.

Are you a native English speaker? Your post comes across as being from someone who isn't, or who is poorly educated.

... um yeah, "there's" is used correctly here - so there's that.

An English speaker would never say "there's not water resistance" - it just doesn't sound right. "There's no . . ." is perfectly normal in English, as in "there's no way through" or "there's no oleophobic coating". "There's not . . ." would be used before a measure like 'enough' or 'a lot' - eg. "There's not enough hours in the day'. I couldn't explain why this is the case, but that's what we'd say. Like me, Alex speaks British English but I assume the same applies both sides of the pond.

That is a damn good looking phone

Apple is going to have a field day if they bring this to the US suing them. Back looks almost identical to the 7+ and apple sued Samsung for way less in terms of looks.

Not their heftier phone yet. The Honor Note 8 has a 2k 6.6" super Amoled display.

EMUI is trash, hated it on the Honor 5x so bad I don't even use it had to throw it away, went back to my Classic

I actually don't mind EMUI. I just hate that it regularly lags behind on updates.

It's not bad at all. And why throw it away when you can put a whole new launcher in there ? You probably didn't know about that huh

EMUI 5 is a massive improvement, for me it makes it on of the best UIs available.

Price sounds just about ok'ish for a mid-ranged phone. Is LCD screen still being used in today's phones?

HTC, Apple, LG, and (cheaper) Motorola (to name a few) all use lcd. There are some advantages of lcd over amoled. The technology has come a long way recently so you can get really good contrast and bright colours. Less risk of burn in too. Admittedly this isn't as big as a problem as it used to be but you still see comments in forums which mention amoled burn in on Samsung S7. So, for example, you if use Google maps a lot every day amoled might be a negative. Also amoled does tend to deteriorate quicker than lcd especially the blue pixels but with new phones, not as big an issue, especially as people tend to get new phones every 2 years. But maybe something to consider if you are planning to keep a phone for a long long time. That all said, the contrast of amoled screens are incredible and as the technology improves then more and more phones may go that way.

Been trying to get hold on one of the red one from their Chinese Official website, but man, it's so damn hard. All stocks are gong in seconds...

This looks very nice ! Finally a decent phone with 4000 mAh. I think that might my option if I manage to resist the GS8+ temptation, and I'm pretty sure my bank account agrees..

Decent ? It's on par with SD835 and better longer lasting battery than most phone.

Is the manage of notifications and 3rd party audio apps on the lock screen still as asinine as it was on the Mate 9?

i really hope i get to try this phone. i'm on verizon though.

I have the Honor 8 and love the device. This will definitely be my next phone in the fall.

errr wheres the ac wifi and 5Ghz?????

Excellent video review Alex. You are among the best and getting better.

A wonderfully done phone. Love the fact that it has a battery worth talking about. Samsung, Apple, Google and everyone else... take Note (pun intended).
Android Central Newsletter
Get instant access to breaking news, the hottest reviews, great deals and helpful tips
Thank you for signing up to Android Central. You will receive a verification email shortly.
There was a problem. Please refresh the page and try again.