PSA: Don't remove the Huawei P10's factory-fitted screen protector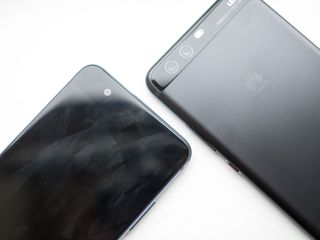 The Huawei P10, like many of the company's phones, comes with a factory-fitted screen protector out of the box. That's great if you were already planning on covering up the phone's screen to guard against scratches and other damage, and many other Chinese manufacturers like OnePlus and Oppo do the same. But the screen protector itself is made of plastic film, and that's exactly what it feels like — nowhere near as nice as the glass beneath it. So for that reason, peeling off the screen protector is usually one of the first things we do when unboxing a new Huawei phone.
In the case of the Huawei P10, however, that's a very, very bad idea.
That's because there's no oleophobic coating on the actual display of the P10 — at least on the review devices we were given in Barcelona last week. An oleophobic coating may sound obscure and technical, but it's a staple feature of all but the cheapest smartphone screens. This nanocoating, usually applied to the glass during manufacturing, repels oils — like the kind on your face and fingers — and stops the display from looking like it's been used as a pizza slice after you've been tapping, swiping and calling.
Without an oleophobic coating, a phone's display quickly starts to look like... well, the image you see above, with copious oily smudges and a generally unpleasant in-hand feel.
To say this is a bizarre omission in such an expensive series of phones is an understatement. Usually it's only bargain-bin models that don't use oleophobic coatings on the display, in order to save on their bill of materials. A Huawei spokesperson wasn't able to provide any further clarity on the oleophobic issue, but instead offered the following statement:
In the meantime, if you plan on buying a Huawei P10 (or P10 Plus), plan on using it with the preinstalled screen protector, or with an aftermarket replacement when they become available.
Get the Android Central Newsletter
Instant access to breaking news, the hottest reviews, great deals and helpful tips.
Alex was with Android Central for over a decade, producing written and video content for the site, and served as global Executive Editor from 2016 to 2022.
Wow. Glad i don't want to buy one. That's terrible, if confirmed for launch devices. Hopefully it's a display omission.

I almost bought an honor 8 last week.

You should have, it's a great device. I've noticed no difference between it and other phones I've owned regarding fingerprint smudges.

You should. It's a fantastic device and there's definitely a oleophobic coating on that device.

Hi mate , are you sure about it ? I'm curious .

I agree with gendo667. No issues with that on the honor 8. I only have one on because all of my phones have one.

I second these guys, my Honor 8 is fab :)

Wow. Lots of honor fans. I had the p8 lite before and i really liked it. It was definitely a toss up between the honor 8 and the ZTE axon 7, which is what i ended up buying. Got it brand new for $359. Love the SD820 and the 4gb of RAM. The screen size and qud were the driving force in buying the axon.

Hows the battery life? Screen On Time? How long it last on 4G/LTE? The Axon 7 is in my next-phone-list.

The Axon 7 is a brilliant phone for the price. You are essentially getting 2016 "flagship" specs and performance at a mid-tier price. The construction quality is great. If you read CNET reviews, their biggest con is the weight, apparently. But it really isn't noticeably heavier than any other 5.5" phone I've used, and feels less cumbersome than my iPhone 7 plus. Battery life is adequate and forgiving since it has quickcharge 3.0. The biggest stand out for me is in the video quality, and the display is the excellent color depth. It looks really good. The SD 820 is definitely snappy and a noticeable upgrade from previous years devices. Also, 4gb of RAM is a great bonus. All in all the runtime is pretty good considering the specs and battery size, but if you're playing intensive video games like war robots or watching a lot of video, you will definitely notice the drain. With normal use it will get me through a full day 6am-9pm. The feel is good. It comes with a factory clear protective case to preserve the looks - it's a pretty phone. The fingerprint scanner is incredibly fast and accurate. My only complaint is with the small bezels (mostly just the top and bottom speaker), it feels a bit cramped when gaming. Other than that the screen feels condenses because the icons take up more space than I'd like, and the viewing resolution on browsers is a little cramped too, but I'm incredibly nit-picky. So... In short, it's powerful, good looking and will definitely impress you at the price range. I like it a lot.

I'll pile on, I own an Honor 8 and it's a fantastic device. I'm not a Huawei/Honor fanboy, I used to be all-in on LG's G series (prior to G5), the Honor 8 is just that good. Replace stock launcher, apply material design theme, install a few 3rd party apps and it's a near perfect phone.

Another fan here of the Honor 8. Fantastic device!

How is the external speaker as I use my phone for podcast listening quite a bit.
Thanks

The volume and sound quality are good. The depth was surprisingly lacking though, which I didn't expect with two massive front facing speakers. Better highs and mids than the iPhone 7+, but not as good lows. Volume is loud for an a Droid device.

Yep and another Honor 8 owner and totally agree with the rest of the posts. Everyone that has a Honor 8 has always said good things about the phone which​ have been spot on. There has been the rare comment about the software but since the upgrade to Emui 5/Nougat the phone in my opinion is perfect

I will be getting a Huawei Honor in June. I have a P9 which I love. I think they are brilliant phones.

Another bug honor 8 fan here

This is completely inexcusable. I hate screen protectors.

A colossal mistake. Oleophobic coatings are essential. The one on my Nexus 5 wore off in the centre of the display after two years and it drove me insane. The one on my current Galaxy S7 is beginning to wear off I suspect, judging by how easily it gathers prints these days. Natural wearing happens but to lack it in the first place is crazy for such an expensive phone.

Same thing happened to my Nexus 5... Wore off under the keyboard where I was always sliding my finger to type. It was impossible to clean and drove me crazy!
On my Nexus 6, I never once touched the screen before I installed a glass screen protector. I replaced the glass screen protector with another when its coating wore off after over a year, but a $10 glass screen protector is a lot less expensive than replacing the full glass of the phone!
My Pixel XL is killing me because of it's curved screen edges that make installing a glass screen protector too difficult so I'm taking a chance and going without protection.

"Huawei remains focused on delivering high-quality devices to provide the best consumer experience. The P10 is the world's first smartphone with capacitive under-glass fingerprint sensor" - Hang on... wasn't that the Mi5s?

Hmm, the HTC 10 had this, right? Not sure this claim is correct.

I always use a tempered glass screen protector.

Hmm, guess they took a page from Sony's old playbook. My Xperia Z Ultra was the same way.

No problem, we don't get to buy that in the US

Well they did forget OIS on the P9...
I bought the Mate 9 - it's perfect ; screen is perfect gorilla glass 4 and barely any finger prints with a fantastic camera, great battery.

Got my mate 9 for a week now coming from a 6P didn't know I would like the phone that much I love it way more than my 6p

This is pretty much a non-issue for me, especially since I always tend to buy tempered glass screen protectors for my phones.

Don't oleophobic coatings get worn away over time?

Perhaps we should pause and withhold judgment until there's a definitive answer. It's quite possible that the coating was accidentally omitted from the review units given to AC, or that this is a production defect that will be corrected. While it could prove to be true, there's no reason to assume that this was an intentional choice by Huawei since they've included the coating on other phones.

Pausing and withholding judgment was why we asked around senior Huawei people in Barcelona and gave PR a chance to respond this week before publishing this. At this point there's no reason to think it's not just a characteristic of the phone.

Sorry Alex, I didn't mean that as a criticism of the article, as you raise valid concerns. However, it's still a very strong assumption that this was an intentional choice (even if it turns out to be true), based on a PR statement that amounts to "no comment". And, as you've added in your response, Huawei staff in Barcelona who couldn't give you a straight answer and apparently weren't willing to say, "I don't know, but I'll find out." Until Huawei says, "this was our choice", we're all guessing. And as we can both see in the comments, people are rendering judgments on Huawei that may prove to be incorrect. I don't want to turn this into a larger debate about the state of the Internet, but more often than not we would all benefit from pausing and withholding judgment. All that being said, if Huawei doesn't bother to follow up with you and answer your concerns definitively, then they're digging their own hole. I perceived from my initial read that you're still waiting on that answer, but perhaps it's not forthcoming. Cheers!

The oleophobic coating on other phones wears off over time anyway. All the touch screen phones become greasy, grimey fingerprint magnets if you really use them.

I agree. This is such a minor detail. As you say all screens get dirty and grimy and you just give them a quick wipe :-)

That's a big no-no for me. I absolutely loathe screen protectors.

Or maybe wash your hands more often...

Is the P10 Plus afflicted with the same issue?

I need to know this as well.

The quick start guide of the P10 Plus unfortunately says the screen protector shouldn't be removed (page2):
"Do not remove your device's pre-fitted screen protector, which guards against scratches and abrasion." I contacted Huawei about it, but I didn't receive a response. A German website couldn't reproduce the issue with the device they received and noticed no difference between the P10 and other devices:
http://www.giga.de/smartphones/huawei-p10-plus/news/huawei-p10-plus-fett... Link to P10 Plus quickstart guide:
http://download-c1.huawei.com/download/downloadCenter?downloadId=94209&v...

According to the German website below, Huawei said it had to use a thinner oleophobic layer in order to allow the fingerprint reader to function under the display glass:
http://www.androidicecreamsandwich.de/huawei-p10-plus-hersteller-erklaer...