First 6 things you should do with your Honor 7X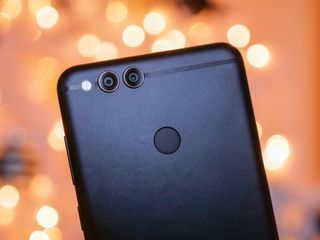 For $200, the Honor 7X has a lot going for it. Its metal build is exquisite, the new 2:1 aspect ratio gives it a modern look and helps squeeze a large 5.93-inch display into a hand- and pocket-friendly device, and the 3340mAh battery should keep it running for hours.
Here are a few tips on setting up your Honor 7X to make it an even better bang for your buck.
Set up the fingerprint scanner
This one is pretty obvious, and EMUI will even prompt you to add a fingerprint during the initial setup process. Biometrics are an integral part of using just about any phone these days; even if you don't care about lock screen security, when it comes to logging in to bank accounts or purchasing apps, a fingerprint scanner is significantly faster and more convenient than typing a password.
Jump into the settings and make your way to the Fingerprint ID section. You can enroll additional fingers via the fingerprint management tab, and we recommend you at least add both index fingers so you can unlock the Honor 7X with either hand. In the touch and hold gesture tab, you can toggle the options to take a photo or video, answer a phone call, or dismiss an alarm by leaving your finger on the scanner in the corresponding apps.
The third and final section includes toggles for slide gestures, allowing you to conveniently access the notification shade with a vertical swipe along the fingerprint scanner or move through photos in the stock gallery app with a horizontal swipe. These gestures are especially helpful given how large the Honor 7X is, and make using it with one hand much more manageable.
Fix the status bar
We're not sure who Honor thinks would prefer not to see their battery percentage in the status bar, but luckily for the rest of us, it's easy to toggle on in the settings. From the notifications & status bar section, you can simply tap the battery percentage option and choose whether you want the number show up next to the battery icon or inside of it.
You can also remove the carrier name from your status bar from within this section, and if you like to keep track of your network speed, you can choose to put that in your status bar as well. One more thing — this is also where you can fine-tune your notification behavior, so if there's a certain app you don't want notifications from, just tap notifications management and disable it.
Customize your home screen
Although Huawei Home (the default launcher) will put off stock Android purists as always, it's still the launcher that comes preloaded on the Honor 7X, and it's fast and responsive. By default, all of your apps are laid out on the home screen without an app drawer, but if that feels too messy you can re-enable the app drawer by going into the Settings app and tapping Home screen style.
There's a separate set of settings for the launcher itself, accessed by long-pressing a blank space on the home screen and tapping Settings . From here, you can adjust the grid size, enable auto-align or shake-to-realign for quickly rearranging your apps, enable badge icons for notifications, or toggle suggestions for apps based on your usage. You're also able to turn on home screen rotation, and looping for when you reach the home page.
Of course, if you just can't stand the EMUI experience, you can always hop into the Play Store and download a replacement launcher. There are plenty of great options available, from the Google Now Launcher found on stock Android devices to great third-party alternatives like Nova or Action Launcher.
Set up App Twin
Whether you're a social media manager who needs to be able to access multiple accounts for the same service quickly, or you just want to split your focus between two different save files for that game you've been playing nonstop, App Twin is an awesome and often underrated feature.
Scroll down in the Settings app until you find the App twin tab. From here, you'll be given a list of supported apps, which in my case was limited to Facebook and Snapchat. Flip the toggle on for any app in the list, and the software will begin creating a duplicate app, which will appear on your home screen or in your app drawer, marked by a small blue icon. This duplicate acts completely independently of the original app, though be warned that this means the two apps aren't able to interact with each other.
Play with themes
This isn't entirely straightforward because out of the box, there's only one theme on the Honor 7X, but it's pretty easy to find new themes from the Play Store. With apps like Themes Manager by Deishelon Lab, you can browse through a long list of themes built for EMUI, then download your favorites to change the look of your home screen.
Once you've installed a third-party theme, it'll show up in the stock Themes app, alongside the default Victory theme. If you want to use every aspect of the new theme, you can just tap it in the list and hit Apply, or if you'd rather pick and choose certain elements, you can tap Customize from the main screen and mix and match from each of your themes.
Master the camera app
The Honor 7X has a pretty capable dual camera system, but one of the most crucial parts of taking good photos is knowing your camera software in and out. Luckily we've made that easy with a detailed guide.
The best thing you can do is just play around in the camera app; explore every option you can find and understand what scenarios each shooting mode would be useful for. While you're at it, you should also take the time to customize your settings to enable features like quick launching or capturing photos with the fingerprint scanner.
Most importantly, if all of this is over your head, there's nothing wrong with sticking to auto mode! The Honor 7X is plenty capable of figuring out the right settings on its own if you're not one to fine-tune your shots.
Get the Android Central Newsletter
Instant access to breaking news, the hottest reviews, great deals and helpful tips.
Hayato was a product reviewer and video editor for Android Central.