Honor 10 announced with the P20's design and a much lower price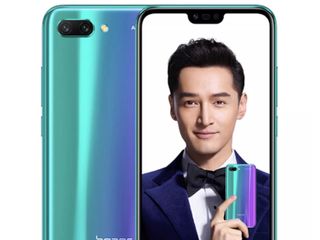 Huawei wowed us in late March with the unveiling of its P20 series, and now the company's bringing many of the features that make those phones great, cutting the price, and slapping its Honor sub-brand logo on it. Ladies and gentlemen, meet the Honor 10.
The Honor 10 has much more striking design compared to last year's Honor 9, featuring a 5.84-inch 1080p LCD display with a small notch at the top, incredibly slim bezels, and a front-facing fingerprint sensor. Flip the Honor 10 over, and you'll find a glass back that shifts colors depending on how the light hits it. This design proved to be absolutely stunning on the P20 and P20 Pro, and it looks like it'll be just as impressive on the Honor 10.
Rounding out the phone is dual 16MP and 24MP cameras on the back, 24MP selfie camera, Huawei's own Kirin 970 processor (the same one found on the P20 and Mate 10 Pro), a USB-C port for charging, and the endangered 3.5mm headphone jack even makes an appearance.
Sales for the Honor 10 will begin on April 27 in China and pricing is set at ¥2599 (around $414 USD) for 6GB RAM and 64GB of storage. If you want to step up to the model with 128GB storage, you'll pay ¥2999 (or $478).
Honor hasn't announced any plans for availability outside of China just yet, but we'll keep you posted if anything changes on this front.
Joe Maring was a Senior Editor for Android Central between 2017 and 2021. You can reach him on Twitter at @JoeMaring1.
Really you have that huge bottom bezel and you still need a notch. I get that bezelless phone have notches to create screen space but if you already have the bezels on your phone what's the point

Why not have a bottom notch for an FPS to gain some symmetry with the top notch? I just don't get it!

I was thinking the same. If you put in a notch with the excuse of "giving more screen real estate", you could have one at the bottom as well. Of course, they don't because that's not the iPhone design so they won't do it until Apple does.

The "huge" bezel is just big enough to contain the front facing FP sensor which I personally like so I don't have to pick the phone up for a quick unlock. I'm a fan.

Still makes no sense to put a notch then.

it's just a bunch of companies trying to be like Apple (who can't seem to innovate anymore ) and it's sad cause no one is willing to try there own idea for a good phone. it's all the Same black slabs and I'm quite sick of it

Ehm! Correction, the essential phone was the first with a notch. Apple followed essential for notch and near bezeless screen. I hate when people credit apple with innovation when all the different is reap off other's ideas and re-market it as their invention

Apple did manage to make the chin extremely thin. I don't see any other oem doing that.

True but virtually every notch I have seen resembles the iPhone notch.

My thoughts exactly. Why extend screen area with a notch and put a front fingerprint scanner on a bezel. Just put the fingerprint scanner on the back and extend the screen with or without bezel. The design of the honor 9 Lite comes to mind

"Huge" bezel. That's pretty funny.

No notch for me. They can take this design trend and shove it. So many devices automatically thrown to gutter because they want to include a notch for no reason. There is almost no mainstream device to choose from so far this year. Shameful.

with the push to get Huwaei out of the US will Honor even continue to sell in the US?

The Honor View 10 was only released 2 months ago and I love it so why is there now an Honor 10
Talk about causing customer confusion with naming. HV10 is great, Oreo / SD / headphone socket / kirin 970 / 128gb so basically this normal Honor 10 gives you a notch?

Everything outside of Huawei's flagship phones confuse the life out of me. I get that the Honor range is like their budget friendly models but many of them along with the budget/mid-range Huawei's all seem so similar?

Samsung Galaxy S9 and Samsung Galaxy S9 plus. Talk about confusing.
Apple iPhone 8 and Apple iPhone 8 plus. Talk about confusing.
Android Central Newsletter
Thank you for signing up to Android Central. You will receive a verification email shortly.
There was a problem. Please refresh the page and try again.