Highway to the top-notch tech zone with MrMobile and Modern Dad!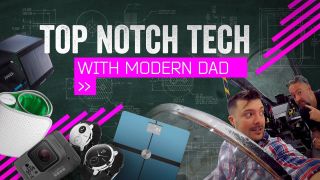 Previously, on MrMobile Meets ModernDad, I took a look at some sweet home tech used by my paternal pal. But Modern Dad also likes to be mobile on occasion, and I'd been eyeing the sweet little camera known as the GoPro Hero5 Black (on sale for $349!) that he's had on hand. Think about it. ... Is there anything better than a tiny 4K camera that fits in the palm of your hand, with a built-in waterproof case?
The question was where to play with such a perfect picture-taker. Well, when in Pensacola you've got to make a trek to the beach. Or, in our case, 190 feet above the beach, in a historic lighthouse overlooking a beautiful blue bay, the Gulf of Mexico, and Pensacola Naval Air Station. From there we visited the National Museum of Naval Aviation — and, yes, we nerded out just a bit.
One other thing Florida is famous for is (off and on) the sheer amount of sun. And a perfect little accessory for that is a solar-powered charger, like the little 15-watt model from Anker ($49)that we took a look at on an, erm, anchor. That was a very cool little thing.
From there it was back to the Modern Dad office for a few more of our favorite things. All in all, a successful and fun week in Florida!
Be sure to subscribe to Modern Dad, and start thinking about how we can lure him up north once we've got a couple of feet of snow on the ground!
Featured products
Get the Android Central Newsletter
Instant access to breaking news, the hottest reviews, great deals and helpful tips.
Reading the headline my first thought was "Highway to hell" (AC/DC fan). LOL Otherwise it wss an Interesting couple of vids if not for just the odd couple vibe. :) Have to say though I can completely relate to Mr Mobile's reaction to most of it whether that was intended or not.

Withings is dead. Long live Nokia!
https://www.engadget.com/2017/06/20/nokia-digital-health/?sr_source=Face...