Here's the 'real' reason why the Google Pixel 4 series lacks 4K/60fps support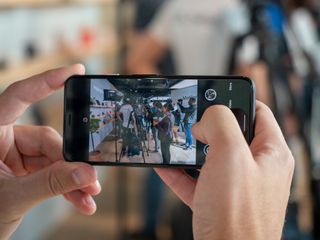 (Image credit: Android Central)
What you need to know
Pixel camera product manager Isaac Reynolds has said that the Pixel 4 series doesn't support 4K/60fps because "nobody actually needs it."
Most Android flagship phones released this year support 4K video recording at up to 60fps.
Reynolds also revealed that the face-retouching feature for the two phones was developed by utilizing the expertise of wedding photographers.
In an interview with the The Vergecast, Pixel camera product manager Isaac Reynolds revealed that Google reached out to wedding photographers to help build the Pixel 4's face retouching feature. According to Reynolds, Google did not want to cross certain lines such as making faces appear thinner or lips larger. The feature instead gets rid of small features such as pores on faces, to get rid of "what you look like today that isn't you." In addition to removing such features, the camera also raises the exposure to add a "glow" to the user's face.
When asked why the Pixel 4 series is not capable of capturing 4K videos at 24 or 60fps, Reynolds replied (via Reddit) saying "nobody needs those things." He added that while the two phones have the required memory bandwidth to support 4K video capture at 60fps, certain other components do not support the feature.
Last month, XDA Developers editor-in-chief Mishaal Rahman had found evidence that Google had initially planned to add 4K/60fps support to the Pixel 4 series but decided to pull the feature due to the high storage requirements.
The Google Pixel 4 series is among the few Android flagships currently that top out at 4K/30fps video recording. Latest flagship phones from Android OEMs like Samsung, OnePlus, LG, Xiaomi, ASUS, and a few other brands support 4K video capture at up to 60fps.
Google Pixel 4 XL
The Google Pixel 4 XL, with its 6.3-inch 90Hz Smooth Display and impressive camera performance is currently one of the best options out there if you are an Android purist. It also offers a few pretty unique features such as Soli-powered Motion Sense and 3D facial recognition. The phone supports wireless charging as well and is IP68 certified for dust and water resistance
Get the Android Central Newsletter
Instant access to breaking news, the hottest reviews, great deals and helpful tips.
But people *need* Sili radar at the expense of only having half day battery life? Another swing and miss for Google. Also, "what you look like today that isn't toy." I'm not a photography expert, but that seems like gibberish.

You fixed the typo, but it's still gibberish lol.

Still Way Over Priced!!!!

I'm generally a big fan of google products, but the lack of an sdcard slot is literally the only reason I have never bought a Pixel phone. Strategically I get it, it's part of the plan to push cloud storage, but it's one shoehorn too many, and now they're crippling software features because of it. Some people want bulk storage on their phone, Google!

Google should stick to the mid-range market. The 3a & 3aXL offer much for the $$. The flagships are overpriced for what's offered. 800.00+ dollars for a 2800mamp battery with a 90hz is beyond ridiculous. The 3a & 3aXL are living proof. Value for your dollars. The flagships just ain't cutting it for the $$. Once again they will retain the crown for 1% of the market share?

But we really "need" to be taking pictures of the stars because everybody's been doing that for so long on their phones. Give me a break.

I sincerely hope they built the camera with the objective of taking good night time photos of things and people, and the result of that work was that the camera also captures the stars on a clear night.

I love this phone less and less. I'm generally a big fun of Google and Google products and had nexus phones and pixel phones from beginning. Last year it was the notch - i just couldn't bear it even after hiding it in software as it would still sporadically flash on during apps changing. Then it was the screen with its inprint issues. This year is the battery, again the notch, lack of finger print reader (so you can't log in in any of the banking apps directly). Then lack of screen mirroring or some sort of dex. It's a 1000$ phone, is more expensive than my laptop. How can it not have dex? I have a Samsung 10+ and dex mode is so useful, It's like i have my computer with me everywhere. And now this 4k - i agree that probably i wouldn't use it but don't lie to us like this - just admit that you thought about it and it was not possible in current implementation. And please that design, those bezels, that notch...ah!

Pull the other one, Google. Low frame rates on digital screens look horrible, and never worse than when panning. The decision for the 30fps limit is a consequence of limiting the storage, and the storage was limited to get people to buy cloud. This phone seems to bring out the worst lies from its creators and its users. Every day, I say comments from 'happy' P4 owners, claiming that they don't neeeeed all the things reviewers think a flagship phone should have in 2019. They're fiiiine with the battery, which magically lasts an absurdly long time in theiiiiir phone. So why did you buy a P4 the moment they were released, then, if you didn't want a top quality flagship? They expect us to believe they got a Pixel 4 by some weird accident but are pleasantly surprised.

Just like wireless charging or OIS in the camera. No one needs it right?

If you are into cinematic film styles for your projects, then you will need 24fps. For 4k/60, the Pixel 4 with small storage and no expansion would be a mess anyways. You can use Filmic Pro, but I'm not sure that would help you get 60fps. I use Filmic Pro myself, and it supports fewer frame rates than the camera does.

By that logic, no "needs" a smartphone do they? People have gotten along for thousands of years without them after all.

Whenever you see any of your favorite companies downright PR lying or doing anti consumer business decisions just know 9/10 times the real answer through the BS is simply:
To increase profit $margins and save costs$ everytime.

Hopefully google learns from this mess. As they do the post mortem on why the sales missed expectations so badly they will course correct. All phone OEM's have to learn the same lesson, listen to your customers.

They have a unique ability to learn nothing from previous mistakes and even less from successes.

It has more to do with that the video performance in low light mode leaves much to be desired.

google come on ..i think i see what their doing.... their copying iPhone alot. and not just with the look of the phone, but with their software! guys, google can be so much better then Samsung and iPhone! they just need to listen to the people. and stop acting like ios with their high ass price and small ass battery...

You need to join us in 2019. Apple and Samsung phones now offer class leading battery life and excellent cameras. . Google isn't doing what they are doing, they have fallen way behind.