Here's how region-locking works on the European Samsung Galaxy S5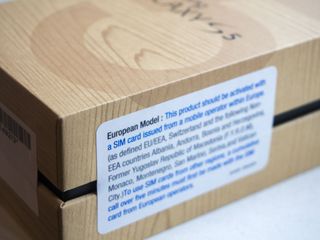 Samsung's new region-locking sticker isn't as scary as before, and actually explains what's going on
Think back to the launch of the Samsung Galaxy Note 3 last year, and you might remember a bit of hubbub surrounding supposedly "unlocked" devices in some countries coming with a so-called region-lock. The situation eventually turned out not to be quite so bad as was first feared, with devices being fully unlocked if they were "activated" with a SIM from within the approved region.
The situation with the Galaxy S5's region lock is a bit different, and fortunately the sticker on the box fully explains what's going on this time.
The label on the European GS5's box reads —
So there you go. Once you've racked up a total of five minutes of calls in the approved region, you should be good to use your GS5 on any carrier, anywhere in the world. It's not exactly ideal, but at least the sticker fully explains the idea of activation, which wasn't mentioned on the Note 3 box.
Why is Samsung doing this? As was the case previously, it's most likely an attempt to foil "grey" (unauthorized) phone importers. And the five-minute total call time requirement is probably there to stop importers simply activating the phone with a European SIM card before shipping it outside of its approved region.
Alex was with Android Central for over a decade, producing written and video content for the site, and served as global Executive Editor from 2016 to 2022.
Well, it's better than the ludicrous Note 3 situation - but this is still a ridiculous hoop to make customers jump through. Unlocked should mean unlocked. I'd love to know how big a "problem" the grey market really is for Samsung. It must be a tiny, tiny drop in the bucket, compared to models sold through carriers worldwide. It doesn't matter how easy or clear they make it, it's a hoop nobody should have to jump through. Period.

well...if you love Samsung phones, then you know Samsung isn't stupid. the problem must be big enough for them to take the time to region-lock the phones and print out these cute little stickers. either that... or the European carriers phone dealers made the deal with Samsung. solution: the United States should annex the European Union and created the United States of America and Europe. Just have to add more stars to the existing flag. So many stars together... looks like a galaxy. (just like a Samsung Galaxy)

lol? I wasn't kidding. I genuinely believe that the United States should annex the European Union. (please hole while I put on my flame-retardant suit)

Us? Annex the EU? Hah! We can hardly even get along together with what we have (congress, senate). Plus, our values don't match the EU (the scary "obamacare" republicans fear so much is *****far***** more conservative that healthcare in the EU). Hell, half the country would shit themselves just thinking about it.

I suspect it's not a trivial problem, or Sammy wouldn't have gone to the trouble. All things considered, while it might be a bit tedious, it's not exactly "difficult".

If you are in Europe its not difficult. If you're importing, then it's very difficult indeed

I bought an S5 in Rome, Italy where I live. I used my Italian SIM card (TIM) for ten minutes then went to Morocco. I put in a Moroccan SIM card and continued to get a "not possible to activate in Morocco" message. It never worked the entire two weeks I was in Morocco. Really disappointed with this concept!

Where to able to ever fix this issue. I live in naples and I received the same message when I went to the states. Now I'm moving and the states don't carry this phone yet.

hey Al M,
i'm patrick and i face the same problem with my s6 edge + , i would like to know how you solved your problem
i already contacted samsung and gave them my IMEI, INVOICE etc.
but i'm still waiting for an answer from them.
how could u solve this matter

Think this will affect quite a few Australian customers, lots of our online retailers sell European grey market phones Posted via Android Central App

or order from Clove or handtec

I heard its as simple as making a 5min call there then its ok for AU

I really don't get this. If you buy a 'grey import' Samsung are still selling their phones and still making a profit. However, costs are obviously higher in Europe, but then this is what the market is for, to help bring down those costs. This is a barrier to trade and should be removed.

yup totally agree. Like the region coding on DVD and BR it is all about restricting free trade. Unfortunately it looks like all the governments don't really care as they are on the side of the big corporations instead of upholding laws and agreements on free trade.

I get their concerns, but still think is RIDICULOUS!
Whit the nice explanation it just makes it easier to explain the customer you want to sell why the phone has been open.
If the person wants the phone, it will not matter if you opened for that purpose.
I've work 5 years in the telecom business in the Caribbean, I know how providers think ;).
They get these phones on a ridiculous low retail price that you can not imagine.
To be honest if you buy it with a contract at the end your actually paying for the phone.
It is your business if you want to sell it or not, you are a slave anyways for the two or one year contract.
Providers and manufactures forget this; When there is a will there is a way.
Nice weekend to everyone!

I'm beginning to suspect that dem carriers have something to do with it...

Can any one help in bypassing this? I received a S5 mini as such.

( What'sApp CHAT & Viber ) : +254707792309
Apple iPhone 6 Plus at $600 & Apple iPhone 6 at $500
Sony Xperia Z4 Tablet LTE at $400 & Sony Xperia Z3 at $300
Samsung Galaxy Note 4 at $300 & Samsung Galaxy Note Edge at $400
Samsung Galaxy S5 at $250 & Samsung I9500 Galaxy S4 at $230
BlackBerry Porsche P'9982 at $700 & BlackBerry Porsche P'9981 at $500
BlackBerry Classic 16GB at $250 & BlackBerry Passport at $350
Canon Eos 7D at $450 & Canon Eos 5D at $700
PlayStation 4 at $200 & Xbox 360 Slim at $180
Promotional Offer Buy 3 Get 1 For Free.
( Call & SMS ) : +16147212357
Skype : live:sellcheaplimited
Add on BBM Chat 24HRS : 7F137F31
Write to Email : sellcheapltd@gmail.com
Message to Email : sellcheapltd@hotmail.com

I've made calls for 5 min's and nothing has unlocked? I'm still getting error messages in the app store with certain apps saying not available in your country. How can I fix that?

Hi Megan, region lock and phone apps are two different issues. For region lock, i have this before on my note 3. And 5 minuted using your native phone dialer app will not region unlock your phone, what i did on my note 3 is to call overseas for over 15 minutes using our network sim here. Then it got unlocked. How did i know? By placing a different network sim and gives me R on the signal that means Roaming. Calling 5 minutes on same country will not make your phone unlocked. Try calling overseas and see where it will got you..and for your apps, some countries doesn't support native apps cause of some restrictions, or the network simply doesn't support them. You can do two options, disable the app or download from play store a different application with the same features and functions. Hope this helps you.

hello Ekymz,
i got a european region locked s6 edge+, i'm in Africa right now and i have a european SIM card here with which i could go roaming, according to your saying if i do a 15min call overseas, that will be enough to Unlock the phone, is it right ?
that would be so great if it does :)
hope to hear from you ASAP. :(

Hello, I have the same issue.
Were you able to remove region lock with the home country sim while roaming and placing a long international call?

I'm looking to buy a Japanese Galaxy S5 ( don't like the galaxy S6 copying Iphone) for use in the UK. Would this be possible due to the differing band widths?

Well this is great. I bought the phone in Poland and only used it for the internet... now I'm in Australia and want to use it for internet and calls and I can't... gotta use an old iphone 5 now = Samsung loses.

Hey does anyone know if I can insert a European SIM card and use roaming call in Australia? I am not going to be inside the valid region area but im not sure if it'd still work. So desperate for help. I bought my Samsung s5 in France

European consumer law requires a vendor to warn you explicitly if a product will not give you the functionality you expect, either because ou said so, of because it is functionality anybody would expect as obvious.
Nowadays people travel over the whole world - I am not an exception. Due to the very high price of roaming, it is usually much cheaper to buy a local SIM card if you travel into a far-away country. If this functionality is no longer available, the abilities of the smartphone are severely curtailed.
it is no longer a universal smartphone, it is a device with deliberately a very limited functionality.
Legally, you are unquestionably entitled to return such phones, to the shop and ask your money back.
But the problem is: how do I get a smartphone that I can use all over the world, with local SIM cards.

I forgot to say that "grey" imports can be addressed by legal means, without harrassing the consumer,

It happened to me also. That's not a big deal.
You can request an unlock code from Samsung Support Centre for free.
It's explained in here: http://www.gsmarena.com/newscomm-17200.php
Android Central Newsletter
Thank you for signing up to Android Central. You will receive a verification email shortly.
There was a problem. Please refresh the page and try again.