Here's everything Nexus-related that Google just announced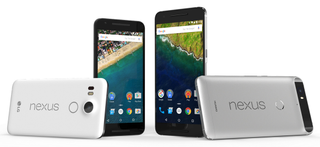 Google had a jam-packed press event today to roll out tons of new products, updates to old products and a view of what's to come in the future. Perhaps the biggest announcements of the day were the Nexus 6P and Nexus 5X — the two Nexus phones to launch with Android 6.0 Marshmallow and carry on as Google references devices for the coming year. But we also got information on Marshmallow updates for previous Nexuses, as well as a new Nexus Protect phone insurance plan.
Here's everything Nexus-related that Google announced today.
Huawei Nexus 6P
The Nexus 6P is the first collaboration between Huawei and Google for a hardware project, and it's the higher-end of the two Nexus phones. It's smaller than last year's Nexus 6, now with a 5.7-inch screen, and it's also made out of a solid metal shell. There's a promising 12.3MP camera on back, a QHD AMOLED screen up front, and a fingerprint sensor for added security. It'll set you back $499 to $649 unlocked.
Hands-on with the Huawei Nexus 6P
Google unveils the Nexus 6P
All of the latest Nexus 6P news
Google shows off Imprint fingerprint sensors
The Nexus 6P is available to pre-order today
Here are the details on the Nexus 6P camera
This is how much the Nexus 6P will cost around the world
Protect your Nexus 6P with these cases
You can finance a Nexus 6P from Project Fi over 24 months
LG Nexus 5X
The Nexus 5X is a perfect successor to the original Nexus 5. It's built by LG once again, keeps the same basic shape and size, but picks up new features and internal specs. It now has a Snapdragon 808 powering it, as well as a new 12.3MP camera with a large sensor and pixels, and a one-touch fingerprint sensor on the back. It starts at just $379 unlocked and comes in three colors.
Hands-on with the LG Nexus 5X
Google unveils the Nexus 5X
All of the latest Nexus 5X news
Google shows off Imprint fingerprint sensors
The Nexus 5X is available to pre-order today
Protect your Nexus 5X with these cases
You can finance a Nexus 5X from Project Fi over 24 months
Marshmallow updates for Nexuses
Of course these aren't the only Nexuses out there — there are still millions of previous Nexus phones and tablets out in the wild that are ready to receive the latest update to Android 6.0 Marshmallow. Google announced that the Nexus 5, 6, 7 (2013), 9 and Player will all get the marshmallow update starting next week, which is great news for everyone who wants to extend the life of their current device rather than buying one of the new phones.
Marshmallow updates for Nexus 5, 6, 7, 9 and Player coming next week
Google's new Nexus phones do security update transparency right
Nexus Protect insurance
Though Nexus phones have always had a standard one-year manufacturer warranty, Google is now offering additional paid insurance for your Nexus phone when you buy it from the Google Store. Nexus Protect can be purchased with your phone, and costs $69 up-front for the Nexus 5X and $89 for the Nexus 6P. It protects you from liability for accidental damage for two years, and you can make up to two claims for replacement phones for a deductible for $79. You can make a claim 24/7 and often get a replacement phone within 24 hours of your claim.
Andrew was an Executive Editor, U.S. at Android Central between 2012 and 2020.
Just ordered my N6P Posted via the Android Central App

Why did you choose the 6P? I'm trying to get talked into getting a 6P. I was thinking of getting the 5X, but I don't like the 2gb of memory, the non-AMOLED screen, and that it's the same size as my LG G3 but with a smaller screen.

This event was a big poo in the pants for Google. It seems like everyone is copying Microsoft now. Pixel C just embarrassing.

Looks like a logical evolution from the Nexus 9 to me.

I think the surface is productivity first, while the Pixel C is games and media first, with some productivity after. Posted via the Android Central App

The Nexus 6P looks hideous and all for an astonishing 12.3 MP camera!!??? I guess it will let more light in, wow, what an innovation. I'm not even sold that Android M even deserves to be called 6.0, added a bare minimum of features and looks almost identical to Lollipop. I think this year's Google offering (devices/android upgrade) will go down as the worst. Hopefully it doesn't get worse and Google can pick it back up next year.

I thoroughly agree.... I love Google, but I'll be the 1st to say that if u thought today's event was big, u need to take your Google goggles off. The chromecast app was the biggest announcement imo Posted via the Android Central App

Don't dis the camara just yet. Sony's A7s is a low-light monster (meaning it gets amazing shots in near darkness) and it's only 12 MP. MP should never, ever be taken as a gauge as to the quality of the camara. I for one applaud the move. They just need to focus on focus speed, color reproduction and sharpness. This is a very good move. That, and 12MP cameras are good enough for 16x20 inch prints or bigger, depending on subject matter.

Those 12.3MP cameras are everything HTC One fans ever wanted from Ultrapixel. These should be right up there with the best Samsung offers, with better low-light performance. Posted via the Android Central App

I will be ordering the Nexus 5x. Posted via the Android Central App

Why did you choose the 5X? I'm trying to decide. I was thinking of getting the 5X, but I don't like the 2gb of memory, the non-AMOLED screen, and that it's the same size as my LG G3 but with a smaller screen

That black bar on the top of the N6P, is it raised? Posted via the Android Central App

Little bit. To give the camera room to work.

It is very very slight and keeps the phone balanced. Posted via the Android Central App

Maybe I missed it, but what did the letter designations (6P, 5X) on these devices mean? Are they just place holders?

Huawei has a "P" series line of phones... similar to the "Galaxy Nexus" branding. I'm not sure where X came from.

The Nexus 6P isn't that bad and the black bar at the back doesn't appear to be raised but the Nexus 6P's camera isn't much better than the Moto Nexus 6 camera though except in lowlight. I'll be holding off until next year when they'll use the SD820 plus I bought the Moto Nexus 6 not that long ago and I'm happy with it. Posted via the Android Central App via My Nexus 6

My previous thinking was that nothing this year could be more disappointing than the Samsung Note 5 to previous Note owners that were looking to upgrade. Guess what,Google did the same today to Nexus owners looking for something better than last years Nexus and the one the year before that. I'm OK with the US prices but the Nexus phones should have been delayed till next year allowing for better,design and hardware. Both phones should have been by LG and only a size difference 6P all metal,who cares!Give me wireless charging,OIS,SD slot Front stereo speakers;I could really do without them. Print reader,the jury is out if needed or a gimmick.

Last year's announcement was definitely the most disappointing for me; the Nexus went from being an affordable off-contract option for everyone (*ahem* DEVELOPERS *ahem*) to being this behemoth that only someone with a lot of money to drop OR a contract (ugh) could afford (with carrier versions no less), and that only those with the biggest hands and pockets could use. I think that's one of the Google's biggest eff-ups in a long time, it's like they completely derailed from what Nexus had always been. Oh, and what did they also announce that day? Lollipop, most certainly the worst version of Android ever released, shipping first on the Nexus 6! I swear, I don't know what was going on in management over there, but I have to imagine that someone got fired over those two; sometimes you change the game and end up with innovation, and sometimes you just fix what ain't broke.

I can only agree on wireless charging... I really like that feature and will miss it. But other points make little sense (in terms of your disappointment) 1. Design is absolutely subjective and HW is ALWAYS getting better so Google can wait forever with that logic.
2. Who cares what OEM is involved? They make what Google asks them to make and it's better for ecosystem to share Nexus among different OEMs.
3. They clearly said OIS is not needed with such big pixels. Let's see first before asking for OIS (which is basically a band aid).
4. SD? I just wish this request already stopped. It's a Nexus, ok?
5. After using Nexus 6 for almost a year, I can't imagine going back to some other speakers.
6. FP reader to authenticate is a long overdue feature because it's very convenient. If anything, you don't have to use it so no reason to be disappointed

On the flipside wireless charging is useless to me, I like to plug in my phone and use it when I'm in bed. SD cards are great but at 64GB internal storage for only $50 more I'm not overly stressed about it. And OIS would be great but we'll have to see whether google's claims are true about the camera. In addition, metal design is very important to me--whenever I'm spending $500+ on ANYTHING I want it to feel premium. Not like a toy. I'm not totally opposed to plastic phones, but definitely prefer a premium feel to my devices. Front stereo speakers are also super important to me, once you've had them it's difficult to go back. In response to the second comment, IMO Lollipop is the best thing that ever happened to Android. It had always been a powerful OS, but it really lacked the polish and cohesiveness of other mobile operating systems. Lollipop and more importantly Material Design have been pioneers not only in mobile OSs but in web design and graphic design in general.

Keeping my Nexus 5 for another year because the 5X just isn't enough of an upgrade to justify. It's crazy to think of considering the difference between the Nexus 5 and Galaxy Nexus (also two years apart) Nexus 5 | T-Mobile $30 Plan

Nexus only had SD card on the 'one' (which was the first nexus with all metal body BTW) and people still cry when Google announces new nexus without SD. Go figure! Posted via the Android Central App

Normally I would be with you on this except that the 5X only comes in 16 and 32. That's beyond belief today.

No band 12 with Tmobile. Who knows if they eventually will be. Tmobile's device "certification" is a joke. Tmo's CEO John L keeps saying if you haven't tried Tmo lately, you haven't tried it. Well, my area has band 12, but two new phones I'd consider (nexus 5x, moto pure) can't use it even though the phones support band 12.

The Nexus 6 supports it, but the 6P and 5X don't? Nexus 5 | T-Mobile $30 Plan Edit: both devices have Band 12. What are you talking about?

I am talking about Tmobile not having certified them yet for band 12, so they won't work on band 12 with Tmo. If I had to guess, I'd say they will, but who knows. Moto X Pure in the same situation, supports band 12, but does not have Tmobile blessing, so not able to use it. Search twitter for "nexus band 12" and see for yourself.

http://www.tmonews.com/2015/09/nexus-5x-and-nexus-6p-dont-support-band-1...

Does anyone have any details as how this will be working on Verizon? Is it as easy as buying the phone from google store, and plugging in your Verizon SIM or whatever-CDMA card? Last time i checked Verizon was really anal about bringing your own non-verizon phone to their network.

Yep, just pop in the SIM and run. Just like the Nexus 6 or Moto X Play.

Horrible from both Sammy and Google this year.

Mentioned everything the noobs want and nothing for the techies...smh how about a source release date?? oh...right...this site CATERS to noobs

Quick question, will the new slo-mo video that was talked about be a hardware or software improvement. I want to use my N6 over my 2014 moto x, but I want to keep this one feature. Posted via the Android Central App

Absolutely nothing worth shouting about today tbh. Already got Marsmalliw on my old Nexus 5 and it's nothing to get excited about. Bought a chromecast and luckily it was on sale as I never use it. Use the fire stick all the time for prime. My LG G3 looks way better than that fugly 6P thing and no OIS what a laugh. I do 4K video with my LG 3 and with a 64gb microSD it rocks. Plus Google are looking at stiffing us in the UK as the price is virtually the same dollar equivalent. Robbing swines and to top it all they don't pay their fair share of tax in the UK.

Let's also not forget to mention that the g3, a phone that's well over a year old, outclasses the Nexus 6 P in pretty much every spec department. From the battery, camera, removable battery and memory, screen resolution, and screen size. Don't even get me started about how much farther ahead the g4 is lol. Like you said nothing to be that excited about. I'm actually more disappointed. Huweui is making a nexus? Imagine what an htc one type Nexus would have been like. Now that would have been exciting. Posted via the Android Central App on my LG G3

What are the supported bands of both 6P and 5X?

Does anyone know if the Nexus 6P comes with the Project Fi sim? In other words I know the phone is compatible, but will I still have to wait for an invite and the phone to join?

I'm not Interested in either. The specs on both are worse than the last moto nexus as far as the camera, battery size, screen res, and probably no front facing speakers. Plus I'd NEVER buy a huweie phone (however it's spelled I forgot) Ive worked at a Radioshack for 2 years and it's the number one phone I end up having to return or seeing with some unfixable glitch or something. They need to stick to making cheesy prepaid Metro phones. Posted via the Android Central App on my LG G3

So US carriers like ATT Verizon etc etc won't get any of the Nexus 6p's in stock? that sucks.. I was going to use ATT Next like I did last year.. guess I will just stick with my Nexus 6 that I have now.
Android Central Newsletter
Get the best of Android Central in in your inbox, every day!
Thank you for signing up to Android Central. You will receive a verification email shortly.
There was a problem. Please refresh the page and try again.