Here are all the Snapdragon 845-powered devices coming in 2018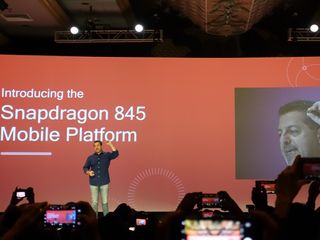 Qualcomm officially took the wraps off the Snapdragon 845 in early December, and as we previously mentioned, there are a lot of reasons why you should be excited about it. Every new processor brings increased speed and better battery life, and while the 845 offers both of these things, it also has serious improvements for cameras, support for ultra-fast gigabit LTE, and plenty more.
We're expecting a lot of phones in 2018 to be powered by the Snapdragon 845, but according to a list that was recently shared on Chinese social network Weibo, we now have a fairly detailed roadmap for every single phone that'll be released with this new silicon.
We advise taking this information with a grain of salt, but in any case, here's what we could be looking forward to in 2018.
February – Samsung Galaxy S9/S9+, LG G7/G7+
April – Xiaomi Mi 7
May – HTC U12
June – OnePlus 6, Sony Xperia XZ Pro, ZTE Nubia Z18
August – Nokia 10
September – Samsung Galaxy Note 9, LG V40, Xiaomi Mi MIX 3
October – Google Pixel 3/3 XL, Sony Xperia XZ2, HTC U12+, ZTE Nubia Z18S
November – Moto Z (2019)
December – OnePlus 6T, Samsung W2019
We were already expecting most of the phones on this list to use the 845, but there are a couple handsets that stick out. For starters, we aren't all that certain about the LG G7/G7+. Last year's G6 shipped with the 821 versus the 835 due to Samsung hogging up the latter of the two for the S8, but then again, reports back in May suggested that LG was working with Qualcomm this time around to make sure the 845 gets in the G7. Right now, we'd consider this one to be a toss-up.
Secondly, it's unclear what Motorola is planning for the Moto Z in November. The Moto Z2 Force was released in July of 2017, and while we aren't doubting that next year's Moto Z will use the 845, it's odd that Motorola is pushing the release date so much further back than it did this year.
If you had to choose a phone off this list to buy in 2018, which would you pick and why?
Qualcomm's Snapdragon 845 might make its way to Chromebooks
Get the Android Central Newsletter
Instant access to breaking news, the hottest reviews, great deals and helpful tips.
Joe Maring was a Senior Editor for Android Central between 2017 and 2021. You can reach him on Twitter at @JoeMaring1.
I wonder what the Samsung W2019 is. Foldable phone, maybe?

Yep! This is the W2018 that came out this year https://www.androidcentral.com/samsungs-w2018-flip-phone-has-camera-adjustable-aperture

I wish HTC would release the U12 and U12+ at the same time. They need the early jump anyways.

Double launch would be nice so we can pick. But, separate launches keep them in the news more. The U11 and U11 Plus launches didn't get much press after the event because the phones didn't have any outstanding problems.

Geeked about the U12, which will help me get over the U11 Plus being withheld from the US market. Still happy with the U11 and it's "bigger than the skinny phones" display, but looking forward to what the new year brings.

LG V40 simply because I like LG stuff.

My goal is to remain patient. My G6 is solid and working fine, and I've decided to pass on the V30 because it doesn't sound like a huge step up for the money from the G6 and by some accounts the camera in the G6 is better. Plus at this point it seems better to skip the 835and wait for thebus845 devices. The G7 could be tempting but it all depends on what LG does with it but I really love the wide angle camera, always comes in handy when taking pictures. If I can hold out, resist temptation, I want to see what the pixel 3 looks like. By then the V40 should be out to. The U12 could be very nice to. Very excited for 2018!

I was with LG from the Optimus G (there was a Nexus 5 in there too) to the G5. Tried Samsung this year with the S8 and I'm pretty thrilled with the device. That said, if LG makes a phone I want with the G7, I'll bite. Otherwise, I'll skip this year.

I too really enjoy my LG G6 and would choose a G7 if I were in the market for a new phone next year. I would expect LG to have learned not to limit features by country and let everyone purchase the same device. One of the things about the US LG G6 I was disappointed by was the lack of a Hi-Fi audio DAC. Loved the flat screen though.

I agree here. The new 845 is double what I have with my V20. No my V20 is amazing. Video, audio, LTE, now pair that with twice the CPU cores, twice the download speed, better audio and video processing and HDR at 60 frames per second. I also skipped the V30 for some obvious reasons. It did not have any substantial upgrades in power, screen, or utilities. And I lost the second screen. In which I use multiple times a day. The V40 will be coming out just in time for the normal end of tech life of the V20 I just hope LG stays true to their brand.

So no Google mobile chip in a Pixel next year.

They might use an existing co-processor for the image processing. Google might not design or develop their own processor because with the other big players in the market it kinda makes it moot to pour that much money and effort. Instead they could work with Qualcomm or Samsung or even Huawei to optimize instructions for Android.

What about Essential? Is there going to be no PH-1-2? I wonder what their plans are.

So they added +1 to all 2017 flagships' names and called it 2018 flagships, right?

I think Motorola is probably regretting that three year promise of Moto Mod compatibility, because it really hamstrings them design wise. They can't really deviate much from their current look of the Z phones. Can't move the fingerprint sensor to the back because the mods cover it up. They're getting left behind as far as the slimmer bezels are concerned. Although, personally I hate the whole 18:9 look. I still say they will scrap the Z series, and the mods, after 2018. Too much of a niche product for a supposed flagship.

I get a new phone every 2 to 3 years, so in 2018 I am do for a Pixel 3

I am going to go this way too. Its starting to get too expensive getting multiple phones a year and the advancements have slowed down over the last two years that new phones just aren't as exciting anymore. I have the pixel 2 XL right now and happy. If the Pixel 3 fixes the screen issues and includes tmobile's 600 mhz band I will get that and stick with it for 2 years. If not Ill stick with my 2 XL for another year

Sony XZ Pro for me. The Sony Xperia XZ Premium is in my lineup right now and it is easily the most underrated phone this year probably because of it's bezels. The 2018 model leaks show them still there but much reduced. I'm happy there are still some bezels though as they are housing dual front facing speakers. Plus the XZP is the most lag free Android I've ever owned so I expect the same but better next year.

If you're not gaming or doing VR....even if are...way more than you need or need to spend.

Xiaomi mi7… that's the ticket for me

Mee too brother!! I have the Mi 6 and I absolutely LOVE IT!!
I have the all ceramic black edition
Such a perfect phone!! : )

Pixel 3 , in one size or the other, definitely, and a high likelihood of the Samsung S9+ when the unlocked models become available in front of that, hopefully in April.

Since I just got a 2016 Pixel (the last Google phone with a headphone jack) out of necessity thanks to a bootlooping Nexus 5X, I'm not in any particular rush for a new phone. That being said, Google will have my full attention if they bring back the headphone jack on the Pixel 3.

I'll go for the ZTE simply because I have their Axon 7 and it's been a great phone, excellent price, and all the memory and speed I've needed.

Indeed. I was expecting to see the Axon 8 on this list.

Whichever flagship can give me what the Nexus 6P gives me at a reasonable price is what I will get. I don't care about water/dust resistance over a headphone jack. 18:9 makes no sense to me. Give me a metal or plastic build.

I have a Note 8 and a Samsung DeX now. But, I miss the straight Google experience of my Nexus 6. I'm therefore looking forward to the Pixel XL 3...

No Snapdragon 845 processor for Motorola phones until November?? That is a long wait to upgrade from their slow Moto G4 I have with screen burn-in issues and low battery life and a relatively slow processor. I like that Moto phones keep Android nearly stock versus Samsung. What about the other brands? Perhaps I may go to another brand. The iFixit score will be a contributing factor of my purchase decision though in order to see how difficult it will be to replace the battery down the road. Because, I intend to keep my next phone with 845 chip for 5 years or better. Phone processing power is going to stop being much more every year just like how Intel is just creeping along every year.

Well the Motorola Z3 is out and it has last year Snapdragon 835 processor! Motorola has stated that that is the only Z phone this year, so they might not release any 845 phone at all!