Heads up: More Talk Mobile 2013 party tickets at Noon EDT; podcast at 2 p.m. EDT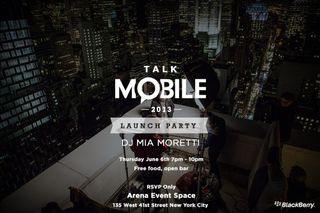 Good news, everyone! We've scored a few more tickets for next week's Talk Mobile 2013 Launch Party in New York City, and they'll open up today at noon EDT. Hit this link to secure yours (max of two per person, apparently), and do it quick, before those CrackBerry guys get 'em all. (And don't forget that we're giving away a trip to NYC as well, for those of you out of state.)
And seeing as how it's been a while since we did a proper Mobile Nations Podcast, we're gonna bust one out live at 2 p.m. EDT today. So swing by AndroidCentral.com/live to check it out.
I've read all the posts on this thing and it STILL isn't clear how this is anything other than a re-branding of what you guys have been doing already. And doesn't being sponsored by Blackberry raise objectivity issues?

What have we been doing already? And, no. This event being sponsored by BlackBerry didn't affect our opinions at all. Well, maybe CrackBerry Kevin's, but certainly not mine. ;) Why does everyone think BB has some magical effect on us? No different than any other company buying a display ad, as far as I'm concerned.

What have you been doing already? Talking about platforms, technology, ecosystems, etc. How is this any different than what you guys already do on the various Mobile Nations sites? Or is it just different because you'll all be doing it in one place? "Why does everyone think BB has some magical effect on us?" Maybe because they're paying for the event? Buying a display ad is pretty different than sponsoring an event. A sponsor would be pretty POed if you criticize their products during an event they are footing the bill for, regardless of how truthful or justified that criticism may be, which could lead to sponsorship being withdrawn in the future.

No, I don't think you at all understand what we're doing. Or how a sponsorship like this works. I invite you to follow along the next several months. Oh, and I'll use Android over BlackBerry any day of the week. Or Windows Phone. Or an iPhone. There. Go tell Waterloo. :p

I'm out of state. Is there a special time I should be waiting for to try and win the out of state ticket, or if I get one in just a minute at twelve will that be an out-of-state flight you'll give me?

Got my tickets! See you there, Phil. Guess I'll bring my Pre-, Touchpad, and Blackberry, in addition to my Nexus.

Phil, could you please respond to my question above with clarification?

You have until midnight Friday to enter. Doesn't matter when, so long as it's by then.

I was lucky to snag a pair of tickets and am looking foward to Talk Mobile Launch Party. Nothing sounds better than free drinks and talking mobile phones.

Got a pair of tickets can't wait

Got a pair of tickets the first day they were available. I'll enjoy free drinks on AC's dime :)

Hopefully I get my appointment to get Google Glass before the event so I can rock Glass at the event! Phil, I'd def like to have a little pow wow with you.
Android Central Newsletter
Get the best of Android Central in in your inbox, every day!
Thank you for signing up to Android Central. You will receive a verification email shortly.
There was a problem. Please refresh the page and try again.