Have you ever bought or sold an Android phone on a reseller site?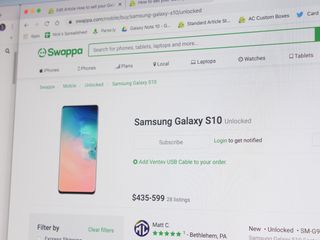 (Image credit: Joe Maring / Android Central)
During good and bad economic times, one surefire way to either make some money or save some money is to dabble in the smartphone and tech gadget reseller marketplace. If you're anything like us, you probably have a drawer (or closet) full of old gadgets that could use a new home or be of use to someone else. Even if those devices are beyond salvage, you can still responsibly donate or recycle them. Alternatively, you might be in the market for a new device but are considering buying a used phone to save some money.
We noticed a discussion on the AC forums about this very topic:
We want to hear from you — Have you ever bought or sold an Android phone on a third-party reseller site like Swappa? What was your experience like?
Join the conversation in the forums!
Jeramy is proud to help *Keep Austin Weird* and loves hiking in the hill country of central Texas with a breakfast taco in each hand. When he's not writing about smart home gadgets and wearables, he's defending his relationship with his smart voice assistants to his family. You can follow him on Twitter at @jeramyutgw.
I've always used Craigslist. Works every time.

I have bought several handsets (including my most recent one) on Swappa, although I do not use it to sell devices. On the other hand, a unit I purchased on ebay was diverted because the seller was duped by an intervening email intercepting the shipping instructions (the seller was an idiot) and my "refund" was net of fees, so I suffered a small loss on that purchase. I find, by and large, Swappa values slightly inflated compared to ebay, but you're paying for the security of the transaction.

I've sold a couple of phones on Swappa with no issues at all.

I've used Swappa to get phones for my parents and my sister uses them to get phones for the kids. Never had an issue.

sold 2 galaxy 9s on swappa. one was to a crook who claimed it was a counterfeit. he sent back a bogus phone and kept the real one. no relief from swappa and apparently paypal always sides with the buyer. it was an expensive lesson. (i took all the photos during packaging)

Negri Electronics - they were the best when they existed. Bought two imported (Japanese version) Galaxy Nexus phones (because in the US they were limited to Verizon). In fact, Negri Electronics even replaced my phone within the 90-day warranty. And then Craigslist and eBay are regular spots to pick-up used and new phones.

I use SWAPPA all the times to buy and sell phones/tablets
It's safe

No, just an iPhone 8 Plus that was paid to be unlocked and sold to someone in Spain for $500 (apparently that's cheap for Spain!) after the Mrs. was done with Sprint and wanted a Samsung Galaxy device from Metro! 🤷🏼‍♂️
Android Central Newsletter
Get the best of Android Central in in your inbox, every day!
Thank you for signing up to Android Central. You will receive a verification email shortly.
There was a problem. Please refresh the page and try again.