Hands on with the ZENS Bluetooth Speaker and Qi Wireless Charger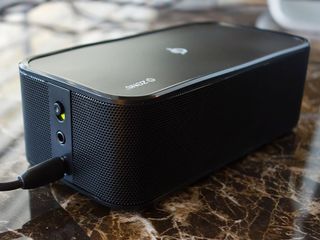 We've seen some pretty unique wireless chargers that stand out above your typical charging pad, but after spending some time with the ZENS Bluetooth Speaker and Qi Wireless Charger, it's become clear that this accessory is amazing to have around the house or workspace.
If combining music with portable wireless charging is up your alley, read on for the whole review.
One thing we certainly can't argue with about this ZENS product is its size. Measuring only 5 inches in length and around 3 inches wide, for a wireless charger — it's quite reasonable. With the speaker grill wrapped around the edges, you're looking at a 2-inch lift off of any surface. Keeping its compact design in mind, devices sized like the Nexus 5 will sit perfectly on top while others may hang over the sides. Still, though, as long as you're packing Qi-capability, you're good to go.
Pairing with the unit is cake — especially for those with NFC. By flipping it upside down, you can tap your device on the bottom to get the job done. Or, you can do it the old-fashioned way by holding the play/pause button for 3 seconds to put the speaker into pairing mode. There's not much for buttons on this speaker, which we'd say is a good thing. Less of a learning curve, right?
On one end you've got a power switch, 3.5mm auxiliary input (just in case), and a micro-USB input for charging the internal 4500mAh Li-ion battery. On the front is the built-in microphone, (+) button for skipping tracks and increasing volume, (-) button for previous tracks and lowering volume, and a play/pause button. Below that is a tiny LED that stays blue when successfully paired and red while charging the battery.
After a complete charge, we tested the endurance of the 4500mAh internal battery and experienced roughly 7 hours of music playback before experiencing disconnections in the stream. That's while the Nexus 5 sat on the charging pad, too. Pretty impressive to say the least, considering a few phone calls in the process, which were managed over the Bluetooth speaker. Once battery life has depleted, expect a wait time of about 6 hours to get it to full capacity again.
Just how loud are the speakers inside? According to ZENS' specifications, it's got two 5W speakers with stereo isolation of ≥ 45dB. When cranked, this little speaker packs a serious punch. You can really feel the bass through the table it sits on, too. The mixture of highs and lows seems to blend perfectly until you really start pushing volume levels, resulting in that muddy sound that nobody in their right mind cares to hear. But, for what this Bluetooth speaker is meant for — it's got plenty of power to fill up a room with your jammy jams.
Our take
Between the sound quality of the ZENS Bluetooth Speaker and the wireless charging capability of the pad on top, this is a solid accessory to own for anyone with a Qi-compatible device.
We wish its $99 price point was a little more reasonable, but at least the quality and functionality of the product is there to back it up, along with a 1 year warranty from ZENS. And, while it's not pocket friendly by any means, this product isn't exactly meant for that purpose. Throw it in your backpack or carry-on, though, and enjoy your favorite playlists while wirelessly charging your phone wherever you end up.
Learn more and purchase (opens in new tab)
When it gets to $49.00 I'll think about it Posted via Android Central App

49 for a charger and speaker isn't that bad. Posted via the Android Central App

This thing is a Qi charging battery pack with Bluetooth speakers. Hmm? Galaxy Note 4 Galaxy S III
LG G2
If it ain't Tech, it ain't Right.

That might be a little low though. If the sound is good then maybe 60. Posted via the Android Central App

Yeah, I think I'd seriously consider at 60. Posted via Android Central App

This would make a great nightstand speaker next to the bed or even better, a desk speaker at work and have it charge your phone at the same time while listening to tunes.

Assuming that my next phone has Qi charging, this would be a great thing for hotels.

Can we assume that hours-and-hours of vibrations won't do anything to modern phones? Depending on the volume and bass level, I would imagine that could shake a phone right off itself.

Lot of cheap people frequent Android Central!

Money doesn't grow on trees, we also need those dollars for the new phone every six months, LOL. Posted via the Android Central App

Eh, everyone's on a different budget. $99 is a hard pill to swallow for most people, including me. But, if you've got the extra dinero and are into cool stuff like this, it's a good buy.

people buy the beats pills at 199 and 299. if a person is looking for a qi charger and a speaker this one device

While I agree with you, using Beats is a bad example. Beats is a fashion or style brand, people buy Beats because of their perceived elevated social status, not because it's the best quality product for the money. ZENS doesn't have that same cachet so it's not really a fair comparison.

How about this one. Still 2 much coin.
http://www.amazon.com/gp/aw/d/B00K6ZF6L2/ref=ox_sc_act_image_1?ie=UTF8&p... Posted via the Android Central App

That's not too shabby looking. I think I still prefer the compact design of this one, though.

Or this,
http://www.amazon.com/gp/aw/d/B00KV83L66?psc=1&tag=hawk-future-20&ascsub... Galaxy Note 4 Galaxy S III
LG G2
If it ain't Tech, it ain't Right.

I bought this exact speaker/charger last year. It was a piece of junk. It drained my phone instead of charging it. The NFC didn't work, and the Bluetooth even stopped working. Zens never replied to my emails. I eventually got a refund from Amazon. Funny thing is I never even got instructions about where to send it back. I still have it. The only thing currently working is a hard wire connection via the headphone jack on the phone, and I will say that the sound quality is decent. I guess I can't complain seeing as I got a refund, but I wish it would have worked properly in the first place, and they could have kept my money. Posted via the Android Central App

Is the bluetooth audio on this ASAP or AptX? I couldn't find it in either the shopandroid nor amazon descriptions.
Android Central Newsletter
Get the best of Android Central in in your inbox, every day!
Thank you for signing up to Android Central. You will receive a verification email shortly.
There was a problem. Please refresh the page and try again.