Hands-on with Toshiba's Excite tablets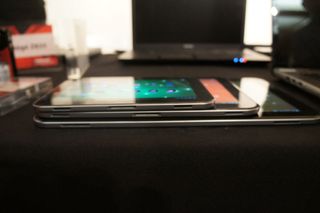 Toshiba was here in New York tonight showing off some of its finest new technology, including its upcoming Excite line of tablets. Though we already got a look at the tablets at this year's Mobile World Congress, it's always fun for us to revisit upcoming devices. All three models were on hand tonight- the 7.7-inch, the 10-inch, and the behemoth 13.3-inch. All three are packing a Tegra 3 processor under the hood, and all will ship with Ice Cream Sandwich. They also share a 5-megapixel rear camera, a 2-megapixel front-facer, a Gorilla Glass coating, and a remarkably slim and svelte profile.
The screens differ in both size and resolution- the 7.7-inch model's got the highest ppi of 196 due to its AMOLED display with 1280x800 resolution, while the 10-incher has a slightly lower 149 ppi with identical resolution (LED technology, not AMOLED on this one). The 13.3-inch (did we mention how big it is?) uses "Autobrite LED" technology, which ups the resolution to 1600x900, which translates to 138 ppi. Not many bad things to say about each of the displays; while they might not be the best in the biz, they're bright, crisp, and surprisingly vibrant.
I love the 7.7-inch Excite-- it's got the display to beat, and the footprint is borderline perfect. Use it with one hand or two; either way, it's going to fit comfortably. The 10-inch is nothing to write home about (I've seen plenty in my day), which leaves the 13.3-inch model, the star of the show. It's big and beautiful, though the size and weight might turn some off. At 2.2 pounds, this one certainly isn't going to fit in your pocket. Toshiba describes it as a bridge between tablets and laptops, a description that's pretty darn accurate. It'll be perfect for watching movies and TV, though if you're used to doing things with one hand on your tablet, this is not the device for you.
The 10-inch model will launch on May 6: 16 GBs will cost you $449.99, while 32 and 64 GBs will set you back $529.99 and $649.99 respectively. You'll have to wait until June 10 for the 7.7 and 13.3-inch models: the smaller will cost $499.99 and $579.00 for 16 and 32 GBs, the larger will cost $649.99 and $749.99 for the same sizes. Hit the break for some comparison shots.
Be an expert in 5 minutes
Get the latest news from Android Central, your trusted companion in the world of Android