Hands-on with the T-Mobile Springboard with Google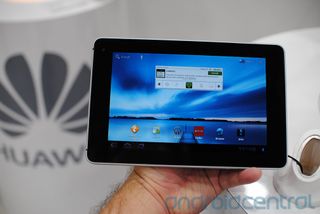 Here's our first look at the lastest in the line of 7-inch Android Honeycomb tablets -- the T-Mobile Springboard with Google. Not a whole lot here you haven't seen before. It's Honeycomb (Android 3.2, to be exact), and it's 7 inches. Nothing's really been customized, though you've got a wealth of T-Mobile apps.
Physically speaking, Huawei's made a nice little device here. It's reminiscent of the BlackBerry PlayBook in look and feel, and that's not a horrible thing. It's got HDMI out and microUSB and, well, that's about it. It's powered by a 1.2GHz dual-core Qualcomm 8260 processor. It's got a 5MP camera on the back, and 1.3MP up front.
Still no word on pricing, but Huawei said this morning that "you'll be impressed." Pics and video are after the break.
Youtube link for mobile viewing
I had their s7 tablet (purchased in Feb. 11) - had a ton of hardware problems. If it had worked it would have been great - but the thing kicked the bucket after a couple months (July 11) . A total waste of money.

Wasn't it still under warranty?

How does the screen quality look?

How do you pronounce the name of this thing?

Assuming they had to cut corners somewhere to make the price impressive, let's figure it's got a teeny tiny battery. They've been careful to keep battery specs under wraps, which is always a bad sign. Any word on how long it'll last in the real world?

You can see the specs here:
http://www.huaweidevice.com/worldwide/productFeatures.do?pinfoId=3135&di...

I like the design and the thinness. With Amazon setting the bar at $199, it will be difficult for T-Mo to price this at more than $275 (it does have pretty fast T-Mobile 4G after all). If the price is right (and if the hardware is decent), it will be a choice between this and the Kindle Tablet for me.

this is suppose to be less then 199 with contract!
Android Central Newsletter
Get the best of Android Central in in your inbox, every day!
Thank you for signing up to Android Central. You will receive a verification email shortly.
There was a problem. Please refresh the page and try again.