Hands-on: Samsung Gear S2 Classic in 18K rose gold and platinum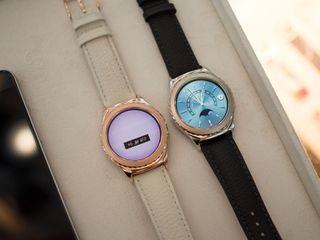 Let's be honest: It's taken Samsung a good long while to come up with a smartwatch that's actually worth buying. But now that it has, the company is ready to expand the Gear S2 line with new designs furnished in precious metals.
Samsung's latest Tizen-powered watches are an extension of the Gear S2 Classic, the more traditional-looking of the two Gear S2 models. Like the regular Gear S2 it's got a rotating bezel for navigating through lists and menus, but it packs this functionality into a body that'll take a standard 20mm fastening.
The new rose gold and platinum models take the bones of the Gear S2 and transform it into a more lustrous smartwatch with a more feminine look — in stark contrast to the masculine appearance of most smartwatches. The 18K rose gold model is paired with a white genuine leather strap, while the more muted (but still very, very shiny) platinum comes with black leather.
It's a different beast on the outside, but the watch still works just like any other Gear S2, down to the circular UI and two-to-three-day battery life. Meanwhile, Samsung is ramping up its designer partnerships for Gear S2 watch faces, with designs from Keith Haring, Jean-Michael Basquiat, Jeremyville and Burton Morris arriving alongside the new Gear S2 Classic variants.
While Samsung hasn't announced pricing details just yet, both new Gear S2 models will launch globally in February.
Image 1 of 9
Alex was with Android Central for over a decade, producing written and video content for the site, and served as global Executive Editor from 2016 to 2022.
Looks nice.. but im ok with my regular gear s2.. Posted via the Android Central App

i've been given a gear s2 as my work device (along with note5) for my employement. i never use it. even with numbersync, it does not seem to make life simpler. maybe once samsung pay comes out. i'll be back to use it.

Hum ...actually you need to ware it more . But if you've never worn a watch then no its not for you Posted via the Android Central App

I would get this. I have the gear2 in bronze. Posted via the Android Central App

Honestly not impressed. The black Gear S2 looks nicer in my opinion.

Nice looking watch but my gear S and s2 in black fits my life style more . But they do bring the bling Posted via the Android Central App

Too feminine IMO. The whole GS2 line. Posted via the Android Central App

These particular models are geared towards women. I wonder if illiterate people get the full effect of alphabet soup

My wife likes them but wonders why the screen looks pink on the rose gold one. I hope they just set the screen colors like that and can change it. Posted via the Samsung Galaxy Note 4

It all can be changed that the beauty of the gear s2 Posted via the Android Central App

Nice for Samsung and Tizen but the actual Android Wear options with feminine styling are very few. Posted via the Android Central App

It needs Speaker and Mike to answer and call with Bluetooth , not 3g carrier based.

That's why Samsung still sells the gear S for you folks that like to talk on your watch Posted via the Android Central App

The only reason I didn't upgrade from my Neo was the absence of a speaker. Since the S2 and S2 classic do not include a speaker (except for the LTE model) you cannot use the phone features or S-voice. Maybe due to the thinner size they didn't have room for it, but it just seemed like a step back for me.

I agree totally. It was a step back since the original gear had the ability.

It was a rip off by removing the option.

Can anyone tell me what watch faces are in the photo? Thanks!

Be careful with Samsung watches, they are compatible only with themselves. You will be disappointed when you find out no Android Wear apps work with it!