Hands-on with 'S Beam' on the Samsung Galaxy S III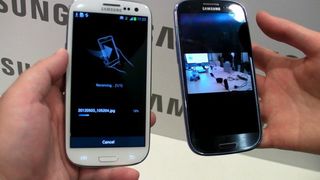 Samsung announced a slew of new features on the Galaxy S III at yesterday's Unpacked event in London, and one of the most interesting was "S Beam", a new file transfer capability based around NFC and Wifi Direct. Similar to ICS's Android Beam feature, you start by finding a file, photo or video in one of the built-in applications, then tap the screen to start the transfer. The phones are then instantly paired, and a Wifi Direct connection is established between them to handle all the heavy lifting. Because the Galaxy S III supports Wifi channel bonding, files can be transferred at up to 300Mbps, though that's dependent on how much interference there is in the area.
As you'll see in our video demo, it seems to work pretty well. See for yourself after the break.
Alex was with Android Central for over a decade, producing written and video content for the site, and served as global Executive Editor from 2016 to 2022.
Let me guess this feature on Samsung only works on other Samsung devices?

Or at least devices with NFC.

i hope it comes back to older phones with nfc such as the gs2. it has nfc and wifi direct..

this is so stupid. why not just stick with the 'standard'? nfc transfers on my galaxy nexus look simpler than this "wanna be different" version. they unnecessarily added wifi direct IMO

nfc is only meant to read and transmit small amounts of data aka enough to identify another device. the wifi direct is apart of ics so gnex users will be able to use this along with s3 users... take a look at the ics api

but i`ve sent webpages...i guess thats small though?
ok makes sense. not looking at the api for it though :P

But gnex don't have a app to do it (or else Samsung will give it to other phones?), somebody need to code it first to other phones, things will be nasty if phone manufactures gonna use there own protocols :p Also same as Anynet+ (HDMI-CEC yet another odd name by Samsung) they enforcing there own name (S Beam) for something that should be standard, confusing people as it was with HDMI-CEC.

Wifi direct is needed to transfer large files up to 300mbps. NFC is only used to establish connection "small talk" between two devices. After the initial "conversation", the heavy lifting is done by the "highway" Wifi direct. In order for this feature to work on other phones, you need both NFC AND WIFI direct capabilities.

This is cool only because if you want to transfer a file larger than a photo, say like a movie or video, it can quickly transfer it via WiFi burst utilizing multiple channels at once.

email works pretty damn well too haha.

Don't often have dumb questions but here's one. I can't seem to figure out how to android beam a photo from my galaxy nexus to my buddy's nexus s. Browser pages and maps work fine but who sends those in everyday use? Are we going to be lost together and both need the same map coordinate? How can I send a picture or video? thx in advance.

Android Beam doesn't work for files, because NFC doesn't have the bandwidth required. S Beam works by first pairing the phones in Wifi Direct mode, using an initial connection over NFC, then using the Wifi Direct connection (up to 300Mbps) to shoot the file across. That's why you're able to separate the phones after they've been initially paired.

Why not just txt the picture so much easier and it doesn't look gay

Because people want to send more than pictures. Like entire movies/music and other larger files.
Android Central Newsletter
Thank you for signing up to Android Central. You will receive a verification email shortly.
There was a problem. Please refresh the page and try again.