Hands-on with the Lenovo Yoga Tablet 2 Pro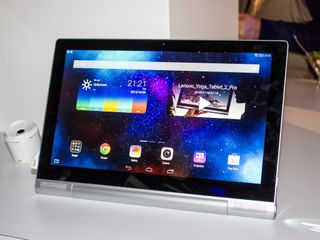 Lenovo went to town with its most impressive Android tablet to date
At an event in London, Lenovo pulled the wraps off this, the Yoga Tablet 2 Pro. The name is a bit of a mouthful and the tablet is certainly a handful. That's because Lenovo went big, literally, packing it out with a 13.3-inch QHD display. At this size it's a tablet as big as many laptops, but if you're looking for something to help you consume a lot of media then it's got you well covered.
Quickly recapping the main specs, beneath that 2560x1440 resolution display is a quad-core Intel Atom CPU, 2GB of RAM and 32GB onboard storage. Round the back there's an 8MP camera and it's running Android 4.4 KitKat.
Beneath that display the Yoga Tablet 2 Pro follows the exact same design language as the other Yoga Android tablets. You've got the same rounded section at the bottom that houses the battery and in this case, the Pico projector. That's right, this is a tablet with a projector. It's capable of projecting a display up to 50-inches in size onto any flat surface and while it's not the crispest image you'll ever see, the kids will love it.
The kickstand also makes a return from previous Yoga tablets and besides the hold, tilt and stand 'modes' we had before, this time out we get a fourth; hang. By virtue of having a hole in the kickstand you can now hang your Yoga tablet from a hook and go totally hands-free. It's not something that everyone will be crying out for, but one example given was for folks looking for a tablet to use in the kitchen. Hang it up, keep it out of the way, still get at your recipes.
The Tablet 2 Pro is also packing some impressive sounding speakers, though sadly a noisy press event is no place to test them. But know this. It's got a 5W JBL subwoofer on the back. That's right, a subwoofer on a tablet. Round the front there's a pair of 1.5W large-chamber speakers working with it. Previous Yoga tablets were impressive enough when it came to sound, and we're looking forward to getting a chance to hear these away from the hustle and bustle.
The biggest downside to this tablet that we've seen so far is the weight. At 950g this is a hefty piece of equipment, especially if you're carrying it around a lot. But beyond that it suffers the same drawbacks through design as its predecessors. All the weight is focused towards the bottom where that round section full of battery resides. It was awkward enough on smaller, previous Yoga tablets, and with the added size here it's even more noticeable.
Looking quickly at the software, too. While it's Android 4.4 KitKat underneath, Lenovo has once again given its tablets its own unique flavor. Besides a visual re-working of Android there's a bunch of custom Lenovo apps pre-loaded, including one dedicated to the projector.
All in all the Yoga Tablet 2 Pro is a pretty interesting Android tablet. Sure, it's big, and having a projector is kind of crazy, but at the same time you're getting a fair bit of hardware for your money. Undoubtedly media consumption is where its at – though reading eBooks would be a challenge – but also if you're looking for a tablet the whole family can use it might be worth a shout.
Check out some more hands-on photos in the gallery below.
Image 1 of 7
Get the Android Central Newsletter
Instant access to breaking news, the hottest reviews, great deals and helpful tips.