Hands-on with Fossil's Q Grant and Q54 Pilot mechanical smartwatches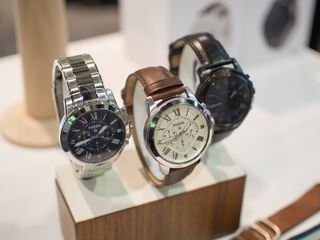 Fossil realizes that a full-blown smartwatch with a display on front isn't for everyone, and is helping bridge the gap between traditional mechanical watches and new smartwatches with new non-display models, the Q Grant and Q54 Pilot. Taking a look at these two watches in a jewelry case or on someone's wrist you wouldn't immediately notice that it wasn't a plain mechanical watch — in fact these look almost identical externally to Fossil's standard Grant (opens in new tab) and Pilot 54 (opens in new tab) watches.
But flip the watch over to the back, and you'll notice something a lot more like the Q Founder Android Wear watch — a plastic back plate. This gives away the surprise — the Q Grant and Q54 Pilot are harboring smartwatch components inside, including LEDs, a vibration motor and a wireless charging coil. It's a tad jarring when you do notice the plastic back, and it really seems out of place on otherwise nice-looking metal mechanical watches, but I have a feeling I'd get used to it quickly.
You can think of these watches as having features more akin to fitness trackers than a full-on Android Wear watch, which is all many people are really looking for. You can get notifications from your phone, track your steps and calories burned, and take in that data to compatible fitness apps — such as UA Record (opens in new tab). But really, the big upside of this approach is battery life — Fossil quotes seven days of life from the Q Grant and Q54 Pilot.
The watch stays connected to your phone, and using the Fossil Q app (opens in new tab) you can set the watch to vibrate and flash its multicolor LEDs (located on the sides of the watch, where the plastic meets the metal) depending on where the notification came from. The app gives you granular control over when the watch will notify you, all the way down to scanning for keywords in texts so you aren't bothered too often by the watch. The only real downside here is that this system requires the third-party apps you want to be notified by be specifically made compatible with the Fossil Q app — though the list of compatible apps is quite large.
The Q Grant (shown off here), announced late last year, is the flashier of the two with a shiny bezel, earthy tones a watch face with roman numerals for timekeeping. It has four basic styles — a tan face with silver case, black face with silver case and link bracelet, black face with black link bracelet, and a beige face with rose gold bracelet. The great part about this being a "normal" watch is that it takes all standard 22mm watch bands if you want to customize it, and you can buy a vast assortment from Fossil for $30 each.
The Q54 Pilot is very similar in size and design, but is a bit blockier and has a bit more of a modern look, standing out notably from the classic styling of the Q Grant. Again it can accept any 22mm watch band, and there are a handful of starting color options for you to choose from. It isn't on sale just yet — it'll hit stores in early spring 2016.
Both the Q Grant and Q54 Pilot land in the $175 to $215 price range, depending on your band choice, which is actually quite affordable by smartwatch standards (Fossil's Q Founder starts at $275 (opens in new tab). That's also only $50 to $60 more than the non-smartwatch versions of these watches, which seems like a good deal if you want to have a watch that looks like a classic timepiece but has additional functionality of movement tracking and notifications — plus great battery life.
Andrew was an Executive Editor, U.S. at Android Central between 2012 and 2020.
Apparently a few generic pictures that don't show why this watch is unique now constitutes as a hands on. Solid post, will view again.

A little harsh, maybe they wouldn't let him connect a phone to show the LEDs? I'm guessing AC will do a more in depth review when they get to spend more time with one. Posted via the Android Central App

Please elaborate. That's actually 7 pictures and over 500 words. I think I laid it out pretty clearly what the watch is all about. But I'd love to hear an actual reason for your criticism.

I won't be as harsh as the first guy but I'd love a little more understanding on how the watch really works. Maybe a side image with the LED's circled. I see a square black thing which i would figure would be the LED but would like to confirm. So also what you are saying is that the only notification is vibration and LED's, Dang I would have jumped all over this if it also had a HUD (lack of better word to think of) that gave a brief synopsis

But the whole point is to keep the classic watch look and feel while still managing to give us smartwatch features. I actually think the subdued LED is ingenious.

Keeping the classic watch look is fine and I'm not saying this is a bad product. but if they could have added a small HUD like some cars do for the Speedo and Directions,. I think it would have been a home run

I get what you're saying and in a perfect world there'd be another model with what you're describing but for me, personally, I think this might be better.

I think he means your hands are too big.
Sorry, I'm out =>[ ]

Off topic, but I'm glad the comments button disappears when you scroll to the bottom of the article now, thanks guys! Posted via the Android Central App

We're always working on it ;)

+1 Posted via the Android Central App

+100 Posted via the AC App from SM-N910F

You mention LEDs, but it's not clear where these are located - it says on the "sides of the watch", does that mean sides of the face, or sides of the case? And was sides (plural) a typo or does that mean multiple sides?
Also, you mention the plastic back, but no photos of it. Will you be taking one home so you can provide better shots later?

Look at the little square cutouts on the sides of the watch, where the metal meets the plastic. You can clearly see the line where the shiny metal stops and the plastic starts. I'll improve the post a tad to better explain where they are. And yep, I hope to spend more time with one of these for a review. We'll see!

I actually like the design of this watch. I will keep an eye on it for sure. Thanks for the article. Posted via the Android Central App

Just FYI, these watches are not mechanical. Quartz/Battery powered watches are powered electronically. Mechanical watches use only motion or a spring. Interesting idea though. i'd like to see more watches designed this way. If the smartwatch portion becomes obsolete....at least you still have a watch!

Full mechanical or electro-mechanical, I think the intended distinction here is between those with physical hands, and those with an image of hands on a screen. My grandfather was a watchmaker and I had lots of interesting watches growing up, but I always liked the full mechanical ones. Just something about the steady ticking of the balance wheel.
I have an antique car with an actual clock in it, and there are a few times when I've gone out to sit in it, and dozed off listening to the clock ticking. Still working well after almost fifty years says something, even if I did need to take it apart and clean it once. I probably will buy a smart watch eventually, but it will need to provide some tangible benefits without being a pain to keep charged all the time. Posted via the Android Central App

I've always enjoyed mechanical watches, whether or not they're truly mechanical or electrical. I could've bought a smartwatch but spent the money on a decent Armitron instead (not the most prestigious watch company of all time but I like it). This interests me though.

I like the look of these. I could get behind that silver Q Grant easily. I'll wait for a full review though for word on the quality of the actual watch though.

The nice thing is it seems like 99% the same quality as the all-mechanical model. Fossil has that production process down. Posted via the Android Central App

That's good to hear. Do you own a Fossil? I've always loved silver watches. Do you have any idea how well the silver (I assume this one is stainless steel) Fossils hold up? My Armitron has gotten pretty scuffed up (the steel band and body has all kinds of markings but the glass screen is still flawless).

I got the Q Grant for Christmas. I love it. Haven't worn one of my Android Wear watches since. I got the silver one wirh brown leather. It's holding up very well. Fossil isn't known for high end luxury watches, but they're a great value at their price point. I'd recommend the metal band version. You can't purchase the metal band separately, hiwever you can purchase multiple leather bands from Fossil. They all have the quick release pins, so changing the band is a breeze. I'm planning on getting the Q Pilot 54 once it is released in the spring, too.

I own the original Grant in brown leather and by the looks of it they just filled the insides with some tracking tech. Watch looks exactly the same. Too bad I bought mine a few years a go otherwise I would've just gone with this Posted via the Android Central App

At least yours doesn't need charging Lam I Am

If all I have to do is put my watch on a stand once a month for one night, then I'm okay with that.

It needs charging about one a week.

I owned one of these for a couple of days. I ended up returning it even though it felt really good on my wrist. It has a lot of heft. The problem with the watch is the notifications. The vibrate is not very strong and it is easy to miss the vibrate and flashing led. The led only blinks one or two times so if you miss it, you miss your notification. I wear a smart watch so I don't have to pull out my phone all the time and the ability to have my watch in silent mode and not miss anything. This was a very nice mechanical and I may purchase the non-smart watch version in the near future. For the time being I will wear my people time steel and Moto 360. Posted via the Android Central App

I wasn't aware these were already available. How long ago have they been out?

I had mine in November I believe. Bought it at the Fossil store at the mall. The issues I had with it could be easily fixed with software updates so I might try again. Posted via the Android Central App

Doesn't look like you can remotely control Spotify with these more minimalist watches. If I could I'd likely shelf my 360 for one. Posted via the Android Central App

Great idea here, I hope they become available for purchase in my country. At that price, they sound really good pedometer and watch combo. Posted via the AC App from SM-N910F

I live in Sweden and Fossil doesn't ship here either. However, Nordstrom.com ships worldwide it seems. I ordered one from them last night. Same price as Fossil.com

I'm not a fan of smart watches at all, but these are probably the nicest looking ones I've noticed. Posted via the Android Central App

Honestly, this is about as close to a smartwatch as I'd ever be willing to own and wear. I, personally (key word here), do not feel a screen interface on my wrist is useful. Plenty others might...but it isn't for me. This is a nice alternative.

Point of clarification: These are NOT mechanical watches. They are quartz analog watches. A mechanical watch is one with a wind-up, gear- based movement inside (no batteries). A quartz watch may still have an analog face, but it is battery powered, and it is not considered a mechanical watch in the world of horology.
Android Central Newsletter
Get the best of Android Central in in your inbox, every day!
Thank you for signing up to Android Central. You will receive a verification email shortly.
There was a problem. Please refresh the page and try again.