Hands-on with the AT&T HTC Status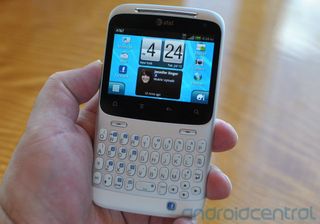 Here, ladies and gentlemen, is our first look at the U.S. version of the HTC ChaCha, known here in the states as the HTC Status on AT&T. Same as it ever was in Europe (only with proper 3G), a four-row QWERTY keyboard, and that dedicated Facebook button.
First impressions? Forgive us, but we're getting a bit nostalgic here. If you're looking to bang out e-mails on an Android phone, this one's going to deserve a look. The keys are to die for. You'll have to get used to the smaller screen, natch, but if gaming's not your thing, you're going to be flying on the Status.
The Facebook button's pretty intuitive, too, blinking when there's content to share. But we'd prefer it to be closer to screen. That's where our eyes are looking most of the time, and it's a bit of a stretch down to the bottom of the device.
But for now, feast your eyes on more pics after the break.
Now if only that button can be replaced and coded to work with Google+ instead.. ;)

It's hideous... but I guess there is a niche for it.

If I wanted a Blackberry, I'd get one.

The funny thing is, every time I see another touchscreen Android slab I say to myself: "If I wanted an iPhone, I'd get one."

It's about hitting as many demographics as possible. That's how you make big profits.

I swear, they can make a blinking Facebook button.. but they can't make a decent notification LED on ALL Android devices?????

Why do people hate this so much? It's not your cup of tea, maybe someone else likes it. I wouldn't mind having it.

I love the idea behind this phone, and the mix of Facebook, Sense 2.1/3.0, and Gingerbread is perfect for a social networking teen techy like me. If HTC made this phone with a dual-core processor and a slide out keyboard instead of a portrait one (for a larger screen), I would need to get it.

Yeah...then your really describing the My Touch 4G sans the FB button not this Frankenstein.

For people who like blackberry form factor, they'll like it!
Android Central Newsletter
Get the best of Android Central in in your inbox, every day!
Thank you for signing up to Android Central. You will receive a verification email shortly.
There was a problem. Please refresh the page and try again.