Hands on and 10-minute install with Nest Cam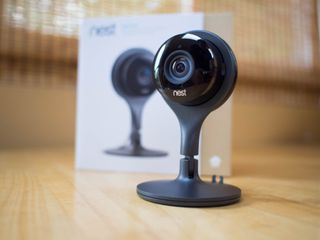 (Image credit: Russell Holly / Android Central)
Google's connected tech company Nest took a big step forward recently with the addition of the Nest Cam to its lineup. While the announcement itself was more ceremonial than anything else, since Nest had already been selling connected security cameras through Dropcam, a company Nest purchased last year, this new camera is the first product with Nest branded on the front. It's also the first in this connected camera lineup to be fully integrated into the Nest software, thanks to a massive overhaul and re-release of the Nest app.
We've just recently taken the new Nest Cam out of the box, and in under ten minutes had the camera installed and ready to use. Here's what we've learned along the way.
Image 1 of 2
Image 2 of 2
If you've ever used a Dropcam, there's a good chance you won't be terribly surprised by the Nest Cam out of the box experience. The new Nest packaging does little to take away from the iconic shape of the camera, though the updates design does make the base thinner and a little oddly balanced. The weighted base is magnetic, and with the included metal plate you can mount the camera wherever you want, including the side of your fridge should you be so inclined.
Just above the hinge connecting the base to the camera ring is a seam, and twisting against that seam reveals a camera mount threads. A standard camera mount screw fits snugly in this slot, so you can mount the Nest Cam anywhere you can mount a regular camera. Alternatively, the Nest Cam can be popped out of the ring containing this screw, so you can do away with the entire base should you decide a custom mount of some sort is more appropriate.
Setting up the Nest Cam could not be easier. Plug one side of the microUSB cable into the camera, the other side into the power brick, and fire up the Nest app. The app walks you through the setup process, starting with scanning the QR code on the back of the camera and asking for login credentials for your Wifi network. Once the network connection is established, the pulsing blue light on the front of the Nest Cam will turn green and you'll hear a chime from the speaker on the camera acknowledging a connection. The Nest app will then show you a picture from the Nest Cam, and from there you can start adjusting camera position and getting to know the features in the Nest app.
There's clearly points to be won here for a stellar out of the box experience, but there's a lot more to this experience than the setup. Nest Cam is still a subscription-based service, and on top of that there's no way to store recordings locally first. There are a lot of questions about how this service works and whether the expense is justified, as well as how well Nest Cam play with the other Works With Nest devices in your average connected home, and we're going to do what we do best and get those questions answered.
Russell is a Contributing Editor at Android Central. He's a former server admin who has been using Android since the HTC G1, and quite literally wrote the book on Android tablets. You can usually find him chasing the next tech trend, much to the pain of his wallet. Find him on Facebook and Twitter
Subscription is a deal breaker.

Arlo...if you don't need sound or wires

Yep...bundle a local DVR with it, make it weatherproof and I'll buy. Otherwise, it's just an expensive baby/pet/geek toy. Posted via the Android Central App

If I could use Google Drive as a storage solution for all recordings I would by a nest cam in a heartbeat. I wish Google would integrate Nest better with their other services.

I agree the subscription sucks. We use our dropcam to check in on the dog every once in a while, so we don't necessarily need to record. Although I'd definitely pay a decent amount for a small amount of storage that could record on a loop. Can't someone figure out how to hook this bad boy up to an external HDD?

I guess someone out there will find this useful. But for me this is to 1984 for me to stomach. Posted via the Android Central App

NestCam is awesome. I have 2 Dropcams as well and they are great. The subscriptions are very reasonable for me. $10 a month is fine by me for anywhere access to the last 10 days of video. I would like it cheaper if I could of course, but there is definite value for me. To each their own I guess ..

So, having no experience with Dropcam...how is the Nest cam different?

Hikvision DS-2CD2132-I $120 (or simliar) + BlueIris (desktop & mobile app) $40 + old computer = Win ...

Got dropcam two years ago for home security, worked great, even added a second camera, cost of $99 dollars to record and keep for one week was not great but OK. Then bought by Google, better app, easy to set up BUT now will only notify you once every 30 minutes. Not the protection I wanted. What happens if phone rings and I get alert. Then five minutes later someone breaks into the house. No alert sent and my security now sucks. Talked to support and their answer was, too many people were getting too many alerts and complained. I will not renew, was looking forward to converting entire house to Nest, not anymore.

I just bought a Belkin HD cam, and for a large, wellknown company I am surprised how bad their app is. Would be great to see a test of what is available in the market and how they stack up against each other. Any plans to do that? Posted via the Android Central App

Nest camera is nice in terms of features, but the price is crazy. With cloud recording it's minimum $300. You should try Oco Camera (http://getoco.com). It's twice cheaper and it took me a minute to set it up. Or there are some more advanced professional CCTV cams.
Android Central Newsletter
Get the best of Android Central in in your inbox, every day!
Thank you for signing up to Android Central. You will receive a verification email shortly.
There was a problem. Please refresh the page and try again.