Gym Battle freeze in Pokemon Go? Here's how to deal with it!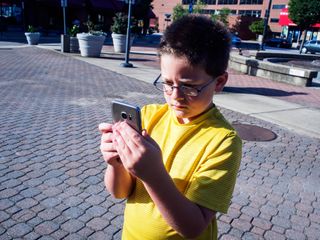 Is there anything worse than the realization that a Gym Battle has frozen and all of your hard work is now totally wasted? Yes, of course there is, but that's not what we're talking about right now. Niantic is having a lot of trouble keeping up with the demand Pokemon Go users are putting on their servers right now, and when combined with unreliable cellular data connections you get a Gym Battle system that is filled with problems. The most frustrating of those issues is when the health of the Pokemon you are fighting stops going down at 1% remaining, and when the timer for the battle counts down to zero the game just sort of freezes. It's a pain, but there's two things you can do about it right now.
Check for the spinning Pokeball
Before you give up hope entirely, check for the spinning Pokeball in the top left corner of the game. If you see that, it means the game is trying to sync with the Pokemon Go servers and your data connection may be the problem.
If the game has frozen but you see this spinning ball, give it a minute. In many situations, the battle will return to a functional state and everything will be fine. Check your data connection, and get ready to jump back into the fight if everything comes back.
Restart your game, and try again later
If the game is well and truly frozen, you're going to need to force the game closed and restart the app.
Tap your Recent Apps button
Swipe away Pokemon Go
Tap your Pokemon Go app icon
If you needed to restart the app, jumping right back into a Gym Battle isn't going to yield a different result. Your best bet is to circle back to this gym in 10-15 minutes, once the Pokemon Go servers have had a chance to catch back up.
Report the issue to Niantic
If there's a repeat issue with this Gym, it's time to tell Niantic. Take a look at the exact name of the Gym you are trying to play at, and follow these steps:
Tap the Pokeball
Tap Settings.
Tap Report High-Priority Issue
Tap Yes when asked if you want to report an issue
Tap Report an issue with a Gym or PokeStop
Fill out the form with your Gym information
Tap Submit
Niantic has been responding to these report quickly as long as they are filled out thoroughly, so get it reported and get back in the game!
Android Central Newsletter
Get instant access to breaking news, the hottest reviews, great deals and helpful tips
This is akin to CNN Breaking News Live Coverage of anything... just sayin'.

"How to deal with a Pokemon Gym Battle Freeze"
1. Wait a few seconds to see if it unfreezes.
2. Quit the game and try again
3. Email the developers. Stop the ******* presses, this is ground-breaking.

AC... If you are having a slow news day, for the love of god don't fill in the "empty space/time" with this garbage. Let it just be a slow news day ...

AC needs to tell Russell to chill. He's the worst offender here...

maybe you should chill, not everyone is at the same level when it comes to android and theyre always trying to get new readers , so you chill out.

Should be a new sister site, the Pokemon Go channel.

How to solve it.
Wait three seconds.
Delete it. Posted via the Android Central App

Is the new Pokemon game out yet? Posted via the Android Central App

Um, alright already with the Pokemon go stories A/C. Can't you just post this stuff in the forums somewhere?

I went to lunch today and the entire game froze right as I set a lure and used a lucky egg :/

Look at the positive side, you have a chance of enjoying your lunch and maybe try to meet new people. Posted via the Android Central App

Uh what? I did not enjoy my lunch because the game didn't work. And I actually did talk to a guy for a bit who came for the lure! Haha
Android Central Newsletter
Get instant access to breaking news, the hottest reviews, great deals and helpful tips
Thank you for signing up to Android Central. You will receive a verification email shortly.
There was a problem. Please refresh the page and try again.