Hey, darkness is scary, and that's okay. You can admit it. When you're getting out of bed and stumbling around, the last thing you want to do is stub your toe because you couldn't see something left forgotten on the ground. Leave the days of using your toes for geolocation behind you. Grab a six-pack of Eufy's Lumi night lights on sale for just $12.99. This pack usually sells for around $19 but is discounted right now to the lowest price we've seen. The Lumi 2-pack is $10, so you're getting three times the number of lights for just a couple of bucks more.
Light shines in the dark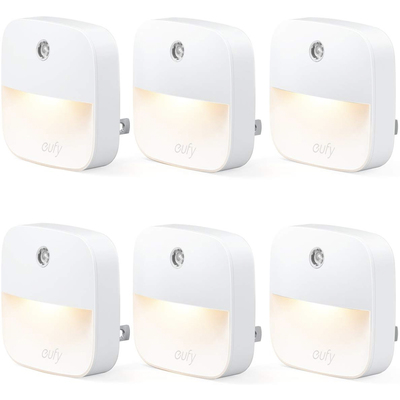 The lights will only turn on when the ambient lighting is insufficient. Require less than 30 cents a year to operate, so they won't run up your energy bill. They are compact in size and come with an 18-month warranty.
$12.99 $19.00 $6 off
The deal given is no longer valid and we do not have a better one. However, we have found some similar deals
The Eufy Lumi lights are designed to provide you exactly the right amount of light. It's glare-free and will help guide you in the dark without blinding you or completely waking you up out of your semi-sleepy stupor. These lights also use a sensor that can detect the ambient light in the area. If it's daytime or other, brighter, lights are on the Lumi will turn off. These are unnecessary with ambient lighting, so you save energy this way. The lights are definitely designed to be energy efficient, too, costing you less than 30 cents a year to operate them.
The design is compact enough that you won't have to take up an entire outlet to plug these in, either. Save one outlet for something else. The night lights come with an 18-month warranty.
We may earn a commission for purchases using our links. Learn more.