Google's Reply app is here and works surprisingly well [Update]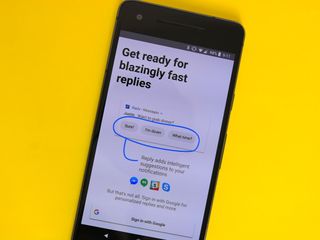 Earlier this month, Google's Area 120 experimental division announced its latest creation – an Android app called "Reply." Reply essentially brings Allo's Smart Reply feature to all of your communication apps, and it's now available for anyone to download.
Reply is still in beta, and if you want to download it, you'll need to sideload the APK file as it isn't available on the Play Store. Assuming you're comfortable doing this and have a phone running Android 7.0 or later, getting Reply is just a few taps away.
Updated October 10, 2018: Google's shutting down Reply
Around 3:00 PM EST today, Area 120 sent out an email to Reply users announcing that it's shutting the app down. The email reads:
Once you open the app, sign in with your Google account, and enable notification access, you'll get a quick rundown of all the features Reply has to offer. In addition to automated responses based on the context of a conversation you're having, Reply can also generate responses using your location data, send a heap of automatic replies based on your work calendar and certain keywords, and more.
I tested out Reply for a few minutes on my Pixel 2, and whether I was using Android Messages, Hangouts, or Facebook Messenger, it worked just as it's advertised. The suggested replies are certainly what users will interact with the most, but if you take some time to set up all the automation features Reply has to offer, you could turn it into a really powerful tool.
There are still some bugs here and there (I personally wasn't able to set my home or work address), but even so, it's remarkable how well Reply works in such an early form. If you want to give it a try, you can download it here.
Reply wants to add Smart Replies to all your messaging apps
Get the Android Central Newsletter
Instant access to breaking news, the hottest reviews, great deals and helpful tips.
Joe Maring was a Senior Editor for Android Central between 2017 and 2021. You can reach him on Twitter at @JoeMaring1.
And AC article that linked an apk. Usually don't see that. Testing out reply though, agreed pretty good out the gate. Including the stuff you can do for urgent messages etc.

Sounds good so far, definitely some bugs. I can't enter in my home and work address yet.

I could, but the search function associated with it didn't work, so it wouldn't auto complete. It also wouldn't take coordinates or intersections.

Doesn't work with Textra. I have my default SMS app disabled. As the other guy said can't enter work/home address yet. I tried it with Facebook Messenger not too shabby for the suggestions.

I need some help. I download the apk from APKmirror and I can't get the package installer to install it. Any ideas? Thanks all!

Try enabling third party sources installation in your Security Settings.

Disappointed that it isn't working with 3rd party messaging apps like Textra.

Look at that. It works with Google Voice! What a rarity.

Smart replies are cool, but Auto-reply might lead to disaster... Imagine my boss texting me: 'when will you be here?' And Auto-reply 'mistakenly' answers: 'I'll not be at work for the next week' .... Lol

They appear to be marked as by a ROBOT replying. It will be pretty easy for recipients to know. I hope.

Soon we won't have to talk to each other at all!

Cant wait for this day #skynet

It would be nice if it worked with the native texting app like Samsung messages. Hopefully it will once the beta is over.

That's not really technically native...

Eh, I'll wait for them to make an API for this so I can get something on FDroid. No need what-so-ever for me to sign in for this. Make a UUID per install, and link it that way if I choose.

I dislike that it interferes with my Garmin watch from displaying notifications from the messaging apps with which reply is enabled.

Sad to see the app being discontinued, used this often. Hopefully it will be integrated into the OS.

I think this is it. I deleted my account and the app and still have pre-populated replies in notifications.

I really liked this while I used it. The Android messages app kind of does it just not in the notifications.

And squirrel and google off in a new direction.