Google's planning to re-brand Android Wear as 'Wear OS'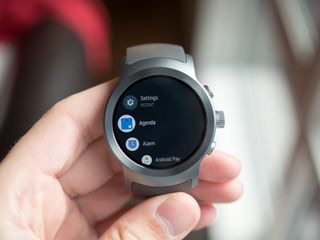 Android Wear is pretty much at a standstill right now. Fashion brands continue to release new hardware running the OS, but it's been a hot minute since a major tech company has put any real time or effort into releasing new products with it. Thankfully, Google appears to be planning a complete rebrand for Android Wear to breath new life into it.
Thanks to a screenshot from one Redditor on the /r/androidwear subreddit, it looks like the Android Wear name will be replaced by "Wear OS." The screenshot shows Google Play Services' Nearby feature that pops up when it detects a new Android Wear watch can be paired, but as you can see from the image below, it references Wear OS and shows a new colorful logo that sort of mimics the Google Assistant's branding.
This change was found in the latest 12.5 beta for Play Services, and while there's not much else it reveals, it's exciting nonetheless.
Android Wear used to be my personal favorite wearable OS, and I religiously wore the Samsung Gear Live, Moto 360, and Huawei Watch. However, thanks to lackluster hardware that was released to debut Android Wear 2.0, the platform's kind of been in a rut for over a year now.
I'm guessing Google will formally introduce Wear OS this coming May at Google I/O, and while I don't anticipate any hardware announcements at that time, I'm hoping and praying for a Pixel Watch this October alongside the Pixel 3.
Anything you're hoping to see in Wear OS?
Android Central Newsletter
Get instant access to breaking news, the hottest reviews, great deals and helpful tips
Joe Maring was a Senior Editor for Android Central between 2017 and 2021. You can reach him on Twitter at @JoeMaring1.
Pixel watch...hmmm. I would have to jump on that one if it happens. I still have the OG G watch collecting dust somewhere.

I'd like that, but based on the pricing of Pixel phones and tablets, it'd probably be priced equivalently to the Apple Watch. I doubt I'd be willing to pay that much for a smart watch.

If they can't get Qualcomm on board to get some decent chips, whatever they want to call it, doesn't make a difference...

Google wants to make its own chips. I wonder if a smart watch would be a good first foray into that.

yeah Google can rename it all they want but selling an old chip will not help

I hate when my LG Sport becomes unpaird with my phone and the only way to reconnect it is to reset the watch, which is a pain. I wish that would be fixed.

Might be an Android Wear bug. I've read that before from other watch brands

Seems like good news. I've been wanting a good all around watch and here is hoping for some new releases from the big tech guys. A new 360 would be great.

For me the 360 is still the best looking watch on the market and I still very loads of people pulling me up to ask me what watch I have even apple fans. Love another 360 but dont see moto making one now they have cut there staff.

I have the original 360 but cannot see how you could call it the best looking watch on the market.

I love my original Moto 360. I put on a metal band and it looks like a Movado during the work week and has my family pictures as a watch face during the weekend. Wouldn't trade it for anything currently on the market.

As long as any future watch has better battery life than the LG watch style, and NFC capabilities. That watch was useless.

I just want the black theme back on my Style. I had it for a week and it was great then it suddenly went back to grey.

Tizen is so much nicer imo

Yeah prefer tizen just wish it had more third party support.

And the complete lack of Google support kills it for me too

What support do you want to see from Google?

Google assistant and Maps are biggies

For those 3rd party's you want to support Tizen, have you contacted them directly and asked them to develop for Tizen? Complaining on here doesn't let those companies know you want their support.

I have asked multiple developers and every one has responded that they have 0 plans to support tizen watch.
Google needs to make a drastic change to Wear 3.0 and take from time with things like widgets, circular menu etc.
I purchased an Android Wear watch but found I perfer my S3 which is disapointing due to lack of support.

I agree. I would love to have Google Assistant on my Gear, rather than S Voice.

+1000. I love my Gear S3, but would vastly prefer Google Assistant/Now on it. I'm thinking of swapping my Galaxy S8 out for a Pixel 3 when it comes out and a Android Wear Pixel watch would be the perfect companion.

I don't see how "re branding" will do anything, this OS is a lackluster and not because of it's name or brand per se, but because it is poorly engineered.

I dont care what they do, or what the hell they end up calling it. !!! JUST STOP SCREWING UP THE OLDER DEVICES !!... Just leave us alone!!... Please! Is that too much to ask?? Im totally OK with my moto 360 the way it is now!!! I dont want any more updates. No more changes!! Just leave well enough alone!

I cant believe here in 2018 the pebble OS is better supported than androids own!!! After all the fit bit bashing... Pebble is still miles ahead of google.

I wonder why Google is slowly phasing out the "android."
Google needs to look at everything that is amazing about the apple watch and implement into the new Wear OS. Wear 2.0 was a disaster and I've only been using my watch less and less. Couple with terrible and old hardware that's sold as new it's unbelievable that Google with all it's resources can't figure this out.

Unless Google can convince Qualcomm that smartwatches are worth it, then it doesn't matter what they call it if they're using a dated SoC but Android wear sounds better than "Wear OS".

I am one of the few who actually like Android Wear. It just isn't 100% "there" yet and this gives me hope. My wife doesn't want an iPhone but wants an Apple Watch because it is just more fully functioned. Android Wear is close but just lacks cohesiveness. I currently use an Huawei Watch 2 Classic and she has the Ticwatch E. Both are great though the HW2 Classic just has more polish to it. One thing my wife wants to see if a womens styled watch with all features (NFC, GPS, Heart Rate). They seem to skimp on those. The Ticwatch E comes the closest but lacks NFC

I still like AndroidWear most of all the wearable OS' including Apple's WatchOS. My biggest complaint of it though is the removal of key features with the 2.0 upgrade. Wrist Gestures were diluted with the update. Before you could navigate the watch and reply to messages etc completely hands free using wrist gestures and voice. Now you have to press the screen to hit reply and for pressing ok/send etc as opposed to the old 'flick wrist down' for OK/send. I still just don't get why they made some of those decisions to make the watch less user efficient.
They really need to shake up the OS and not just give it a new image.
Tizen is really improving all the time but the lack of Google integration for Maps and Assistant will always put it at a disadvantage to AndroidWear and Google don't want to drop the ball any longer

Agreed...Android Wear does a lot of things right and I prefer it to Tizen as Tizen feels like a lonely wasteland when it comes to better interaction with the phone and Google apps. I think the fashion designers are doing good at getting AW out there which could be great for Wear OS's future. Let's see them making it more fully functional.

I'm glad to see the Google watch OS isn't totally being left to wither on the vine. Hopefully this means that there will be some new tablet news some time soon as well.

Nothing has caught my eye since the original Moto 360. In the past year or so I have found myself enjoying vintage time pieces more so than more connected technology. Right now I am currently rocking a 1964 Bulova Accutron Railroad Approved model. The tuning fork movement hums pleasantly and reminds me of a simpler time.
Android Central Newsletter
Get instant access to breaking news, the hottest reviews, great deals and helpful tips
Thank you for signing up to Android Central. You will receive a verification email shortly.
There was a problem. Please refresh the page and try again.