Google Family Link finally brings broad parental controls to Android phones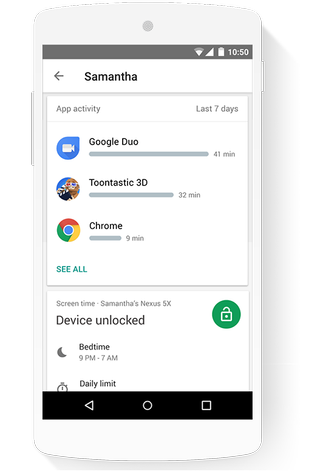 Google is making a huge step toward letting families manage Google accounts and phones of children in the house, moving well beyond Google Play Family Library. Family Link is Google's new system for parents to create Google accounts for minors (under 13 years old, officially) who technically can't have their own accounts, and when attached to an Android phone the parents get all sorts of great tools to manage their use.
With an Android phone running Nougat — which is hardly a given right now — and a Family Link account, parents will be able to approve or deny app installs, see how the child is using their phone and even explicitly limit their screen and overall device use time. Parents can set daily screen-on time limits for their child, and even force the phone to be remotely locked at a specific time — for example, disabling the phone overnight from 9 p.m. to 7 a.m. every day. What Family Link doesn't do, at this point, is provide kid-friendly versions of Google apps, or the ability to lock specific apps (like Hangouts or Chrome).
Family Link is currently invite-only and parents can enroll in the early access program to take a look when it comes available. Google says the features are just getting solidified now and parents who participate in the program will be able to offer feedback about how Family Link can improve before a wider launch.
More: With Family Link, Google is finally giving parents some much-needed help
This is a fantastic step in the right direction to making Android far more compatible with families who have young children who want (or honestly, need) phones but really shouldn't have unfettered access to an Android smartphone just yet. Many parents have simply worked together their own system using "normal" Google accounts, various apps and different software solutions, but going forward Family Link will easily be the go-to solution for parents just starting out giving children their first account and phone.
Get the Android Central Newsletter
Instant access to breaking news, the hottest reviews, great deals and helpful tips.
Andrew was an Executive Editor, U.S. at Android Central between 2012 and 2020.
Where was this last year when I was forced to get an iPhone because google didn't offer these services. I think my and my son will be switching to android soon.

i hope this extends to a Chromebox/Chromebook edit to add- I tried to sign up, but you have to create an account for your kid, doesn't work for existing kid accounts.

Been using the app Dinner Time + and it does all of this EXCEPT allow you to create a Google account for a minor. So instead I'm letting them use my account. While that works, it also leads to odd recommendations on the Play Store and YouTube. Glad to see this is in our future but I may not switch over just based on how much I like Dinner Time.

+1 for DinnerTime+ Even in Grade 2 kids have maths and spelling apps that the school wants them to use. With DinnerTime+ I can set Netflix and games to have 30 minutes total time per day and the learning apps unlimited time.
This works really well, no more arguments about the tablet as the kids understand their bounds.
I also lock Youtube, Play Store and chat apps so that we can discuss what apps are installed. Youtube is a cesspool so no access to that unless supervised, even kid mode is a mini cesspool.

It's US only, unfortunately.

Awesome start! I would love to see some innovation on the other end of the spectrum so I can have some dominion over my mom's phone. She likes the smartphone experience, but finds new ways to screw things up all the time.

So it's like dinnertime but not nearly as useful. Got it.

So, what happens when your kids grow old enough and set out on their own? Do you have to set up another, different Google account or can this one be transitioned? What about for kids that are older?

Ummm. You enter your child's age. Once they hit 13 and older the account is no longer a child's account.

Good one. Now, add this to Chromebook as well!

Can we expect an article by Phil "Modern Dad" Nickenson about this in the near future?

downloaded the app and realized that both devices has to have nougat or higher. If you get your kids cheap phones, chances that they won't have it.

So do we have a decent list of what phones have Android N and support this