Android phones may soon send more precise location info to 911 dispatchers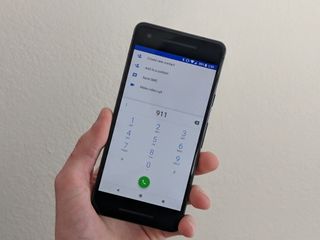 911 is a number no one in the U.S. ever wants to call, but in the case that you do, you want emergency responders to get to your location as fast as humanly possible. When you currently call 911, your wireless carrier sends your location info to the 911 dispatcher so they know where to send help. Google's recently been testing a system of its own to handle this process, and it has the potential to be considerably more accurate.
According to The Wall Street Journal, Google ran tests of its system on Android phones in December and January for residents of Florida, Tennesse, and Texas. During these tests, Google's system proved to be more accurate than that of the carriers' 80% of the time.
How much better is Google's system? When a carrier sends your location data to a dispatcher, it's typically within a radius of 522 feet from where you're actually at. With the system Google trialed, it was accurate within 121 feet. Along with the higher accuracy, Google's system was also able to send the location info faster than carriers could.
This new tech will be showcased at a conference later in the week, and assuming everything goes well, Google plans on expanding it to all Android devices at some point in 2018.
While this may not be as exciting as some of the stuff that's in store for Android P, it's an important feature that I'm more than happy to see Google working on.
Verizon Prepaid gets affordable $30/month plan and 3G mobile hotspot
Joe Maring was a Senior Editor for Android Central between 2017 and 2021. You can reach him on Twitter at @JoeMaring1.
This is a good thing. What if there was a mechanism in place that once that location was identified, any other cellular devices within a 500 ft radius would be identified and logged. Nothing over the top, maybe just IMEI number and carrier. This would be helpful in reaching out to witnesses for investigative purposes. Just maybe, when someone commits a crime and they have a cellular device on them, and someone calls 911 within a certain distance, its easier to place them at the scene.

Yeah, great. Give the police even more ability to keep track of us. If I witness a crime, I'll decide whether to talk to the police about. I may have very valid reasons to guard my privacy. Even from the police.

As someone who works in a PSAP, the current system by the carriers is a broken mess and pathetically unreliable. Next gen 911 is looking to switch from the failed carrier "ping" approach to allowing your device to send its location using aGPS. The latter is pretty much how most location apps already function. It is vastly more accurate and reliable.

Kind of surprised this hasn't been a thing all along

This is crazy. Assuming you have GPS turned on. Google should know where you are within a few feet

If you have ever tried to use GPS only on a phone it takes forever to get your location and it might be accurate within a few miles. At least that has been my experience.

Your experience is definitely outside the norm. GPS is accurate to within 10 meters. With aGPS it can be much better than that. And Android uses (unless you manually turn it off) other location information, like WiFi access points, to narrow it down still further.

Not really. Multiple Android phones, different carriers. When using GPS only it takes forever and is not very accurate. Turn in high location data and it zooms right in.

This is awesome! Anything that speeds up response to a 911 call is welcome. Hopefully this happens sooner rather than later.

Should be able to get more accurate than 121 feet a lot of the time. With location data all turned on, my phone generally knows where I am within a couple of dozen feet.

Wait did they try this without people knowing?
Android Central Newsletter
Get the best of Android Central in in your inbox, every day!
Thank you for signing up to Android Central. You will receive a verification email shortly.
There was a problem. Please refresh the page and try again.