Google's Home Hub smart display spotlights another Microsoft failure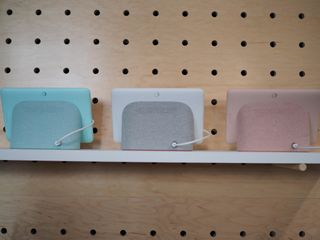 Amazon pioneered the progression of voice-controlled ambient computing with its Alexa-powered smart speakers. The Google Assistant-powered Google Home and Apple's Siri-powered HomePod eventually followed. In 2017, Amazon upped the ante with its Amazon Echo Show smart display. The Echo Show brought the ability to display interactive content to the smart speaker battle.
Microsoft was notably absent from this space until the embarrassingly-neglected Cortana-powered Invoke Harman Kardon smart speaker hit store shelves. With little marketing and an assistant with limited skills, mindshare and geographic reach, Microsoft's initially-$200-priced speakers remained unnoticed by consumers. A recent Invoke price cut and Microsoft's repositioning of Cortana as a business-focused assistive agent may signal Microsoft has little intention of recommitting to the consumer-focused ambient computing space.
This would conflict with the company's professed commitment to the professional and personal user across work and play. In a nutshell, Microsoft's recently revisited commitment to users across their professional and personal lives demands Microsoft ensures Cortana-powered ambient computing is available to users at home just as it is at work. Two years ago, Microsoft revealed a Home Hub plan to turn hundreds of millions of Windows 10 PCs into Cortana-powered smart speakers with screens. Microsoft's plan was great, but the execution poor, and competitors like Google introduced products that are everything Microsoft's should have been.
Microsoft's Home Hub, a dream deferred
Image 1 of 2
In 2016, we saw Microsoft's vision for smart displays. Unlike rivals, Microsoft wouldn't have to build dedicated smart speakers, try to create a market, and then develop distribution channels to get them to consumers. With a home and business PC install base of more than one billion and a growing Windows 10 presence, Microsoft planned to use software to turn existing Windows 10 PCs into Cortana-powered smart speakers. Microsoft's OEM partners were also expected to create dedicated intelligent displays to complement this strategy.
Microsoft's Home Hub was going to provide families with communal access to calendars, apps, and Sticky Notes via a Welcome Screen on a shared PC. Windows Hello would also recognize users and keep individual data private.
Home Hub was supposed to connect Windows 10 PCs to various smart home devices allowing users to control them via Cortana. Sadly, with the failure of Windows on phone, Microsoft's consumer-facing commitment to Cortana has further waned. With a two-year virtual silence on Home Hub and an apparent lack of interest in making Cortana relevant to consumers, Microsoft's Home Hub dreams seem destined to remain unrealized.
Google Home Hub, a dream realized
During its 2018 "Made by Google" event, Google announced its seven-inch Assistant-powered smart display. This diminutive device is three inches smaller than Amazon's latest 10-inch Alexa-powered Echo Show and is bedroom-safe due to the intentional omission of a camera.
The $149 device (opens in new tab) is more affordable than the $230 Alexa Show (opens in new tab). Reports also claim that Google's superior speech recognition supports more natural language and has fewer mistakes than the Echo Show. Still, Alexa's 50,000 skills and the Echo's compatibility with thousands of smart home devices beat Google Home Hub.
Still, even in its shortcomings, Google Home Hub brings the reality of hands-free, voice navigated computing with a display to users in a way Microsoft has not. And though the Lenovo Smart Display and the JBL Link View brought Assistant-powered smart displays to market earlier, Google Home does so in a sleeker package.
Microsoft, the dreamer
Google Home Hub is equipped with far-field microphones, stereo speakers and a seven-inch LCD touch display. From browsing YouTube videos to following recipes and invoking music services, Google's Home Hub will begin impacting consumer behavior in a very real way.
Home Hub features Wi-Fi and Bluetooth which allows users to cast their phone content to the device. It also acts as a digital picture frame for users' cloud-based photos when not in use. As "everyone's personal Google," Assistant on Home Hub will continue answering questions effectively as Google leverages its progress in organizing the world's information. Home Hub also connects to smart home gadgets and provides a Home View Dashboard of the entire state of a smart home. No longer will users have to access separate apps to control connected devices.
As Google brings all of this and more to users on its first-gen smart display, Microsoft's Home Hub dreams may remain an unknown concept and yet another frustrating miss Microsoft watchers can add to Redmond's pile of what could have been.
Get the Android Central Newsletter
Instant access to breaking news, the hottest reviews, great deals and helpful tips.
Microsoft feels like Nokia and Blackberry were before their demise. They are focusing too much on business market and not enough on consumer market. By the time they realize what consumers want, it will be too late. If it's not too late already.

Tbh Microsoft have never been a customer company and the own the business side look at the market share they have there compared to Apple Google and Amazon. They are not really like Nokia or BlackBerry who linked to services Microsoft are the services and the they are open to work with Apple and Google which puts then at a stronger point than Apple and Google who are more closed when it comes to business.

Yep. Nadulla is hyper focused on the cloud just as Jim was hyper focused on trying to get an NHL team for Waterloo. End result is the same. The complete collapse of a once great company.

Microsoft have abandoned any plans to be relevant in the consumer space apart from gaming... They have pandered to the needs of the share holders... To be honest I don't think MS could ever achieve anything in the consumer space their business is just not set up for it... Apart from Xbox their history is littered with the failure of every venture into the consumer space... I'm amazed they still have a movie store... Still I have a Samsung Tab S2, Surface Pro 4 and Blackberry KeyOne and couldn't be happier...

Movie store still exist for both Xbox and windows usage

I wanted the MS home hub with Cortana. I knew it was too good to be true. This is the first time anywhere I've seen someone say the Google Home Hub will have stereo speakers.

MS no longer give a crap about the average consumer. That die is cast. Time to stop pretending they do. They couldn't make a splash now even if they wanted to.