Google's future Pixel phones won't offer unlimited Google Photos backups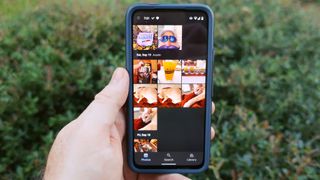 (Image credit: Jeramy Johnson / Android Central)
What you need to know
Google's future Pixel phones will not offer unlimited 'high-quality' Google Photos backup.
Like other phones, future Pixel owners will have to pay for Google One after they hit the 15GB cap.
Existing Pixel devices, however, will continue to be exempt from Google's policy change.
Yesterday, Google announced that any new photos and videos uploaded to Google Photos will count toward the free 15GB of storage it offers with every Google account, starting June 2021. While the Pixel 5 and other existing Pixel devices are exempt from this change, Android Central has now learned that future Pixel phones will not be exempt from the quota change.
As confirmed by Google in its blog post, photos uploaded from existing Pixel phones will not be impacted. If you own a Pixel phone, you can continue to upload photos and videos in High quality, without having to worry about hitting the 15GB cap.
Owners of future Pixel devices, however, will not enjoy that same benefit. Just like users with non-Pixel devices, they will have to spend money to expand their storage through Google One. As explained by our very own Jerry Hildenbrand in his editorial yesterday, Google Photos is now the best reason to get a Pixel phone. While it is certainly disappointing that future Pixel phones will not allow you to upload unlimited photos and videos in High quality to Google Photos, most users may not have to actually buy additional storage.
Google claims the free 15GB of storage it offers with every account allows users to store "roughly three more years worth of memories."
Get the Android Central Newsletter
Instant access to breaking news, the hottest reviews, great deals and helpful tips.
Google clearly wants people to pay

They'll need to review their position or strategy, regarding future Pixel devices, since that benefit alone can become an advantage against other Android phones. If others begin to walk away from expansible memory through SD cards, then this could be a strategic move.

Google has become a real jerk of a company. Once Google gave us cool products and had a friendly attitude. Now costs of HDD are as low as they've ever been, and Google has raked in billions extra while we have been in Lockdown... so removing this little thing, which must cost them so little, just shows how nasty and ugly Google have become. I've lost respect and am disappointed.

As Jim Morrison used to sing "This is the end. My only friend. The end. Of our elaborate plans. The end." I suspect a HUGE benefit to One Drive and the 1TB it comes with and Amazon photos for those with a Fire tablet and Prime. Maybe Google will do something more than the 100GB they give Chromebook purchasers and users? Expandable storage, I suspect, will now be more desirable. I hope users punish Google and usage of the Google photos app for this. They MAKE BILLIONS off our anonymous data for ads. Nice bait and switch. People have got to be as sick and tired as I am of every single entity wanting to nickel and dime consumers. Already dumped my YouTube TV in August going from $35 to $65/mo. Enough!!

I can understand why Google did this (it'd be criticised for favouring its own devices which is going to look bad in light of its current antitrust issues) but it's still a bad move from Google. Having unlimited high quality storage on Google Photos for future Pixel phones would've been a great differentiator for them - especially given how good the cameras on Pixel phones are.

This is a move to entice buyers of current line up. When Pixel 6 comes along they'll include 2 years full or high quality to sell more then.

Well, then, are they going to start putting MicroSD slots into the phones so that you can have access to your photos? Because the reason they kept explaining the lack of slots is because they had unlimited photo backups in the cloud. No unlimited backups, then I want a MicroSD slot.