Google+'s Android app is getting a major update for the loyal few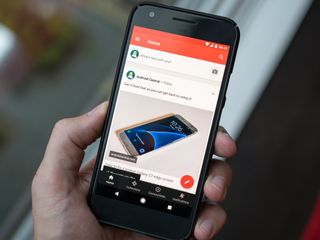 (Image credit: Android Central)
In the world of social networks, Google+ is, well, Google+. It used to be a fun place for talking to friends about virtually any topic, but thanks to unrelenting spam and users migrating to other platforms, it's become something that I check a handful of times a year. However, for those of you that continue to be loyal Google+ users, big things are on the way.
Google+ Engineering Manager Leo Deegan recently took to the social network to announce that a "brand new version" of the site's Android app will be enabled over the coming days. The updated app is said to look very similar to the current one, but that it's also "the culmination of a complete rewrite of many core features using Google's latest Android app infrastructure which will allow our Android team to build new features on a modern tech stack."
What does that mean for the end user? While the UI should remain mostly unchanged, Deegan says that there are improvements to scrolling and rendering, there's a new design for photo lightboxes, and there are tweaks to Google+'s comments (such as the ability for author's to see greyed-out spam comments).
Deegan notes that there are a couple known bugs, but as with all updates, these should be worked out soon. There's no specific timeframe as to when the update will drop and how it'll be released (either as an APK update or a server-side change), but even so, it's reassuring to see Google putting time and effort into the platform.
If you're a former Google+ user but have since moved to another social network, will these changes entice you to come back?
Joe Maring was a Senior Editor for Android Central between 2017 and 2021. You can reach him on Twitter at @JoeMaring1.
I've had this version since Saturday night. The tweaks are so different from what I was used to that I had to double check to make sure I was using the right app

Wow, how did you get it? Doesn't even sound like it's released yet

I'm sure the 10 people who still use it will be happy with the changes.

They should just cut their losses and kill this sad vacant app.

Not until create few new apps to confuse more

Just because you don't know how to use it, don't blame Google.....

G+ was a huge missed opportunity for Google to give everyone's Google account a face and place to explore more about those who you are corresponding with. Wondering who this person is emailing you work information? Click on their linked G+ profile in Gmail and see who they work for, their position, and what they look. G+ could have been like a much better LinkedIn for corporate employees and YouTubers alike. Instead, all it turned into was a bunch of surveys. What a waste.

I check this a few times a month. For most of my hobbies, it is still a robust community. Still prefer how clean it is over FB. FB is on the decline for me though, so will see where I am at the end of the year. Funny how you can lead a social life without social media, I wonder if people are waking up to that.

Totally agree - it's perfect for hobbies & interests

Been doing that for 50 years

I thought they killed off Google+....
I should see if I have any new messages from the two other people I know that used to use it!

I use it every now and then to find wallpapers for my phone.

I remember being a Google+ acolyte. Nowadays, not so much...

G+ Is fine, but unmoderated communities and collections are just a pile of garbage. Look at the Android/Android Central community - it used to be great, but the moderators seem fine with every indian spam donkey that shows up with another "Bollywood Hero" article - so everyone leaves because he/she refuses to do anything about it. At the end of the day, Social Media platforms are only good as the folks moderating them - garbage in, garbage out...

I use Google + to sign into a few things... Like Android Central... that's the extent of my use.

I've been one of Google+ fiercest critics since it launched and slated it for years for being pretty much a ghost town and general failure overall. But over the past 6 months or so I've actually found it really useful for tech communities and hobbies and interests etc as well as Beta Apps and interacting directly with their developers. I think it really has found a place and not trying to compete directly with Facebook or Twitter has really helped it.
Android Central Newsletter
Get the best of Android Central in in your inbox, every day!
Thank you for signing up to Android Central. You will receive a verification email shortly.
There was a problem. Please refresh the page and try again.