Google reveals hardware requirements for Daydream VR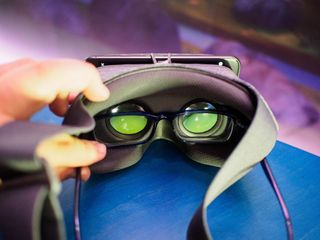 We know Google's Daydream VR experience, introduced in Nougat, requires some pretty beefy technology to run, but so far the exact hardware and software requirements have eluded us. They're now laid bare in the new Android 7.0 Compatibility Definition Document, which shows in great detail the criteria a phone must meet in order to run in "high performance" VR mode.
The documents go into fine detail on exact numbers to do with display latency, video capabilities as well as OpenGL features, but the condensed version is basically as follows:
Bluetooth 4.2 LE
Display between 4.7 and 6 inches
Resolution at least 1080p @ 60Hz display with 3ms or less latency and 5ms or less persistence. (Quad HD or higher recommended.)
OpenGL ES 3.2 and Vulkan
Able to decode 2 instances of 60fps video simultaneously
Consistent 60fps rendering
Temperature sensors capable of reading device surface temperature
This doesn't exactly make it simple to work out if a phone will support Daydream based on a spec sheet alone, since properties like display latency aren't shown in your average spec sheet. (Kind of a moot point as Daydream-ready devices are advertised as such.) Nevertheless, it's interesting to see the exact numbers Google's holding device manufacturers to.
It's interesting to note that the just-launched Huawei Mate 9 just about meets the spec with its 5.9-inch 1080p display, whereas a smaller, higher-res phone might not be Daydream-ready because of the display latency or sensor requirements.
In any case, the only Daydream-ready phones you can actually buy right now are the Google Pixel and Pixel XL and Moto Z. The ASUS ZenFone AR, revealed at CES 2017, does not yet have a pricetag.
Alex was with Android Central for over a decade, producing written and video content for the site, and served as global Executive Editor from 2016 to 2022.
i'm still running stock on 6P, but in theory could a custom rom be built to allow Daydream on such a device, given that the user would understand performance might only be 98% ?

Which of those requirements does the 6P not meet?

Google/Huawei hasn't declared what is insufficient in 6P. It'd be hard to determine because, as the article mentions, the specs include spec types not generally provided before (and maybe they still won't be provided, just a Daydream compatible claim). You'd probably have to obtain detailed specs on the display part, etc.

You can read it here, but long story short...the 6P gets too hot.
https://developers.google.com/vr/daydream/dev-kit-setup

Nothing a small battery and PC case fan couldn't solve. Wonder if my contacts will dry out? LOL

So the v20 is not compatible??

From my understanding, nothing with a SnapDragon 820 or lower will be fully compatible.

That will be incorrect. Some OEM's using the 820 were waiting on a compatibility update from Qualcomm, which at least some of them now have. A device like the Axon 7 will almost certainly be Daydream-ready within another few weeks. The display resolution and needed sensors are already in place.

Really? When did that update start rolling out? The last I heard, Qualcomm was unwilling to provide any such update.

I read somewhere it has to be Mailed? Is that true??

So my OnePlus 3 is compatible or not? Confusing revelation.

"In any case, the only Daydream-ready phones you can actually buy right now are the Google Pixel and Pixel XL."

Isn't the ZTE Axon 7 Daydream compatible? Nice resolution also.

'In any case, the only Daydream-ready phones you can actually buy right now are the Google Pixel and Pixel XL."

To everyone asking if their device is or not compatible. It's simple, just read the marketing material from your device; if it says it is, then it is. That's something that manufacturers will be happy to widely announce but won't get into the small tech bits.
Android Central Newsletter
Get the best of Android Central in in your inbox, every day!
Thank you for signing up to Android Central. You will receive a verification email shortly.
There was a problem. Please refresh the page and try again.