Google set to launch kid-friendly YouTube app on Feb. 23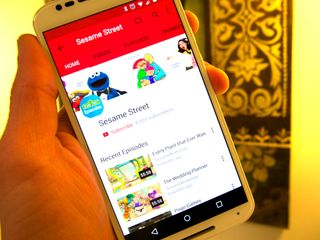 According to a new report, Google is set to unveil a new Android-exclusive YouTube app aimed specifically at kids on Monday, February 23 — fittingly called "YouTube Kids." This follows news from last December that the company was working on kid-friendly versions of its products.
The news was first reported by USA Today, which got a hands-on with the app, pictured below:
USA Today notes that the new app, which is the result of a collaboration between YouTube engineers and third-party testers from partner organizations, also features settings for parents to limit the amount of time their kids spend watching videos in the app.
Source: USA Today
Very cool. Something for everybody Posted via the Android Central App

My wife and I will welcome this for our 4.5 year old. Nice! Posted via Android Central App

Great news. My GF's five year old son loves watching cartoons on Youtube but after leaving him by his own to choose what video to watch next, he always ends up watching "questionable" content like the same cartoons but dubbed with profanity.

Exactly the same reason why I had to block youtube on a tablet for my 6 year old brother Posted via the Android Central App

And soon to be sent to the Google graveyard by Christmas. Posted via the Android Central App

Unlikely Posted via the Android Central App

Seriously doubt that. I'm guessing you don't have small children....

Above them hover five simple icons - that's the problem with reporting; even USA Today doesn't proof read its material.

Yes, I just came to comment on this. Either I don't know my number values, or I'm missing a 5th icon! Posted from my HTC One M8 via Android Central App

I don't have kids but I think that this is a 5 star idea. With all the cartoons for adults these days, kids don't realize that everything animated is not always made for them.

Awesome thing to do, especially with kids these days having phones and tablets. Hasn't Google also done a Google search for Kids? I think I've read about that a few months ago. Posted via the Android Central App

Hope it allows general search. The stuff my kids like to watch wouldn't be the most popular and if this app is but only curated kids content, it'll be useless.

This is welcome news, YouTube in it's current state is simply too wild for young minds, it has been a struggle to enact any sort of meaningful parental controls in this app. I'm curious how this will be implemented given the fact that the standard app cannot be uninstalled. Posted via the Android Central App

Android exclusive. Cool. But it shows no love for their other OS, Chrome OS.

In time my friend in time Posted via the Android Central App

This is nice. Finally Posted via the Android Central App

My little boy doesn't watch many cartoons but he loves YouTube - anything with R/C cars/ planes etc. I'd love it if channels could apply for a 'kid friendly' badge that would earn them a place in the Kids YouTube. There are a some which are great with no bad language or inappropriateness but then there are lots of others that aren't. It would be great to let him explore for himself a bit as as others have said, YouTube is just too wild for a four year old unsupervised. And why is often the worst stuff the 'what to watch next' suggestions after something entirely OK?!

I hope that they filter or disable comments, too. YouTube videos, even the ones aimed at kids, sometimes have the most vile and inappropriate comments.

This is what I need for my two little girls (6 and 8). They watch a lot of cartoons on YouTube and even with the "Strict" filter enabled, there is a lot of inappropriate content coming through. Monday can't come soon enough!

Great idea.now bring it to ios too.lol Posted via the Android Central App

About freaking time! The current app doesn't have good enough filters and even those filters are right there in the settings for anyone to change.
Would be nice to see Chrome Browser Kids

That's brilliant, hopefully those fruitcake religious nut job ads won't appear.. so many were playing before kids videos. Posted via the Android Central App

So in the end, only screen size is enlarged, and that is all?
Android Central Newsletter
Get the best of Android Central in in your inbox, every day!
Thank you for signing up to Android Central. You will receive a verification email shortly.
There was a problem. Please refresh the page and try again.